Texas Gov Pauses Economic Reopening As Lisbon Brings Back 'Stay At Home' Order: Virus Updates
by Tyler Durden
ZeroHedge.com
Thu, 06/25/2020
Summary:
Lisbon brings back stay at home orders
Arizona, Fla. report latest numbers
Texas Gov pauses reopening
Texas gov orders suspension of elective surgeries in some counties
NYC mayor says phase 3 could begin as soon as July 6
Deaths continue to lag new infections
Australia sees biggest jump in cases since April
UK warned about second wave
US sees ~45k jump in new cases reported yesterday
Global total nears 10 mil
Persian Gulf virus total tops 400k
India to carry out virus 'survey' of New Delhi
Russia sees ~7k new cases, 92 deaths
Dr. Scott Gottlieb: "complacency" driving new US outbreak
Eiffel Tower reopens Thursday
* * *
Update (1205ET): As the WHO warns about rising case numbers in parts of Europe, Portugal's capital city, Lisbon, has just revived stay at home orders.
PORTUGAL TO BRING BACK STAY AT HOME RULE ACROSS SEVERAL AREAS OF LISBON TO TACKLE LOCALISED OUTBREAKS, SAYS PM
* * *
Update (1120ET): The leader of one of the largest meat-packing workers unions in the country just revealed that 92 plant workers have died so far as these plants have proven fertile breeding grounds for the epidemic (though, notably, Beijing has been testing imported meats and foodstuffs for the virus, and has so far come up with nothing).
While NY's Thursday case total showed a 0.2% growth, in line with the 7-day average, both Florida and Arizona have just reported their numbers for Thursday.
Florida now has 114,018 total COVID-19 cases, an increase of 5,004 in one day, along with 46 new deaths, according to Fox13.
The rate of positive tests has increased during that time period. It dropped back to 10% on Wednesday after spiking to 18% on Tuesday. Thursday's total new cases represented the second-largest single-day jump since the pandemic began, as well as the 23rd straight day where 1,000+ new cases were reported. Experts say the current spike is partly due to more tests being given, but also a result of reopening the state.
The median age of those testing positive remained 34.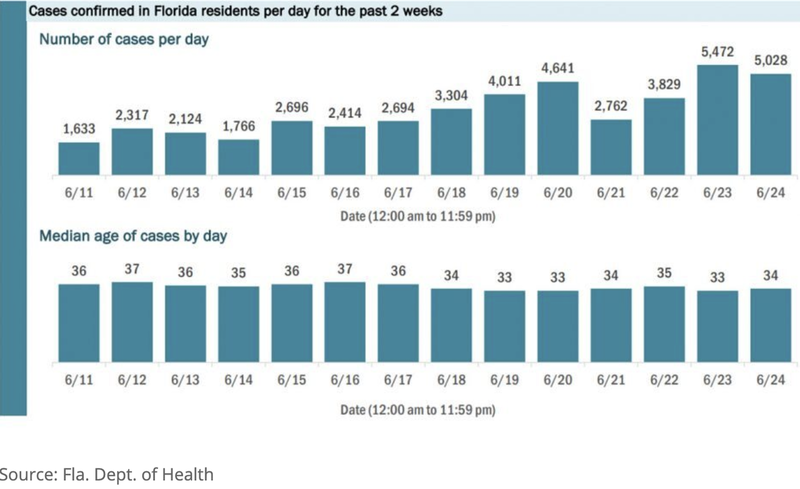 Prior to this spike, the state had averaged just ~700 new cases per day in the last month. That was a level that the health care system could handle, according to Gov. DeSantis. And while the number of new cases has trended up over the last few weeks, the number of deaths has appeared to trend down, though "significant delays" in data reporting, as the state says, make interpreting short-term trends from that statistic less reliable.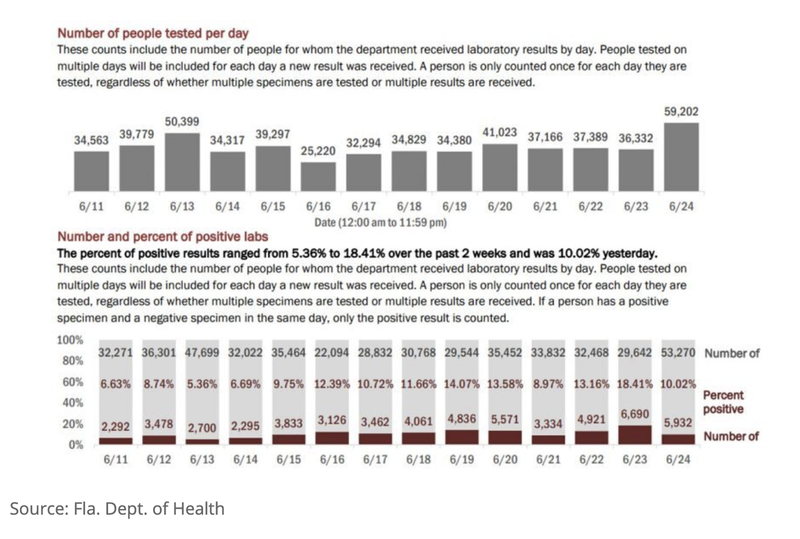 Arizona, meanwhile, reported another DoD jump in new cases. Arizona reported 3,056 new cases (+5.1%) and 27 new deaths Thursday, bringing the total confirmed cases there to 63,030 and deaths at just 1,490 in total. That's compared with a 7-day average of just 2.3%.
#Arizona #COVID19 Numbers: (6/25)
Confirmed Cases: 63,030
Daily Case Increase: 3,056(+5.1%)
Confirmed Deaths: 1,490
New Deaths: 27
PCR Tests: 463,800
New PCRs: 15,000(record)
Antibody Tests: 155,343
New Antibody Tests: 4,337
2 weeks previous increases
6/18 +6.2%
6/11 +4.7%

— The AZ – abc15 – Data Guru (@Garrett_Archer) June 25, 2020
Texas Gov Abbott meanwhile has just announced that he will halt reopening plan, sending US equities sliding back into the red.
TEXAS GOVERNOR HALTS NEW PHASES OF REOPENING STATE'S ECONOMY
Here's his newest reopening plan.
NEWS: @GovAbbott now halting further reopening phases in Texas as #COVID19 positive cases and hospitalizations continue to sky rocket in the state. pic.twitter.com/nIjUxMpvcR

— Priscilla Thompson (@PriscillaWT) June 25, 2020
As more blue-checks groan about economists weighing in on epidemiological matters, as they are wont to do, Raphael Bostic, the head of the Philly Fed, warned that the rising cases suggest the first virus wave isn't over, and that he's "concerned" about the possibility of another wave of shutdowns.
Dr. Tedros from the WHO meanwhile warned that he expects a virus will be ready for mass distribution within a year. Earlier, a WHO official said during Thursday's briefing that the world will likely surpass 10 million cases and half a million deaths by next week. That is, unless the pandemic suddenly comes screeching to a halt (which isn't very likely).
* * *
Update (1020ET): Texas Gov. Greg Abbott issued an executive order suspending all elective surgeries in several of the state's worst-hit counties, including Travis County, which includes Houston and the surrounding area.
NEW: @GregAbbott_TX issues a new Executive Order suspending elective surgeries at hospitals in some #Texas counties, including #TravisCounty.

This is an effort to increase hospital bed availability for #COVID19 patients. We've seen cases and hospitalizations spiking here. @KVUE pic.twitter.com/DVlWHgkI1Z

— Brad Streicher (@bradrstreicher) June 25, 2020
As Public health officials reported another disturbing jump in hospitalizations – statewide figures saw a 8% increase compared with 7.3% yesterday – as officials in Austin warned Thursday that if nothing is done, hospitals might reach capacity by mid-July.
RIGHT NOW: @MeaEscott from @AusPublicHealth says if people's behavior's don't change, #Austin could exceed hospital capacity by mid-July. He said hospital capacity is not a problem for right now. @KVUE

— Brad Streicher (@bradrstreicher) June 24, 2020
Already, hospital capacity in Houston is stretched, with ICU capacity already '97%' full, as the city activates emergency capacity that could itself be overwhelmed in under two weeks.
In NYC, meanwhile, Mayor de Blasio, who, during the opening days of March, warned that New Yorkers should "go about their lives" as the coronavirus wasn't a major threat, advised that the second phase of reopening was going so well, that the city could enter Phase 3 as soon as July 6.
If Texas' outbreak isn't brought under control within two weeks, Austin's top county health officials said he would have no choice but to order another shutdown, which would inevitably lead to a political crisis.
BREAKING: @MeaEscott says he will recommend @MayorAdler shut down #Austin again if #COVID19 isn't under control in the next two weeks. Urges the need for people to make changes again. @KVUE

— Brad Streicher (@bradrstreicher) June 24, 2020
Per the Chronicle, as COVID-19 cases continue to spike in Houston and Texas, leaders of the Texas Medical Center are expected to update an update on the hospital system's capacity levels during a Thursday press conference.
* * *