10 States See Record Numbers Of New COVID-19 Cases As Florida Declared "The Next Epicenter": Live Updates
by Tyler Durden
ZeroHedge.com
Thu, 06/18/2020
Summary:
23 US states seeing rising case numbers
Florida "has the makings of the next epicenter"
NYC Mayor says city to enter 'phase 2' Monday
Global case total tops 8.3 million
Deaths top 447,000
Tokyo reports 41 infections
World reports record jump in new cases, deaths
Beijing top epidemiologist says outbreak in the city has been contained
New study shows many infected don't develop long term antibodies
India reports record jump in new cases (12k+) as Fitch cuts outlook
Cali reports record 4k jump in new cases
Indonesia reports record jump, surpassing Singapore's case total
* * *
Update (1000ET): With nearly half of US states seeing an uptrend in new US cases, and 10 seeing 7-day averages climb to their highest levels since the beginning of the crisis, the IMHE projections followed by the CDC is now projecting 200k deaths in the US by October. Here's an update on the latest data out of the US, courtesy of Johns Hopkins University's data.
Some 23 states are currently seeing the average 7-day case numbers climbing from week to week: North Carolina, Oklahoma, South Carolina, Alabama, Alaska, Arizona, Arkansas, California, Delaware, Florida, Georgia, Hawaii, Idaho, Kansas, Oregon, Louisiana, Montana, Nevada, Tennessee, Texas, Washington, West Virginia and Wyoming.
Eight states are seeing steady numbers: Maine, Indiana, Mississippi, Missouri, Ohio, Nebraska, South Dakota and Utah.
Meanwhile, 18 states, including the two states with the worst outbreaks in the country – NY & NJ – are seeing declines in the number of new cases reported daily: Colorado, Connecticut, Illinois, Iowa, Kentucky, Maryland, Massachusetts, Michigan, Minnesota, New Hampshire, New Mexico, New Jersey, New York, North Dakota, Pennsylvania, Rhode Island, Virginia and Wisconsin.
Only one state, Vermont, has seen a sustained 50% drop in cases, part of the federal criteria initially laid out by the CDC to justify moving on to the next step in the reopening plan.
Across the US, more than 2 million people have been infected and 117,717 people have died of the virus. The virus claimed 755 lives Wednesday in the US, according to data from Johns Hopkins University.
The latest numbers out of Florida confirm the trend:
FLORIDA COVID-19 CASES RISE 3.9% VS. PREVIOUS 7-DAY AVG. 3%
In other news, NYC Mayor Bill de Blasio just reaffirmed that his city will enter 'Phase 2' of its reopening on Monday
.@NYCMayor says"good news" that #NYC will move into Phase 2 of the reopening on Monday because of the positive direction of indicators. Outdoor dining, hair salons will return along with 150k to 300k workers who can return to work.

— Jeff Mays (@JeffCMays) June 18, 2020
In an expansion of outdoor dining, @nycmayor says restaurants will be able to use curb space in front of restaurants, sidewalk seating, pedestrian plaza seating and seating on streets closed to increase open space, to serve customers.

— Jeff Mays (@JeffCMays) June 18, 2020
Blaz also weighed in on Cuomo's decision to keep city playgrounds closed, saying that while team sports wouldn't yet to be
"This is the thing that will take us backwards," @NYCMayor said about opening playgrounds too early. https://t.co/zLTth2j8ZC

— Jeff Mays (@JeffCMays) June 16, 2020
One exception: playgrounds for small children – known as "tot lots" will be allowed to reopen on Monday.
Playgrounds for young kids (aka tot lots!) open Monday

— Julia Marsh (@juliakmarsh) June 18, 2020
CNN, meanwhile, has anointed Florida "has the makings of the next epicenter" after speaking to a scientist from Penn.
Florida has "all the markings of the next large epicenter of coronavirus transmission," and risks being the "worst it has ever been," according to Wednesday's projections from a model by scientists at Children's Hospital of Philadelphia and the University of Pennsylvania.
"The potential for the virus to take off there is very, very nerve-racking and could have catastrophic consequences" because of the state's aging population and the prevalence of nursing homes and retirement communities, Dr. Jeanne Marrazzo, director of the division of infectious diseases at the University of Alabama at Birmingham, told CNN on Thursday.
Florida is one of ten states – the other nine being Alabama, Arizona, California, Nevada, North Carolina, Oklahoma, Oregon, South Carolina and Texas – that are seeing their 7-day average numbers of new cases hit record highs, per JHU.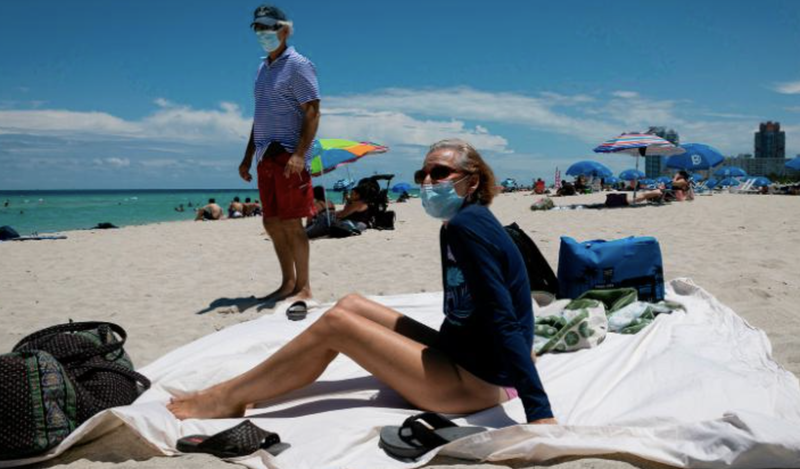 Source: CNN
* * *
Update (0925ET): Hedge fund manager Cliff Asness weighs in.
I don't have a strong opinion here on what to do, glad it's not my call. But, it seems the point is that there is a tradeoff between cases going up and the economy. Trade offs are something economists, even former ones, are supposed to understand, not ignore for partisan attacks. https://t.co/mVHlC2sHMU

— Clifford Asness (@CliffordAsness) June 18, 2020
* * *
As VP Mike Pence plays down the threat of a 'second wave' of SARS-CoV-2 sweeping across the US, the WHO revealed Thursday that an accounting of the total case numbers and deaths recorded on Tuesday (48 hours ago) amounted to 140,000 new cases, the highest number since the outbreak began. Another 6,800 deaths were also reported, the highest number since April, Nikkei Asian Review reports.
Nearly half of these new cases were recorded in Latin America, where Brazil, Mexico, Chile, Ecuador, Peru and other countries are all struggling with a surge of infections in the region as decisions by Brazil and Mexico to not take the outbreak seriously have apparently come back to haunt the entire region.
Circling back to the data released so far on Thursday, Tokyo reported 41 infections on Thursday, up from 16 a day earlier, while South Korea saw 34 new cases, down from 37 a day ago, not exactly a sign of another outbreak.
As the worldwide count of COVID-19 infections surpasses 8.25 million (JHU reported 8,320,288 as of early Thursday morning, along with 447,628 deaths), the death toll is on the cusp of passing 450k. Following a brief spat, the US and China have struck an agreement to allow four weekly flights between the two countries, easing a standoff over travel restrictions as Beijing blames travelers from abroad and imported seafood for some of the latest outbreak. Delta will resume passenger flights between Shanghai and Seattle next week, via Seoul, and once-a-week flights from Seattle and Detroit in July.