"This Ship Is Sinking" – The Economy Is Holed Below The Waterline
by Bill Blain via MorningPorridge.com,
ZeroHedge.com
Tue, 05/26/2020
"Until then men felt they had found the answer to a steady, orderly, civilized life. For 100 years the Western world had been at peace. For 100 years technology had steadily improved. For 100 years the benefits of peace and industry seemed to be filtering satisfactorily through society. Life was all right. The Titanic woke them up."
We seem engaged in an all-out civil war to determine where to put the deckchairs on this Titanic of a country. Credibility is shot. The UK is holed below the waterline. This ship is sinking. All is lost.. all is lost..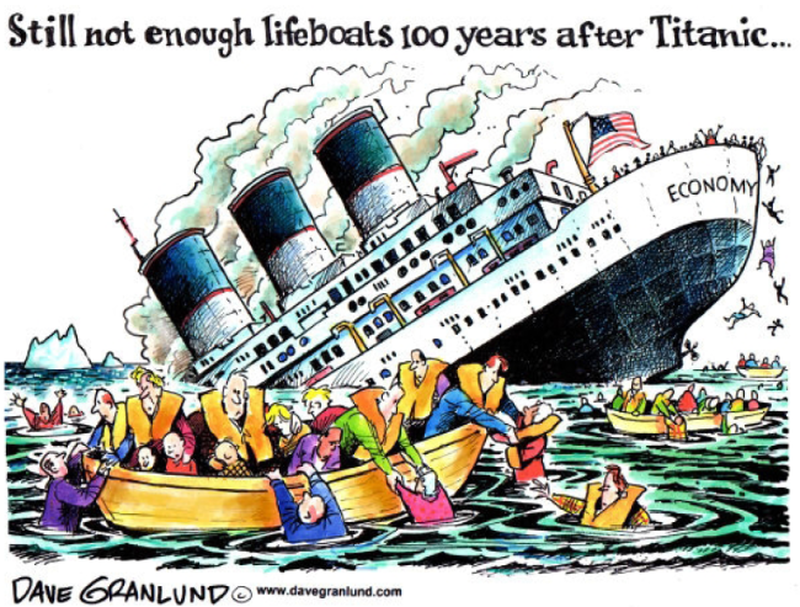 It's difficult to resist a cataclysm of clichés this morning… But, I'm buying dollars and switching out Gilts for Treasuries.
The reality is the UK faces its greatest ever economic crisis. Q2 GDP is going to fall by 25% plus. There will be no V shape recovery. We are going to fail badly. The treasury is wrestling with the implications of Project Birch – the plans to bail-out the failing large UK companies critical to the economy. Company balance sheets across the country are being distorted by increasing debt – the only way to pay down will be to cut costs. Retail sales are collapsing. Gilts are at negative yields. Government borrowing in April exceeded £62 bln as expenditure rose 54% (compared to April 2019), while tax revenues tumbled 35%. Unemployment is going to explode. Companies across the nation are going bust at a record rate. Social deprivation is going to go through the roof.
At the same time, we're fighting to put together a new future for the UK outside the Eurozone, trying to agree the terms of trade deal with our former EU partners by the end of June, and struggling to avoid the breakup of the United Kingdom as nationalist pressures mount.
Last week the UK was already a screaming sell, but you kind of believed there was hope, and on a relative basis to Europe, it wasn't so bad.
Never underestimate our ability to make a bad situation worse. Our nation of Lemmings found the proverbial cliff and plunged over it.
Whatever the rights and wrongs, the Dominic Cummings farrago feels like it just popped a massive bubble. The outlook is bleaker than ever. So much for wartime spirit and consensus. (My yacht is fuelled up, provisioned, ready to go, and I'm brushing up my schoolboy Spanish.. just in case.)
The Rest…HERE