Africa Tops 100,000 COVID-19 Cases As Global Total Nears 5.25 Million: Live Updates
by Tyler Durden
TheGatewayPundit.com
Fri, 05/22/2020
Summary:
Cali reports slight jump in new cases
Italy's does 75k+ tests in a single day for first time
Dr. Birx offers update on state of US outbreak
Chinese vaccine deemed "safe" by the Lancet
NY lowest case count since early days of outbreak
NJ raises gathering limit to 25
Italy says vaccine won't be ready until next year
NY launches program allowing pharmacists to administer COVID tests
GM delays plan to ramp up production
Spain lifts lockdown conditions in Madrid
Chinese airline to restart flights from US next month
India reports record jump in cases as lockdown eases
Russia reports record jump in deaths
Russian 'hot nurse' punished for accidentally exposing underwear due to 'see-through' PPE
UN warns of looming collapse of Yemen's health-care system
Bulgaria allows EU residents to enter country
Brazil becomes sixth country to hit 20k COVID deaths
Thailand extends state of emergency even as no new cases reported
Russia, Brazil drive largest daily jump in new cases
Australia's largest state, New South Wales, allows up to 50 people in restaurants and bars
* * *
Update (1540ET): AfricaNews reports that the number of confirmed cases in Africa has passed 100,000 as epidemiologists and scientists on the Continent and elsewhere have marveled at the coronavirus's relatively slow spread across Africa, which has largely avoided the full-scale collapse of countries' health-care systems – or anything even close to that scenario.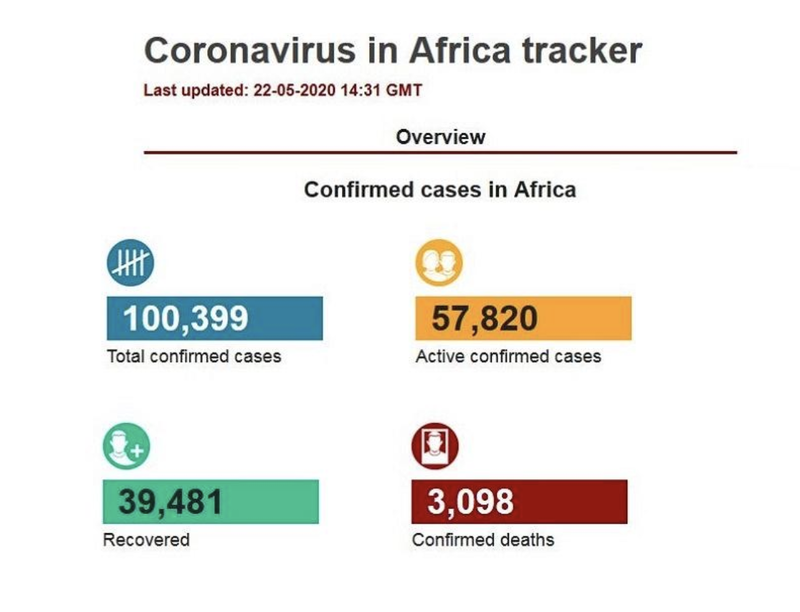 Africa's five worst-hit nations are as follows:
South Africa: 19,137
Egypt: 15,003
Algeria: 7,728
Morocco: 7,300
Nigeria: 7,016
South Africa has been the worst-hit across the continent despite a restrictive lockdown that was initially ordered back in March. It's also by far worst-hit country across the southern African region. In Northern Africa, Egypt has the most cases, while in West Africa, Nigeria has the biggest outbreak. Cameroon is the leader in Central Africa, with 4,288 cases while Sudan leads the Horn of Africa region with 3,138 cases.
The global total, meanwhile, is rapidly closing in on 5.25 million.
* * *