New York's Coronavirus Death Toll Passes 15,000: Live Updates
by Tyler Durden
ZeroHedge.com
Wed, 04/22/2020
Summary:
German biotech company begins clinical trials for vaccine
Oxford U. begins human testing for vaccine
FT says UK coronavirus deaths 2x+ official number
NY death toll passes 15k
Trump: "Our Country is starting to OPEN FOR BUSINESS"
Chinese scientist finds deadly new coronavirus mutations
Cali officials reveal first US coronavirus death occurred weeks earlier than realized
Dominic Raab says at least 69 health-care workers have died in the UK
South Korea unveils 'New Deal'-style stimulus
* * *
Update (1330ET): New York has reached another grim milestone: the state's death toll has surpassed 15k on Wednesday, though the pace of deaths continued to slow. Deaths climbed to 15,302.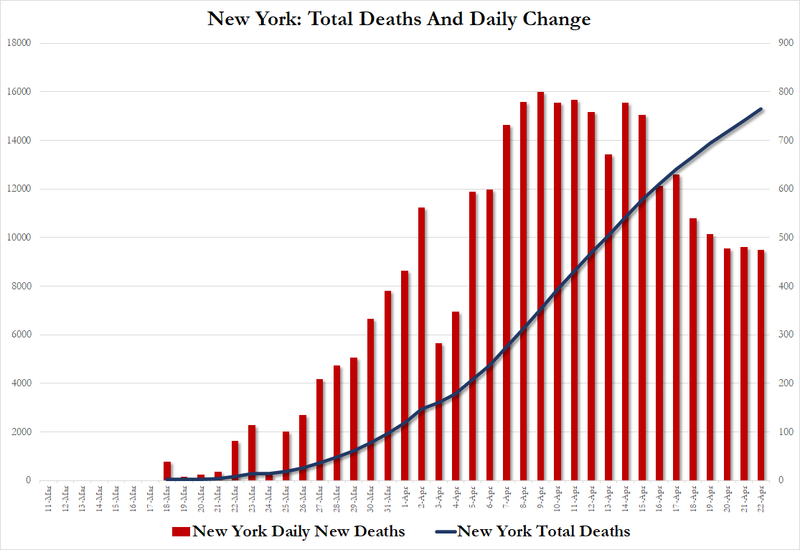 Texas, meanwhile, reported another 18% jump in new cases. France reported 3,201 new cases on Wednesday, the highest number in four days, to right around 160k cases. The WHO noted that in the Middle East, cases are rising everywhere except Iran.
* * *
Update (1205ET): Though it sounded almost as if he was speaking to his fellow governors, Cuomo urged local officials in his state to "resist political pressure" to reopen their towns too early, warning that they might risk ruining all the hard work of the American people. "We make a bad move, it's going to set us back…Frankly, this is no time to act stupidly. Period. I don't know how else to say it," Cuomo said.
New York Gov. Andrew Cuomo implores local officials to resist "political pressure to open."

"We make a bad move, it's going to set us back…Frankly, this is no time to act stupidly. Period. I don't know how else to say it." https://t.co/Zv6MGE4GDW pic.twitter.com/UHVHiH3dwX

— ABC News (@ABC) April 22, 2020
Cuomo added: "This is not the time for confusion or disagreement among government…"local laws can't counteract state laws, anyway."
"We can't have people lose their life because we acted imprudently."
In other news, Italy reported a jump in new cases, while the pace of new deaths continued to slow. 3,370 new patients tested positive yesterday, said Italy's Civil Protection Service, compared with an increase of 2,729 the day before (Italy's countrywide total is 187,327). Deaths continued to slow, with another 437 new deaths reported, compared with 534 new deaths a day ago, as the curve continues to slow at a rate that's even surprising some of Italy's leading scientists. In total, 25,085 Italians have died – with deaths in the country moving above 25k, becoming only the second country to hit this number after the US.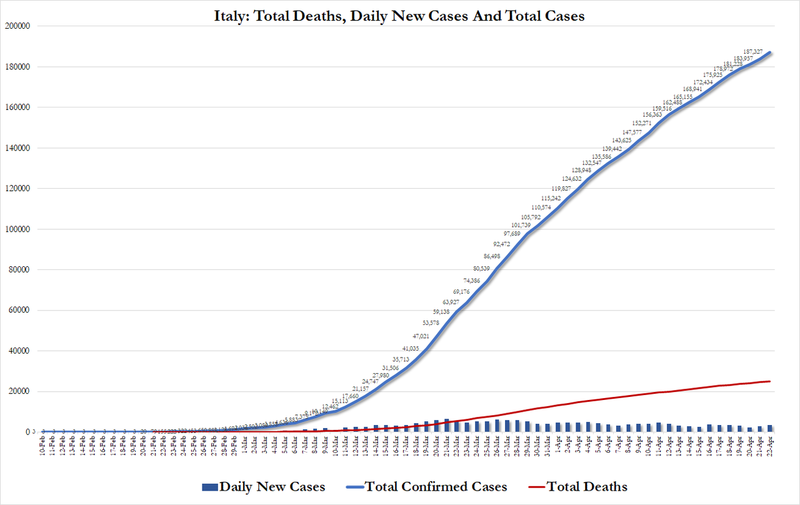 https://zh-prod-1cc738ca-7d3b-4a72-b792-20bd8d8fa069.storage.googleapis.com/s3fs-public/styles/inline_image_desktop/public/inline-images/2020-04-22_0.png?itok=_JKhbCbK
Another 54,543 Italians have recovered, including another 2,943 declared "recovered" over the last day, an increase of +5.7% as more patients finally recover from the illness. Of course, as we've noted, many patients who struggle in serious condition for days or weeks have a higher likelihood of suffering long-term consequences.
* * *