Global Coronavirus Cases Top 2.5 Million; Italy, UK Report Disturbing Jump In Deaths: Live Updates
by Tyler Durden
ZeroHedge.com
Tue, 04/21/2020
Summary:
Singapore extends lockdown until end of June, longest in the world
Demonstrators fill the streets of Paris
Cuomo holds Tuesday briefing in Buffalo
Yonhap denies reports that NK's KJU is dying
Schumer revives hopes for Tuesday night Senate vote on relief bill
Italy bond yields climb as PM Conte says EU rescue package proposal not enough
AG Barr says DoJ may sue some states with strict virus limits
Fla. reports 835 new cases
Georgia, Tennessee & South Carolina unveil plans to start reopening economies by Tuesday
Gottlieb says true # of US cases likely "10x higher" than official total
New York sees total new cases decline for 6th day
Gavin Newsom says "now is not the time" to reopen the country
JPM has developed plan to get employees back in the office
Global cases pass 2.5 million
Ireland won't allow mass gatherings until August "at the earliest"
US cases near 800k, with deaths passing 170k
* * *
Update (1210ET): The National Institutes of Health has released new treatment guidelines for doctors and other health-care providers treating patients sickened by COVID-19.
#NIH issued treatment guidelines for #COVID19. The Guidelines, developed by an expert US panel, are intended to help healthcare providers on the frontlines fighting COVID-19. Posted online, they will be updated often as new data & information emerges. https://t.co/CrLz1x2LXs pic.twitter.com/Y5ACYYsw7s

— NIH (@NIH) April 21, 2020
Political news out of Washington over the last 24 hours has mostly fixated on negotiations on another relief bill to replenish the 'PPP', aside from more evidence showing more FBI mismanagement and rule-breaking associated with the Russia probe.
On Tuesday, AG Barr said that states with "strict virus limits" might be prosecuted by the DoJ to, we assume, push them to reopen their economies more quickly.
Again, this is a move with terrible political consequences for President Trump, as it will drag more responsibility for the outcome of the outbreak – an outcome that can only be negative – to the president's door.
Italy has also seen the total number of recovered patients reach 50,000, another positive milestone.
* * *
Update (1200ET): With European markets closed for the day, Italy has just reported its coronavirus stats from the past 24 hours, and they started with a jump in deaths day-over-day: 534 were reported over the past day, compared with 454 reported on Monday. It also reported a notable uptick in new cases, though the single-day jump on Tuesday remained below the highs from a couple of weeks ago.
Italy's Civil Protection Service reported 2,729 new cases, compared with 2,256 new cases reported a day earlier. The countrywide total was 183,957.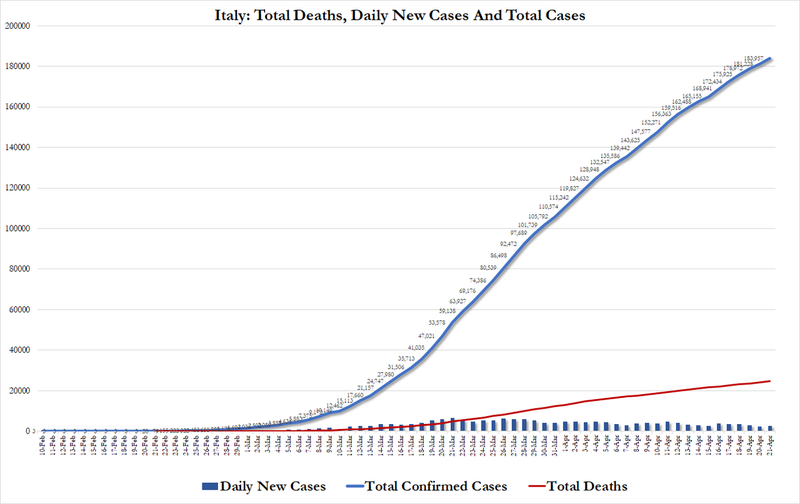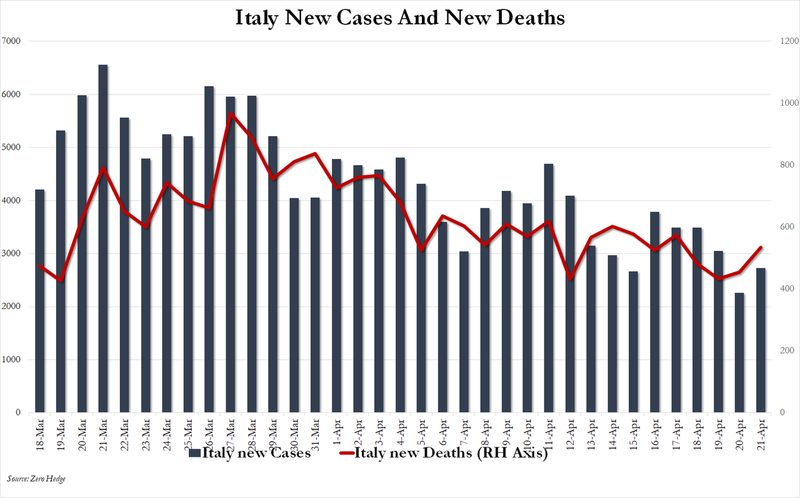 Though some blamed the weekend and a larger number of tests run on Tuesday vs Monday for the jump in new cases and deaths. Moreover, there was a silver lining: for the first time, the number of patients deemed 'recovered' over the last 24 hours nearly passed the number of new cases confirmed.
Italian bond yields shot higher on Tuesday as Prime Minister Giuseppe Conte criticized the EU's rescue package for economies that have been most badly hurt by the outbreak, like Italy's. Last week, French President Emmanuel Macron warned that the EU could break apart if not enough is done to help countries like Italy and Spain (and, presumably, France).
The parsimonious Germans might doom the whole thing by allotting plenty of their tax dollars for their own people, and none for the Italians.
These tensions are bound to come to a head on Thursday, when the EU holds a summit on Thursday to discuss the fiscal response to the virus.
Following a controversy over Wall Street's cultural resistance toward working from home where traders at JPM reportedly sickened a whole floor after refusing to stop coming to work despite being infected with the coronavirus (which they didn't learn until later), JPM has reportedly formulated a plan to get its employees back in the office.
Finally, back in the UK, 4,301 new cases were reported as the number of tests rose, bringing the countrywide total to 129,044.
* * *
Update (1140ET): Florida reported that it's case total jumped 835 cases to 27,495, which leaves it in 8th place in the US. The state reopened beaches over the weekend, a decision that has aroused much outrage.
Hundreds of people are gathering in Florida's re-opened beaches, as COVID-19 cases continue to rise in the state. pic.twitter.com/EikH2DQyhY

— AJ+ (@ajplus) April 20, 2020
As the continued begging the federal government for more tests, Cuomo explained that one reason for the shortage was the lack of chemical reagents from overseas.
* * *