Cuomo Orders New Yorkers To Wear A Mask 'Anywhere Social Distancing Isn't Possible; France Reports 1,500 New COVID-19 Deaths: Live Updates
by Tyler Durden
ZeroHedge.com
Wed, 04/15/2020
Summary:
Global confirmed COVID-19 cases pass 2m
Death toll nears 130k
Singapore reports another record jump in new cases
Idaho extends stay at home order until April 30
UK reports daily data
NYC mayor says normalcy might not return until September
France reports 1,483 deaths, highest single-day jump yet
Cuomo says NY to begin antibody testing this week
NY will require ppl to wear masks on public transit
Treasury to print Trump's signature on stimulus checks
Wild animals return to the streets of Wales
South Korea holds legislative elections
European Commission releases 'guidance' for EU states plotting a reopening
World Bank and IMF hold virtual meetings
Spain reports biggest jump in new cases in nearly a week
Iran reports lowest number of new cases in a month
* * *
Update (1330ET): While the UK, Italy and Spain reported slowdowns in new cases and/or deaths, France just reported 1,483 deaths over the last day, shattering the last record to become the highest single-day toll yet.
The governor of Idaho, meanwhile, extended the state's stay at home order until April 30.
* * *
Update (1250ET): New cases declined again on Wednesday as Italy reported 2,667 new cases of coronavirus and 578 new deaths, compared with 2,972 new cases, and 602 deaths, a day earlier. Wednesday's rate was the lowest since March 13. Confirmed cases in Italy now total 165,155, while deaths have reached 21,645 as the US widens the gap between first and second-place in countrywide deaths.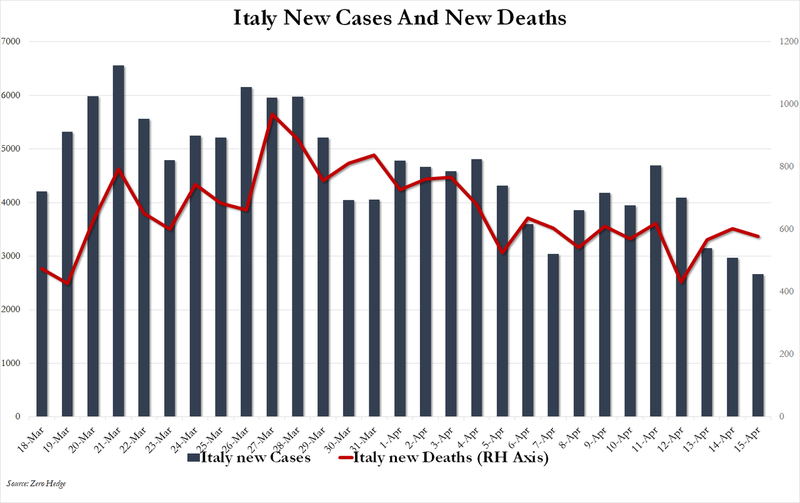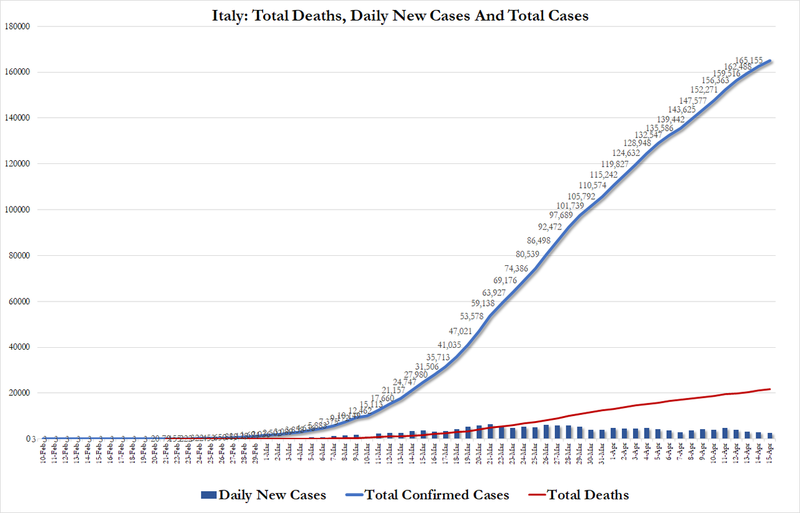 Even as the opposition in Italy (like the opposition in Spain) tries to accuse the government of undercounting, the numbers have at least renewed confidence that the lockdown might soon be ended, as Italy allowed some more businesses to reopen this week.
Meanwhile, in New York State, Gov Andrew Cuomo began his daily briefing. For the second day in a row, the state reported a drop in total hospitalizations, meaning more beds are opening up.
Holding a briefing with updates on #Coronavirus. Watch Live: https://t.co/0939B2aTxU

— Andrew Cuomo (@NYGovCuomo) April 15, 2020
Now that the state's need for ventilators is no longer a major issue, Cuomo said his next focus is acquiring antibody tests to determine who has been exposed to the virus and successfully developed antibodies – and is therefore presumably immune, though some who have been infected have now shown the antibodies one would expect to fine, meaning they might be at risk for reinfection.
Additionally, NY will be sending ventilators to other states – 50 to Maryland and 100 to Michigan – in a sign of solidarity.
Cuomo said he hopes to test all front-line health-care workers in the state. He'd also like to ramp up testing and tracing efforts. But there's one major problem: He needs $500 billion more from the federal government to make all of that happen. The state hopes to run 2k of these antibody tests per day.
Though he didn't offer any specifics, Cuomo said that the gradually phased reopening will be determined by two factors: how essential an industry is, and what the infection risk is for each industry. The most essential and lowest risk industries will be opened first, he said.
The governor also said he would sign an executive order mandating that individuals who are in public situations where social distancing isn't possible – ie like on public transit like the subway – must wear a mask or other face covering. Asked about the order, Cuomo said he wasn't certain on enforcement since it will be up to local officials, but he hoped that New Yorkers would take matters into their own hands and 'politely' nudge people not abiding by the rule to find a covering.
* * *