UK Suffers Another Record In Daily Deaths, Italy Sees New Cases Accelerate: Live Updates
by Tyler Durden
ZeroHedge.com
Wed, 04/08/2020
Summary:
Confirmed cases across Africa pass 10k
China reopens Wuhan
Global case total passes 1.4 million
Russia reports another record daily jump in new cases
UK reports another record jump in deaths
Italy reports slight acceleration in cases as deaths, ICU patients fall
Sunak says Johnson "improving"
NYC reportedly has enough ventilators to get through this week
Scientists find evidence some recovered don't have antibodies
Swss gov't sees GDP contracting as much as 10.4 % in 2020
LA mayor orders businesses to enforce social distancing
WHO again insists lockdowns must stay in effect
Iraq extends border closure with Iran
Indonesia outbreak continues to accelerate
Ethiopia joins growing list of African states by declaring state of emergency
* * *
Update (1225ET): New York Gov. Andrew Cuomo's Wednesday press briefing is slated to start at 12:30.
https://www.zerohedge.com/geopolitical/coronavirus-cases-pass-14-million-scientists-discover-reinfection-risk-patients-much
Update (1208ET): The market is running away with its optimistic view as Dr. Fauci claims new cases being reported in the US will likely start to fall next week and NYC Mayor de Blasio claims the city has enough ventilators on hand to ensure no unnecessary deaths, but more disturbing data has been reported out of the UK that would appear to undermine the narrative of a Europe-wide deceleration.
Once again, the UK reported its largest death toll yet, with 938 new deaths, bringing the total to 7,097. It also reported nearly 8k new cases, bringing the national total to 60,733.
In other news, in the latest update on PM Johnson, Chancellor Rishi Sunak said the PM is "improving"
Meanwhile, after a 3-day streak of declining new cases, Italy reported a jump on Wednesday, with 3,836 new cases, bringing the country's total to 139,422. Of these, 53,414 cases were reported in Lombardy.
Though new cases saw a slight acceleration, Italy reported another encouraging drop in deaths, and a drop in ICU patients. Deaths reported were 542, bringing the total to 17,662. Of these, 9,772 were in Lombardy.
https://twitter.com/FerdiGiugliano/status/1247921164208480257?ref_src=twsrc%5Etfw%7Ctwcamp%5Etweetembed%7Ctwterm%5E1247921164208480257&ref_url=https%3A%2F%2Fwww.zerohedge.com%2Fgeopolitical%2Fcoronavirus-cases-pass-14-million-scientists-discover-reinfection-risk-patients-much
* * *
Update (1045ET): Russia reported another record number of new cases on Wednesday, with 1,175 confirmations, bringing its total to 8,672 cases.
Meanwhile, as more cases are reported across East Asia, Hong Kong has extended social distancing measures to April 23 from April 11, while ordering the closure of beauty parlors and massage parlors.
* * *
Update (1020ET): According to prior projections, the'peak' in NYC's coronavirus outbreak was supposed to arrive on Thursday. And in keeping with the optimistic turn in the official projections, NYC Mayor Bill de Blasio said his city now has enough ventilators to "get through this week", which suggests the city might be able to weather the storm without needing substantially more ventilators.
https://t.co/1oJmdWgZ6G
While we'd like to take this as good news, the mayor's history of playing down the dangers of COVID-19 suggests he could be playing down the risks once again.
Offering a racial breakdown of COVID-19 deaths, de Blasio said 34% of patients who die from the virus are white, 27% black, 28% Hispanic, and 7% Asian, the remaining 4% were a mix of other nationalities.
In LA, meanwhile, Mayor Garcetti has ordered all still-open (ie "essential") businesses to enforce social distancing for employees and customers, or face civil fines.
Meanwhile, over in Europe, the Swiss government has released its latest projections: it now sees GDP contracting by as much as 10.4% this year according to its worst-case scenario.
* * *
Update (0948ET): As Indonesia becomes the latest East Asian country to report an acceleration in new cases, disturbing new videos purporting to show patients collapsing in public have been shared by the Epoch Times. After resisting a shutdown for weeks, the country's president, Joko Widodo, has ordered schools shut and other businesses shut in the country's capital, densely populated Jakarta.
Indonesia reported another 218 new cases of coronavirus on Wednesday, bringing its total to 2,956 cases. The country has also reported 240 deaths, while 222 patients have recovered.
The problem with that 218 number is that Indonesian health authorities in Jakarta are only able to run 240 tests a day at max capacity. That means there's a chance that everybody, or nearly everybody, tested in Indonesia has tested positive. This is not good, as it signals that the outbreak is almost definitely much larger than the government realizes.
An increase in burials around Jakarta raised alarms in Indonesia, which is the largest Muslim-majority nation in the world, with ~265 million people, as health authorities suddenly realized that the virus had probably been spreading undetected for weeks. This comes after the government has already admitted to lying about positive case numbers, after insisting for weeks that it had zero detected cases.
And here's that video:
#Indonesia Under Attack by #CCPVirus (#COVID19) #中共病毒 肆虐 #印尼
Click here for more 更多视频: https://t.co/fSwmxEsPYp#CCPVirus #COVID2019 #Coronavirus #CoronavirusOutbreak #CoronavirusPandemic #CoronaVirusChallenge #DownWithTheCCP#新冠肺炎 #新冠病毒 #武汉肺炎 #打倒共产党 pic.twitter.com/z6qp2nTF4v

— Jennifer Zeng 曾錚 (@jenniferatntd) April 4, 2020
Update (0830ET): With one hand, Germany's Department of Health is pushing an app that will rely on cellphone location data to track contacts of people who test positive. Meanwhile, the Foreign Ministry is taking action to restrict the use of the conferencing app Zoom over security concerns.
Meanwhile, Zoom just hired Alex Stamos, the former security chief at Facebook who spoke out against his former employer during that whole Internet privacy debacle, as it tries to rebuild its reputation before everybody
* * *
Though the coronavirus outbreak figures reported out of Europe yesterday were probably more mixed than health officials would have liked, there was, apparently, enough to keep the resurgence of optimism that has fueled market gains in recent days alive. While China blithely prepares to unleash its second wave on itself and the world in what seems like an almost deliberate act, the Washington Post reported overnight that the main epidemiological model being followed by the federal government has just revised down the need for ventilators, beds and other equipment as the world seems to have convinced itself that a lull is underway.
Across the US, chatter on social media about the need to get at least some of the shut-down economy back online has intensified in recent days, as political commentary as inspired heated discussions as opponents accuse Republicans and many regular Americans of callously placing the economy and their own self-interest above protecting society's most vulnerable. Meanwhile, the global case total has surpassed 1.4 million, with 83k+ deaths.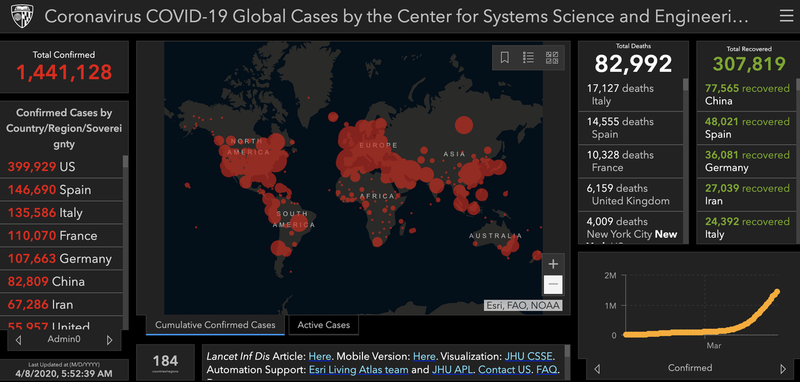 The Rest…HERE