New York State Now Has More Confirmed COVID-19 Cases Than Any Single Country Ex-US: Live Updates
by Tyler Durden
ZeroHedge.com
Wed, 04/08/2020
Summary:
Confirmed cases across Africa pass 10k
China reopens Wuhan
Global case total passes 1.4 million
Russia reports another record daily jump in new cases
UK reports another record jump in deaths
France extends lockdown after April 15
Italy reports slight acceleration in cases as deaths, ICU patients fall
Sunak says Johnson "improving"
NYC reportedly has enough ventilators to get through this week
Scientists find evidence some recovered don't have antibodies
Swss gov't sees GDP contracting as much as 10.4 % in 2020
LA mayor orders businesses to enforce social distancing
WHO again insists lockdowns must stay in effect
Iraq extends border closure with Iran
Indonesia outbreak continues to accelerate
Ethiopia joins growing list of African states by declaring state of emergency
* * *
Update (1440ET): The Presidential Palace has just confirmed that President Emmanuel Macron will extend France's lockdown past April 15.
* * *
Update (1245ET): Cuomo on Wednesday reported 779 new COVID-19-linked deaths across the state, another single-day record jump in what has been a mostly rocky few days for the state in terms of new deaths (while reports about potentially temporarily burying bodies in city parks sent a shiver through America's collective spine).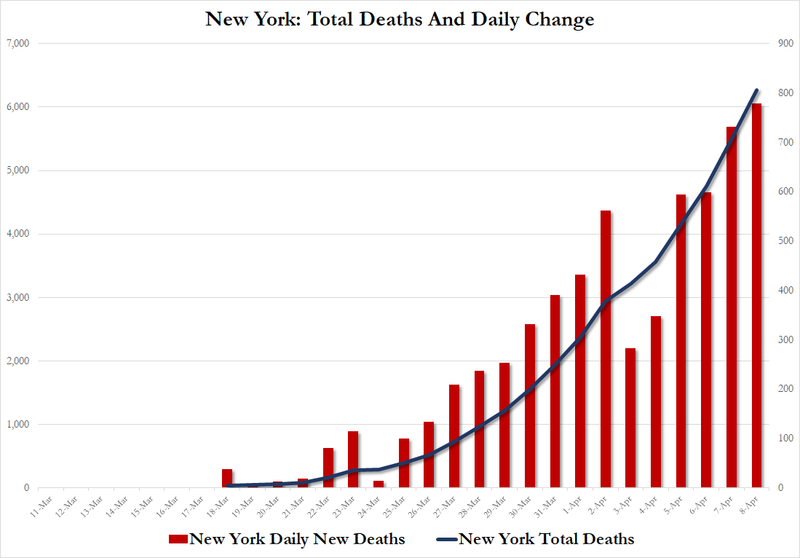 During the briefing, Cuomo said the state would extend unemployment benefits for workers, and added that the state seems to be well equipped with enough ventilators and even some BPAP machines (which can be modified to work like ventilators). He said that he it appears that cases have continued to plateau, continuing a trend that supposedly began this weekend (though some have raised issues about the way the data is collected, while others have warned about undercounting of deaths).
Though some might consider Cuomo's interpretation a tad too rosy, the governor insisted that "we're not out of this yet" and warned people to stay vigilent.
All voters will be allowed to vote by absentee ballot during New York's June primary, Cuomo said, while ordering flags in the state to be flown at half-staff, following in the footsteps of NJ Gov. Phil Murphy. Cuomo added that objections to this practice are "total nonsense," despite the fact that voter fraud is more prevalent than many suspect. Finally, Cuomo told viewers that we might see more days with high death tolls like today's – perhaps even higher – as deaths peak.
Cuomo started his presser with a soliloquy about how "the poorest always pay the highest price" in a crisis, and promised to do everything possible to combat this, including getting money in their pockets faster. When questioned by a reporter if he was considering closing any more front-line businesses to help protect minorities, Cuomo said it was an issue that he had given some thought to (though if anything, NYC probably should thinking about opening more essential businesses as the government whiffs the bailout and shortages of consumer products like TP persist).
Here's a breakdown of NY deaths, which shows that older Americans have been dying in the largest numbers, but still 20% of those who died were part of age groups who might be considered 'still young'.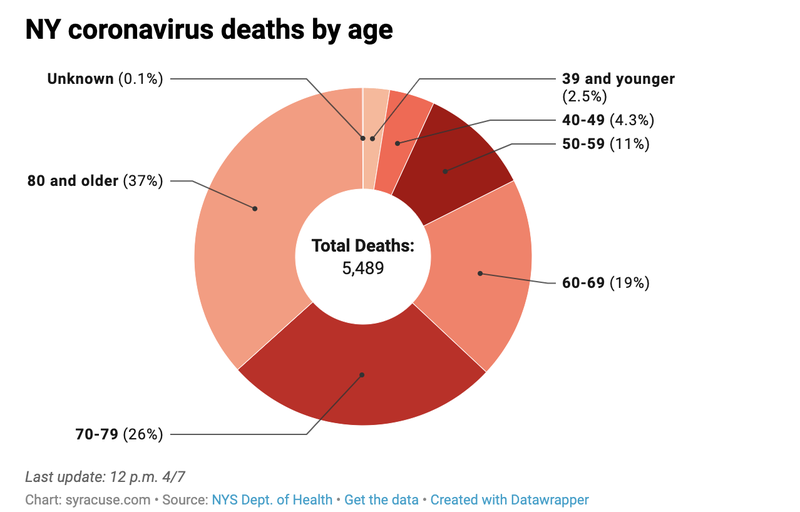 Later, Cuomo warned that while NYC and Westchester are on the downward slope, he warned that we would "almost certainly" see a jump in cases on Long Island. New York State reported 149,316 total cases statewide, including 10.480 new addigiotns, equivalent to a 7.5% increase, indicating a slight acceleration compared to yesterday. While the state reported 6,268 dead, including 779 deaths (its highest one-day jump yet), that's larger than the 'peak' death number that is supposed to come Wednesday, according to the IMHE model. Then again, these models merely projections, intended to hopefully be close, but likely not exact.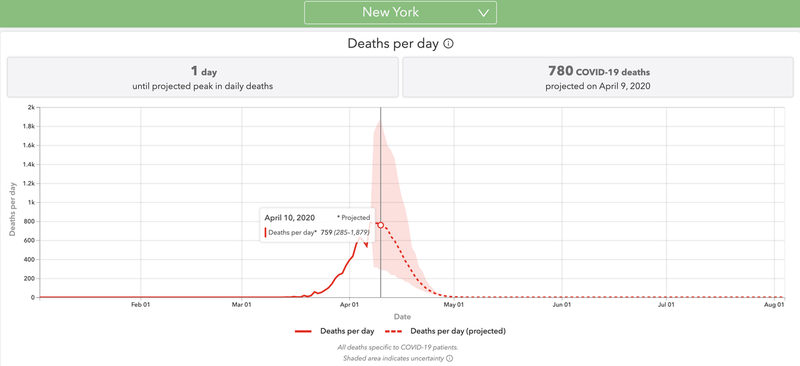 However, as WaPo pointed out earlier, various models have differed dramatically as the unprecedented scale of this outbreak has forced epidemiologists to try and customize their typical coronavirus outbreak model playbook. And especially when it comes to medical equipment, the IMHE (part of the University of Washington) models tend to be significantly rosier than state models, leaving some governors and Washington DC to essentially pray that intubations hem closer to IMHE.
Most importantly, following reports that thousands of 'home deaths' have gone uncounted in official statistics, Cuomo said he's looking at "other models" to help more accurately "adjust" figures to account for those home deaths.
Before we go, it's worth pointing out: New York reached another important milestone today: It has surpassed Italy in terms of total cases, meaning New York State now has more cases than any single country ex-US.
* * *