UN Warns COVID-19 Outbreak Is "Most Challenging Crisis Since WWII" As Germany Extends Lockdown: Live Updates
by Tyler Durden
ZeroHedge.com
Wed, 04/01/2020
Summary:
Iran reports 138 deaths on Wednesday
UK death toll jumps 563 as more than 4k deaths confirmed globally overnight
Germany has extended its national social distancing 'guidelines'
India reports new batch of cases as lockdown cuts down on harmful emissions
Hong Kong closes bars, karaoke lounges, beauty salons and other public areas as new cases jump
Japan closes borders to travelers from 73 countries, including UK and US
FDA reports shortages of malaria drugs touted by Trump
Russia sends planeload of medical products to US
Saudi hints that annual Hajj pilgrimage will be banned this year
UN says outbreak "most challenging crisis we have faced since WWII"
US case total nears 200k
Italian finance minister says government agrees with business lobby's projection for 6% GDP contraction
Spanish cases top 100k
CDC continues "review" of facemask recommendation
France rolls out new stimulus package as 'coronabonds' proposal dies out
UK pubs hatch plan to become grocers
Thai government puts thousands at risk with botched hand-out program
Chinese provinces report 56 'asymptomatic' cases
* * *
Update (1150ET): After last year's pilgrimmage created serious problems related to overcrowding that resulted in dozens of unnecessary deaths, the Saudi government is preparing to suspend the Hajj, the Islamic pilgrimage that must be undertaken by every believer if they're physically able to do it, for this year. They had already cancelled pilgrimages by suspending foreigners from the holy cities. But now that the pilgrimage season is only a few months away, the Royal Family, which has based its reputation in the Muslim world partly on its stewardship of the holy cities, has been forced to make a decision.
So it's not exactly surprising that a Saudi government minister on Wednesday cautioned Muslims from around the world to delay the pilgrimage due to the coronavirus outbreak. The comments by Muhammad Saleh bin Taher Banten, the minister responsible for the hajj, were the strongest indication yet that Saudi Arabia may be forced to cancel the pilgrimage. As we reported at the time, the kingdom has already suspended the umrah, or the year-around pilgrimage, and barred people from entering or leaving the holy cities of Mecca and Medina.
More than 1,700 Saudis and foreigners (remember, the country harbors many guest workers) have tested positive in the kingdom, and 17 people have died, according to the Washington Post.
As it struggles to gain international credit for its diligent virus response, Taiwan has decided to hand out 10 million face masks to countries that have been hit by the novel coronavirus, including the US, said President Tsai Ing-wen in a speech on Wednesday.
"Over the past months, we have seen countless acts of bravery and sacrifice from medical workers around the world. It is our duty as global citizens to give them our full support," Tsai said. Taiwan's Ministry of Economic Affairs announced Tuesday that the island was now producing 13 million masks each day, a 4x increase from a month ago.
* * *
Update (1140ET): The surgeon general defended the White House's reluctance to issue a nationwide stay-at-home order, saying "governors get to make the decisions." Many states have issued such orders, but more than a dozen governors, including Fla.'s Ron DeSantis, have declined to do so. Though the federal guidelines ask people to avoid leaving the house unless absolutely necessary.
China has continued to report a surge in new "asymptomatic" cases as a US intelligence report accusing Beijing of lying about its numbers has leaked on Wednesday morning.
* * *
Update (1025ET): German Chancellor Angela Merkel just announced that it will extend its nationwide lockdown and social distancing until April 19, adding two more weeks, even as the country has emerged as a bright spot in Europe. Merkel said Germany is far behind in achieving its goals, and said she would reevaluate the government's plan after Easter.
Elsewhere, India reported 110 new coronavirus cases in Tamil Nadu, bringing that state's total to 234. A few hours ago, officials reported 4 new coronavirus cases in Assam, raising state's total to 5. India, which still has relatively few cases, has reported a painful lockdown that left many of the poorest in difficult situations. However, as CNN reports, the lockdown, which is hammering millions economically, has been great for the environment and dramatically cut down on harmful emissions.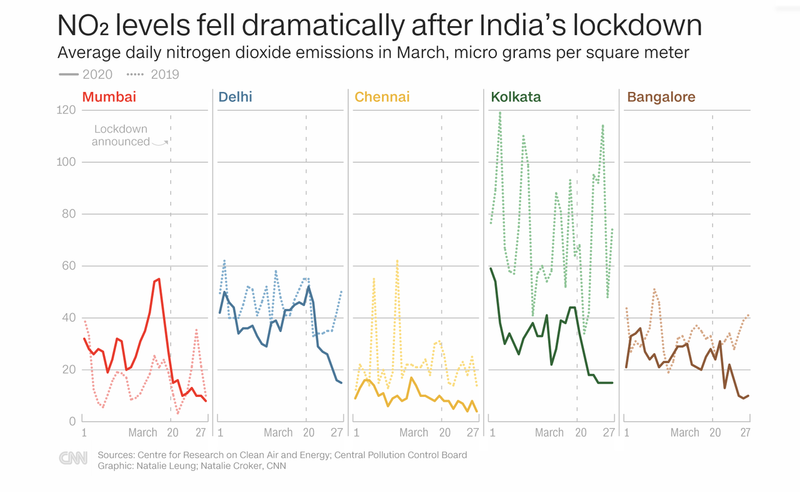 Earlier, we noted that Russia has sent a planeload of masks and medical equipment to the US as governors, including New York's Andrew Cuomo, beg for more equipment.
Meanwhile, the global death toll has topped 44k.
* * *
Update (1012ET): Despite promising to do "whatever it takes" to save the European economy and take the weaker countries along with the strong, the European Commission and the EU27 have yet to reach an agreement on a joint fiscal stimulus measure to help combat the outbreak, without straight-up monetizing the debts of the spendthrift European periphery, including badly hit Italy and Spain.
It makes little difference to us, at this point, any mutual rescue package is going to benefit those two countries more than any other, but the nuances of European politics operate in accordance to their own logic, and a big part of that involves placating the Germans, and, to a lesser extent, the Dutch, who are suspicious of generous economic support for the hapless Italians and Spanish.
As the talks continue, France, it was reported on Wednesday, is still pushing for a common EU fund, but has come up with what Emmanuel Macron and Bruno Le Maire apparently believe to be a suitable counterweight: a limit of five or 10 years and mandatory focus on economic recovery, according to the FT.
"We are thinking about a fund which would be limited in time with an indebtedness possibility for the long-term response to the crisis," French finance minister Bruno Le Maire told the Financial Times. "It's absolutely crucial to keep the door open for long-term, broad instruments that would allow us to face a 'postwar' economic situation."
France's pivot to backing this rescue fund marks another milestone: Having failed to win the backing of the Germans, "coronabonds" is now officially dead. The rescue fund, which would be rolled out on top of the other stimulus packages, monetary and fiscal, implemented by other European institutions, would be the eurogroup's big solution, instead of the 'coronabonds', much to the bond market's chagrin.
Talk of the new bonds had excited a market hungry for new issuance (though the ECB would monetize most, if not all, of the bonds, pretty quickly). Though fortunately they'll soon have 20- and 50-year Treasuries to buy.
* * *
Update (0945ET): The UK death toll just jumped 563 overnight, part of a 4,000 surge in deaths worldwide, with the total in the UK reaching 2,352 as of yesterday evening.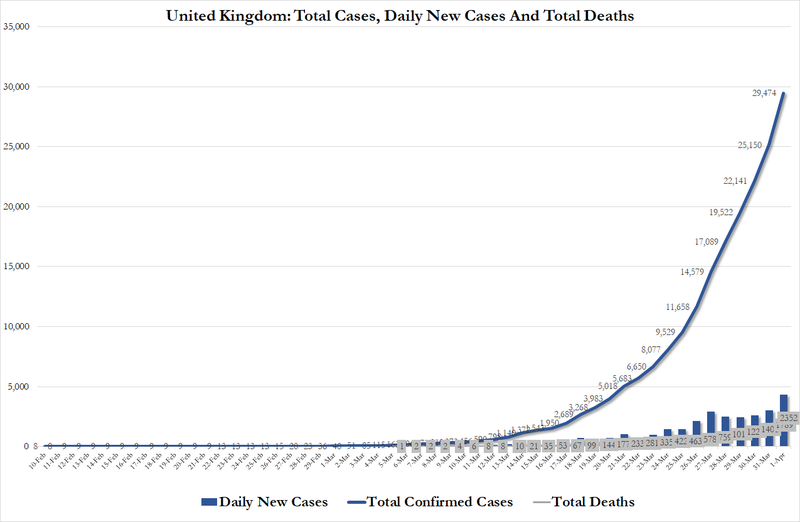 Confirmed coronavirus cases rose by more than 4,000 to 29,474 as of 9am on Wednesday, according to the Department for Health. In the US, total cases passed 190k, while the death toll in the US alone topped 4k. New York remains the hardest-hit state, with more than 75k confirmed cases.
Many experts rushed to label Trump a kook and a conspiracy theorist for touting malaria drugs hydroxychloroquine and chloroquine, which were emergency approved by the FDA to treat COVID-19. But some evidence has emerged that one of these drugs, combined with azythromicin, commonly known as a "Z Pak" in the US, is effective in stopping the illness's progression in vulnerable patients. Now, the two drugs are officially facing shortages according to the FDA.
The CDC is continuing its "review" of its recommendation not to wear facemasks, as continued shortages have left supplies low even for health care professionals working in hospitals.
* * *