UK Prime Minister, Health Secretary Test Positive For COVID-19 As Russia, Hungary Expand Lockdowns: Live Updates
by Tyler Durden
ZeroHedge.com
Fri, 03/27/2020
Summary:
Boris Johnson, Matt Hancock test positive
US stock futures turn lower after 3-day rebound
Global case total nears 538k
US case total nears 86k, with ~1300 deaths
China border closure begins
1 in 10 Americans say they know somebody with the virus
South Africa lockdown begins as country confirms first 2 deaths
Netherlands reports ~1k new cases, 112 new deaths
Hong Kong reports 65 new cases, largest daily jump
Singapore makes standing too close to somebody else illegal
North Korea says 2,280 people still in quarantine
All of Russia placed on lockdown
Hungary PM announces lockdown plans
Israel mobilizes army to enforce lockdowns
President Xi, Trump promise to "unite" to fight virus during call
* * *
Update (10:55ET): As the US adjusts to its newfound position as the biggest outbreak in the world, VP Mike Pence appeared on CNBC for an interview where he offered some clarifications to Trump's insistence that the country get back to work by Easter (April 12).
Pence said this goal was "aspirational", and that all of the country should observe the 2 week quarantine 'social-distancing' period. Once that period is over, the government will figure out whose ready to go back to work and which areas need more targeted resources after a few weeks have passed.
President Trump's goal to reopen the country by Easter is "aspirational," VP Mike Pence says. "There's going to be areas of the country where we need to continue to lean into mitigation efforts." https://t.co/r5TCfEwLb4 pic.twitter.com/Avbunti9Tp

— CNBC Politics (@CNBCPolitics) March 27, 2020
* * *
Update (1020ET): The UK has reported another batch of cases, with its death toll climbing to 759 and 14,579 cases confirmed.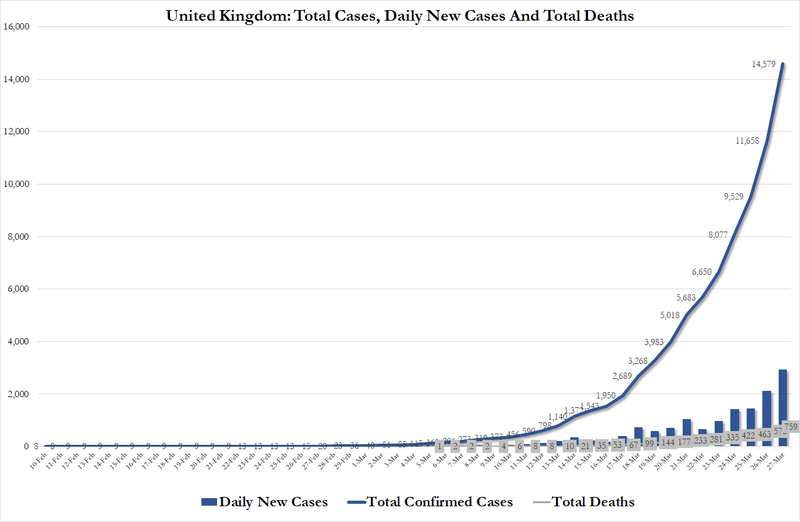 Update (0920ET): UK Health Secretary Matt Hancock, aka the guy who has been reminding everybody in the UK to wash their hands for the past month, has also tested positive for COVID-19.
In hindsight, all those group hugs with BoJo probably weren't a good idea…
Meanwhile, the number of cases in the Netherlands has climbed by 1,172 to 8,603, with 112 new deaths, as the Netherlands joins the group of European countries regularly reporting +~1,000 cases and +~100 deaths a day.
* * *
Update (0720ET): Just days after placing his entire country on a strict lockdown, UK Prime Minister Boris Johnson has reportedly tested positive for COVID-19.
"Over the last 24 hours I have developed mild symptoms and tested positive for coronavirus," Johnson tweeted. "I am now self-isolating, but I will continue to lead the government's response via video-conference as we fight this virus. Together we will beat this."
Johnson was tested on the advice of England's chief medical officer, a spokesman said.
His symptoms are said to be 'mild' and he will continue to run the country while self-isolating, just as Canadian PM Justin Trudeau has done.
UK PM JOHNSON HAS MILD SYMPTOMS AND WILL SELF ISOLATE
UK PM JOHNSON WILL STILL BE IN CHARGE OF UK GOVT HANDLING OF CRISIS
In a twitter message, Johnson seems to be doing okay. "We will get through it," he said in a tweeted video message.
Over the last 24 hours I have developed mild symptoms and tested positive for coronavirus.

I am now self-isolating, but I will continue to lead the government's response via video-conference as we fight this virus.

Together we will beat this. #StayHomeSaveLives pic.twitter.com/9Te6aFP0Ri

— Boris Johnson #StayHomeSaveLives (@BorisJohnson) March 27, 2020
Johnson is the most high-profile politician to have contracted the virus so far…
You will find more infographics at Statista
…But will his diagnosis help bolster his popularity even more?
Almost equally as important: did Charles's diagnosis help his image?
* * *
Just a few short days ago, the Dow was still trading below 20k, Italy still had a higher COVID-19 case count than the US and New York City hospitals still had a few available beds. Just a few days later, everything has changed. US stocks have rallied back, erasing roughly half of their losses since they dropped from record highs, and New York has cemented its position as the worst outbreak in the country, as the virus spread widely during the month of February, when US officials were still sitting on their hands.
Though one Republican Congressman from Kentucky is threatening to delay a vote until the weekend by throwing up another procedural hurdle, by all accounts, the House is preparing to vote on Friday on a $2 trillion stimulus package that will dole out money to out-of-work Americans. At the same time, President Trump has continued to press for parts of the country to "re-open" in the coming days.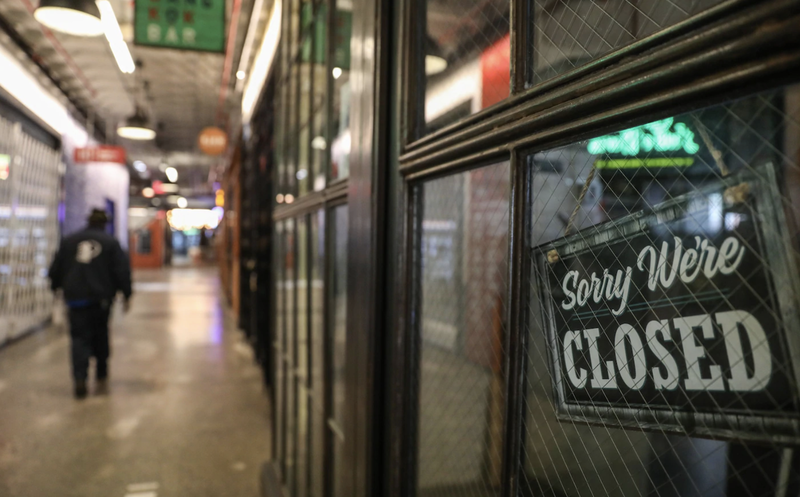 According to Johns Hopkins data, the global case total has passed 537,000, meaning more than half a million people around the world have contracted the virus, while the US reported nearly 86k as of Friday morning after the size of the US outbreak surpassed China's for the first time.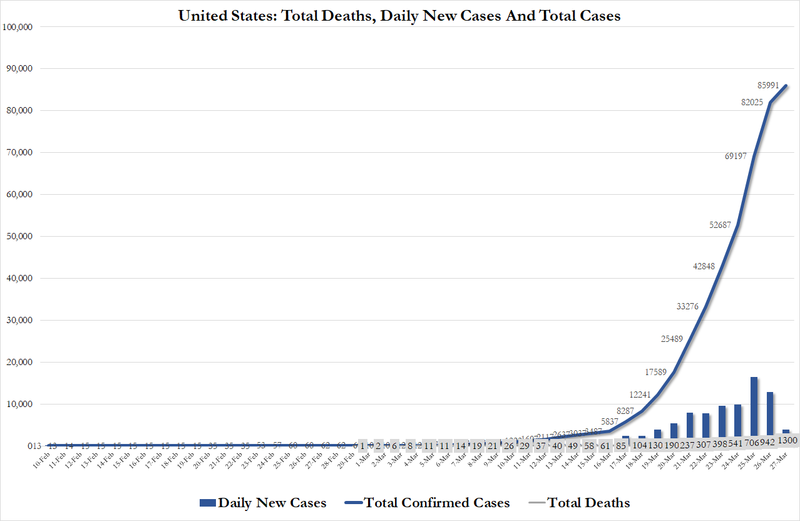 The Rest…HERE