The Crash Of 2020 Is Now Worse Than The Great Depression
by Tyler Durden
ZeroHedge.com
Fri, 03/20/2020
Back in December, someone in China made bat soup (at least according to the officially accepted narrative that doesn't get you banned on Facebook, Twitter, etc), and the rest is history: in the next three months, the global equity market has lost $24 trillion in value, more than the $22 trillion in US GDP. And here is a staggering chart from BofA putting the crash of 2020 in its historic context: in the past month, the US stock market has crashed faster than both the Great Depression and Black Monday, and in terms of the total drawdown, the crash of 2020 is now worse than 1929 and is fast approaching 1987.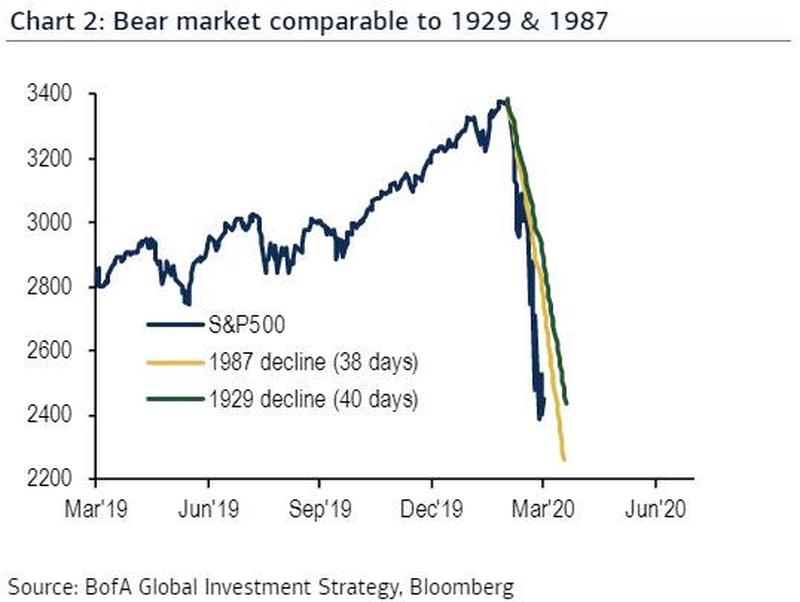 Below, courtesy of BofA CIO Michael Hartnett, are several other stunning observations on the Crash of 2020:
Calls for Fed corporate bond buying, New Deal fiscal policies, new Plaza Accord to stabilize US$, closure of stock exchange coincide with week of Wall St devastation.
Peak-to-trough crash in global equity market cap = $24tn (c/o US GDP = $22tn).
Monday's 12.0% drop Dow Jones = 3rd largest crash all-time (c/o -20.5% Oct 19th 1987, -12.9% Oct 28th 1929 – Chart 2).
Liquidation of "safe havens" e.g. gold & US Treasuries (TLT ETF sank 20% after oil shock); epic US$ surge reflects funding pressure of excess US$-denominated debt & zero liquidity.
Leverage in bond & stocks savaged (see REM, PFF, EMB, homebuilders like TOL – Chart 3); bond yields rise + bank stocks fall = classic sign of deflationary bear market.
Feral Wall St means vicious bear market rallies…WTI oil surged 24% today.
Stock exchange has closed just 4 occasions: 1914 & WW1, 1933 bank holiday, 1963 Kennedy assassination, 2001 9/11.
Global "lockdown" on movement people, goods, services unprecedented but note June 1930 passage of protectionist Smoot-Hawley bill saw US stocks -16.5% in one month.

The Rest…HERE