Italy, UK Report Record Deaths, US-Canada Border Closes, UK PM Plans "London Lockdown": Live Updates
by Tyler Durden
ZeroHedge.com
Wed, 03/18/2020
Summary:
US deaths hit 114
Senate to vote on 2nd economic rescue bill
Iran reports another 147 deaths
Hong Kong reported 14 new confirmed cases
France case total nears 2,000, death toll passes 250
WHO declares virus "enemy of humanity"
PM Johnson prepares 'London Lockdown' plan
Trump says China hasn't asked the US to suspend tariffs
UAW succeeds in pushing Detroit automakers to shut down factories
UK reportedly about to close schools as Boris scrambles to catch up with policy U-turn
HUD suspends evictions
Cuomo bars NY companies from having more than 50%
Wal-Mart shares hit record high
US, Canada agree to close border
Cuomo says state "looking into" reports of Covid-19 cluster in Borough Park
White House now pushing to send 2 $1,000 checks to every American
Spanish Olympic Committee head says Tokyo Games should be postponed
* * *
Update (1420ET): Telegraph editor Steven Swinford reports that Boris Johnson – who was evasive when asked about the possibility earlier – has asked the government to draw up plans for a total London lockdown.
Exclusive:

Boris Johnson has asked departments to draw up plans for London lockdown

Cabinet Office has asked for proposals on restrictions, implementation & compliance measures

It's being called the 'London Shielding Plan'

Responses expected by Fridayhttps://t.co/ZK8yAzc1N4

— Steven Swinford (@Steven_Swinford) March 18, 2020
In the US, the only areas that have been really locked down are New Rochelle and the area near the nursing home in Kirkland Washington where dozens of patients have died. The lockdown of London would be essentially unprecedented in the West, since it's larger than any city in Italy, Spain or Paris.
Johnson has pivoted in his approach to the virus in recent days after experts determined that the UK government's approach, which left businesses and schools open, while encouraging everybody exhibiting symptoms to quarantine as soon as they emerged, risks killing hundreds of thousands, while some have accused Johnson of embracing a 'herd immunity' approach, which the administration has denied.
Additionally, officials said, the Johnson administration isn't planning on adopting the measures within the next 48 hours. But they're worried that as more individuals ignore the government's advice, they might need to take a heavy handed approach.
Boris Johnson has asked government departments to draw up plans for a lockdown of London to help stop the spread of coronavirus.
The Cabinet Office has written to departments asking for recommendations about restrictions, how they could be implemented and how to ensure "compliance."
The measures, which are being described as a "shielding plan for London", could be introduced as soon as next week and see businesses closed and restrictions placed on travel. Robert Jenrick, the housing minister, is taking the lead on the policy.
Under new emergency powers the government will be able to "close premises" and "restrict or prohibit events and gatherings" including halting cars, buses, trains and planes.
The issue of 'enforcement' came up several times.
Across the channel, France reported a total of 9,135 cases on Wednesday, a jump of 1,404 cases from Tuesday, according to Director General for Health Jerome Salomon, who released the figures during a daily briefing. Deaths rose to 264 from 175 the day before.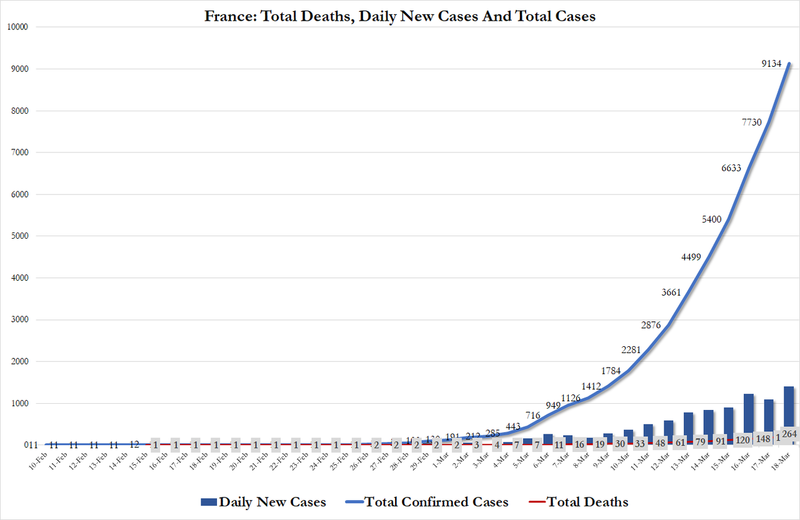 Earlier, the WHO branded the virus an "enemy against humanity," and urged a collective response to fight the global outbreak.
"This coronavirus is presenting us with an unprecedented threat," WHO chief Tedros Adhanom Ghebreyesus said Wednesday.
As expected, the EU on Wednesday barred travelers from outside the bloc for 30 days to try to slow the rapid spread of the virus.
Europe has now recorded 4,023 deaths, including 2,978 in Italy which recorded its highest single day toll Wednesday, surpassing 3,384 deaths in Asia.
* * *
Update (1350ET): UK PM Johnson just ordered all schools across the UK to close, and promised to "do more" after passing a massive stimulus package yesterday.
NEW: Boris Johnson announces:

-Schools closed from Friday 'until further notice'
-Staying open for children of key workers & vulnerable children
-Working on voucher scheme for children on free school meals
-Exams in May and June cancelled

— Daniel Hewitt (@DanielHewittITV) March 18, 2020
The prime minister promised nervous students that "exams will not take place as planned in May and June" and that schools would 'remain open' on some level to accommodate the children of emergency workers as well as 'vulnerable pupils'. To lessen the financial blow to families, Johnson added that the government will provide vouchers for free school meals for those eligible.
* * *
Update (1330ET): Italy has reported another record jump in deaths on Wednesday: 475 new deaths were confirmed, bringing total to 2,978. Meanwhile, the total number of confirmed cases has climbed to 35,713 from 31,506, with a total of 2,978 deaths.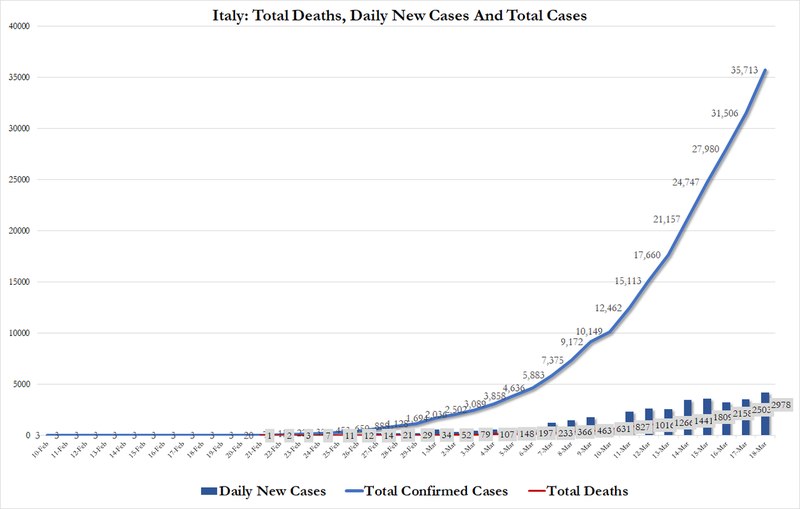 UK also reported its largest jump in deaths, reporting an additional 37 fatalities, bringing its total to 104, while it's case total lingers below 3,000, while government epidemiologists project that the true number infected is likely closer to 50k, given the death toll.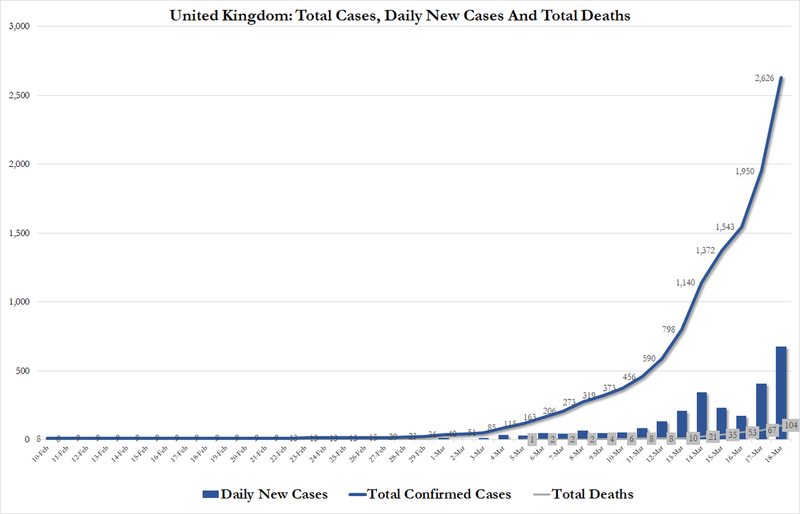 Schools in Scotland and Wales are set to close on Friday, with PM Boris Johnson and his education secretary Gavin Williamson hinting that the situation in schools is getting harder to control, and with ensuring safety becoming more difficult, it's about time to close up shop.
* * *