New York Reports Massive Jump In Covid-19 Cases As More 'Drive Thru' Testing Sites Open: Live Updates
by Tyler Durden
ZeroHedge.com
Tue, 03/17/2020
Summary:
Fed reportedly plans to throw vital lifeline to Commercial Paper market
WH planning $850 billion economic rescue package
2nd rescue package still stalled over Senates' 'minor' changes
Cuomo reports 432 new cases, bringing state total over 1,000 and retaking No. 1 spot
Trump doubles down on "Chinese virus" phrasing after Beijing complains
Kentucky Derby postponed until September
Goldman says "world is in a recession"
Luxembourg declares 'state of emergency'
Mick Mulvaney self-isolating in SC after niece had contact with Brazilian official
EU eases rules, allows some state aid to companies
France says deficit will blow out to 3.9%
NYC Mayor says "absolutely considering" shelter-in-place order
Amazon stops shipments of "non-essential" goods to warehouses
Moscow denies reports of citywide quarantine
Turkey jails 19 over 'provocative' social media posts
Spain turns away 500 cars after setting up border checkpoints
Pakistan reports first death
S&P warns "sudden economic stop" will trigger deep recession
Tom Hanks, Rita Wilson leave quarantine
Poland says minister has caught the virus
8 US banks access discount window
Trump slams Michigan's Democratic Gov.
* * *
Update (1145ET): During his comments at the opening of Tuesday's task force press conference, President Trump offered some complimentary words toward Andrew Cuomo, and said he met with the leaders of America's fast food giants, and will meet with retail CEOs later.
"We're trying to get people to buy less…just take what you need," Trump said.
He also said Steven Mnuchin has been working hard to strike a new deal with Congress, though he didn't offer too many details.
* * *
Update (1115ET): Thanks in large part to Gov. Cuomo's decisive push to ready state and private labs for testing, New York has reported another 432 cases on Tuesday, bringing the state's total to 1,375, re-taking the lead in cases from Washington, and making NY the first US state to break above 1,000 confirmed cases.
As of 10:30 a.m. ET, March 17, there are 4,458 confirmed coronavirus cases in the US, and 88 deaths, up from 3,579 cases and 67 deaths yesterday.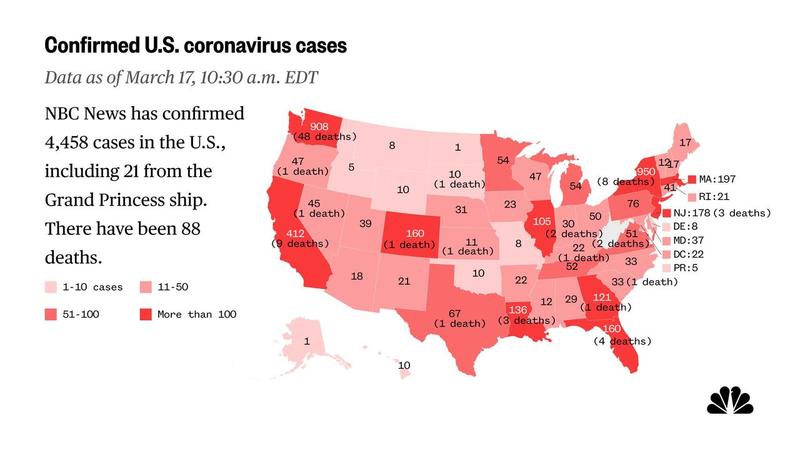 After President Trump referred to NY as a "hot spot", Cuomo said during Tuesday's press briefing that he takes "full responsibility" for the crisis response in his state, for better or worse.
As Paul Krugman noted, Cuomo's crisis-performance has featured a surfeit of grandstanding, but it does seem like the governor has hit upon an approach that is working for his state, especially when contrasted with the bumbling interviews and indecisive replies from his chief political rival, NYC Mayor Bill de Blasio.
Trump's total failure to rise to the occasion came as no surprise to anyone who had been paying attention. Cuomo's decisiveness and effectiveness have been truly (and happily) shocking. https://t.co/8paq169uxo

— Paul Krugman (@paulkrugman) March 17, 2020
As far as how long the crisis will last, Cuomo said projections suggest the infection rate will peak in 45 days. At that point, he said the state will need 55,000-110,000 hospital beds and 18,600-37,200 ICU beds compared with the 53,000 hospital beds and 3,000 ICU beds that it currently has.
"I am telling you, this [state] government cannot meet this crisis without the resources and capacity of the federal government … We need their help, especially on the hospital capacity issue. We need FEMA," Cuomo said.
Readers can watch today's update below:
In Albany with an update on #Coronavirus. WATCH LIVE: https://t.co/ifz17mk2w2

— Andrew Cuomo (@NYGovCuomo) March 17, 2020
Cuomo also announced that 5 new drive-thru testing facilities in four counties this week – Nassau, Suffolk, Rockland and Staten Island.
* * *