Spain Declares National Emergency As PM Warns 'We Could Have 10,000 Cases By Next Week': Live Updates
by Tyler Durden
ZeroHedge.com
Fri, 03/13/2020
Update (1030ET): A flashing-red headline from BBG just declared that Spain is announcing a national state of emergency over the outbreak, as the number of confirmed cases in Madrid soars amid a rash of deaths.
Socialist Spanish PM Pedro Sanchez said that he isn't ruling out the possibility that there will be more than "100,000 cases of coronavirus in Spain" as early as next week.
Trudeau plans to address the nation at noon ET, presumably to discuss the situation with him and his wife. In the mean time, the Canadian Parliament has been suspended for the time being.
Brazil's government denied these rumors last night, but reports have persisted, and now the Guardian is reporting that Brazilian President Jair Bolsonaro has tested positive for Covid-19. His communications secretary tested positive earlier this week, raising questions about whether President Trump and VP Pence were exposed.
Switzerland is reportedly planning to reintroduce "checks" at all borders, after blocking Italians from entering earlier this week, as infections inside the country has started to accelerate.
* * *
Update (1022ET): The most prestigious golf tournament in America has just postponed play because of the coronavirus outbreak.
The 2020 Masters Tournament has been postponed due to "ever-increasing risks associated with the widespread coronavirus," Augusta National Golf Club announced.
"Respecting the health and well-being of everyone associated with these events and the citizens of the Augusta community, the 2020 Masters Tournament, the Augusta National Women's Amateur and the Drive, Chip and Putt National Finals have been postponed," Chairman Fred Ridley said in a statement.
Statement from Chairman Ridley:

"Considering the latest information and expert analysis, we have decided at this time to postpone @TheMasters, @anwagolf and @DriveChipPutt National Finals."

Full details at https://t.co/FX2AN1MLsY pic.twitter.com/Z2DjS5TYdG

— The Masters (@TheMasters) March 13, 2020
The tournament was initially scheduled for April 9-12. It's not clear when play will begin.
The Boston Marathon has also been postponed until Sept. 14, according to a statement from its organizers.
* * *
It's been another crazy morning around the world as more sports leagues suspended play and governments – most notably Germany – pledged to whip out their credit cards and spend whatever might be necessary to soften the economic blow, a chorus of reassurance that has helped to drive markets back to limit-up.
Following reports last night that Arsenal's manager and a Chelsea player had both tested positive for the virus, the Premier League decided during an emergency meeting Friday morning that it would suspend play. Now, the Champions League, Premier League and Europa League have all been suspended because of the virus.
Indian Public health authorities confirmed the first virus-related death in the world's second-most populous country on Friday. Fewer than 100 cases have been confirmed across the country, and dozens who came into contact with the man have been quarantined. But the government's inability to safely quarantine and treat the now-deceased patient was hardly encouraging.
After closing its border with Italy, Austria has cancelled international flights to/from Spain, France and Italy and is reportedly weighing a wider border closure. Nearby, the Czech Republic is planning to close its borders, and people won't be allowed to leave the country. In the Balkans, Slovakia has closed its borders completely.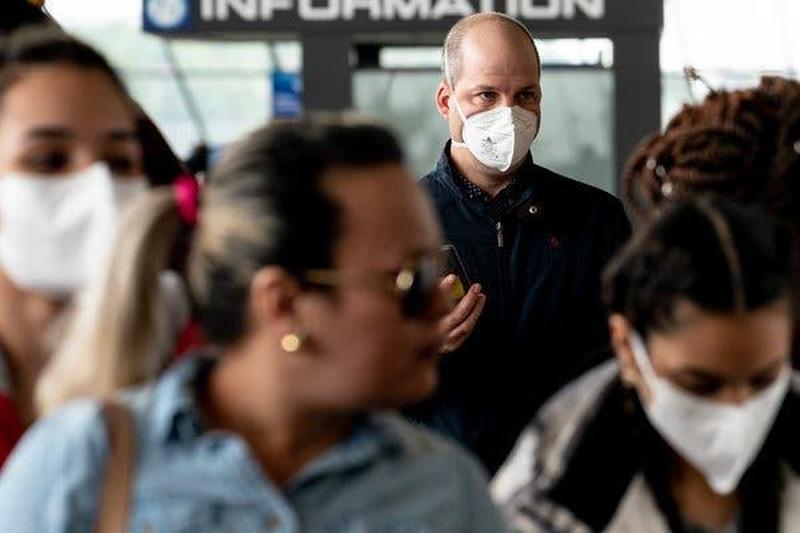 The FDA has launched a 24/7 hotline for patients worried about their infections status. In Washington, President Trump and VP Mike Pence have both decided not to be tested, in accordance with their physicians' advice since neither are showing symptoms, despite both having come into contact with the infected or potentially infected.
After we reported yesterday that Trump shook hands and ate dinner with a Brazilian official who turned out to be infected, the Washington Post reports that an Australian government minister who just tested positive for the virus met with Ivanka Trump and AG William Barr, as well as a handful of other Washington officials.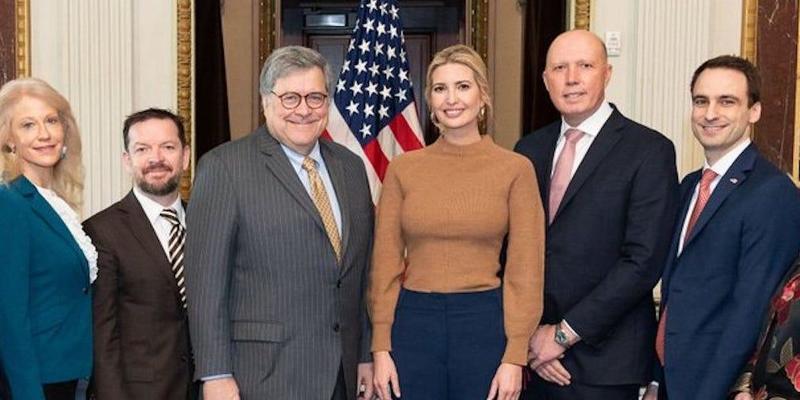 In a statement, Aussie Minister Peter Dutton said that he woke up on Friday morning "with a temperature and sore throat" and was "subsequently tested for COVID-19." Dutton was advised by Queensland Health that his tests returned positive on Friday afternoon. Dutton had met with Trump, Barr, Counselor to the President Kellyanne Conway and Director of the Domestic Policy Council Joe Grogan in Washington a week ago when Aussie PM Scott Morrison visited the White House for the first time.
As individuals try to gauge their infection risk, scientists have found that the coronavirus can stay infectious for days on some surfaces. Researchers have also now confirmed that the coronavirus can be contagious in the body before symptoms appear.
Across the US, nearly every state has diagnosed at least one case of the virus, while more than 1,600 cases of the virus are being treated across the US, including at least one patient in nearly every state and the District of Columbia. At least 41 deaths have been reported in the country as public life appears to be grinding to a halt.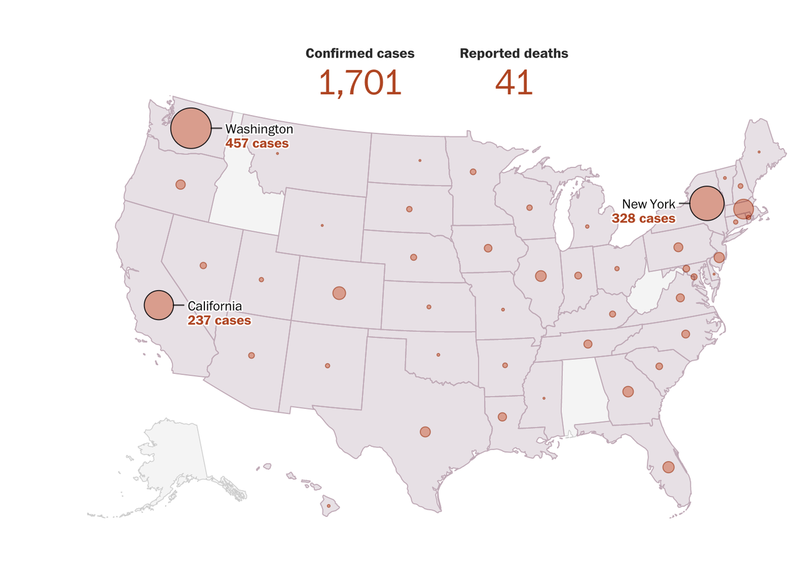 Washington DC has joined Seattle and Houston in closing its schools, while Michigan, Mexico and Oregon followed Maryland and Ohio by shuttering their schools. These closures will take effect Monday, and last until the end of March, or beginning on April.
"We are going to do what we have to do. We are in a crisis," Ohio Gov. Mike DeWine said. Closures in Ohio will begin at the close of classes Monday and run through at least April 3, DeWine said. "It may be a lot longer."
"This is a necessary step to protect our kids, our families, and our overall public health," said Michigan Gov. Gretchen Whitmer in a statement released on Friday.
In New Mexico, Ryan Stewart, the state's public education secretary, described the closures as a "proactive measure" to limit the potential community spread of the virus.
And while Oregon had worked hard to keep schools open, student absences and issues with staff have made it "impossible to functionally operate schools," Gov. Kate Brown.
Kentucky stopped short of a mandatory order and "recommended" that schools should be closed. In California, Sacramento and San Francisco have also closed schools.
Meanwhile, back in China, all 42 Apple stores have reopened.
After Trump's "misstatements" on Wednesday helped trigger one of the worst trading sessions on Wall Street since the crisis, the White House announced a series of steps on Friday aimed at boosting the availability of coronavirus testing, one of the most heavily-criticized aspects of the government's response.
According to WSJ, a new, high-speed coronavirus test has been granted emergency approval by the FDA in a desperate attempt to expand testing capacity for the pathogen.
To facilitate testing, the FDA has created a 24-hour emergency hotline for laboratories having difficulty getting materials or finding other impediments to running tests, according to announcements early on Friday. The FDA has also authorized more private labs in NY State to conduct the tests, per CNN.
Officials also announced they would be doling out nearly $1.3 million in federal money to two companies trying to develop rapid Covid-19 tests that could have accurate results within an hour.
In Italy – not Iran – the president of the Medical Guild of Varese, Roberto Stella, has died of coronavirus at the age of 67. Stella died on Tuesday in Como, Italy, after being hospitalized following his diagnosis. He's the first high-level public health official in Italy to succumb to the virus.
In a statement, Italy's National Federation of Doctors and General Practitioners mourned Stella's death. They added that they hope the government will take notice of the dangers Italian doctors and nurses are facing.
"He was the example of the capability and hard work of family doctors," Silvestro Scotti, national secretary of the federation, said about Stella.
Spain has emerged as the strongest contender for 2nd-worst outbreak in Europe in what was until recently a three-way contest with France and Germany. Last week's International Women's Day March helped expedite the outbreak, according to city officials in Madrid, who are begging Spain's federal government for some assistance.
In Boston, the JFK Presidential Library and Museum is closing immediately after two employees attended a conference last week where other attendees had confirmed cases of coronavirus, it said in a statement.
One of the largest livestock exhibitions and rodeos in the world will close early due to novel coronavirus fears, according to Houston city officials, who announced Friday that the city's major Livestock Show and Rodeo will close earlier. It had been scheduled to run until March 22.