Stocks Tumble After Trump Claims Pelosi "Won't Be Ready This Week" To Meet On Fiscal Plans
by Tyler Durden
ZeroHedge.com
Tue, 03/10/2020
Markets reacted negatively to a tweet from President Trump claiming that "Do Nothing Democrats" will be unable to meet this week to discuss possible fiscal stimulus plans.
Nancy Pelosi just said, "I don't know if we can be ready this week."
In other words, it's off to vacation for the Do Nothing Democrats. That's been the story with them for 1 1/2 years!
Nancy Pelosi just said, "I don't know if we can be ready this week." In other words, it's off to vacation for the Do Nothing Democrats. That's been the story with them for 1 1/2 years!

— Donald J. Trump (@realDonaldTrump) March 10, 2020
And the reaction was swift…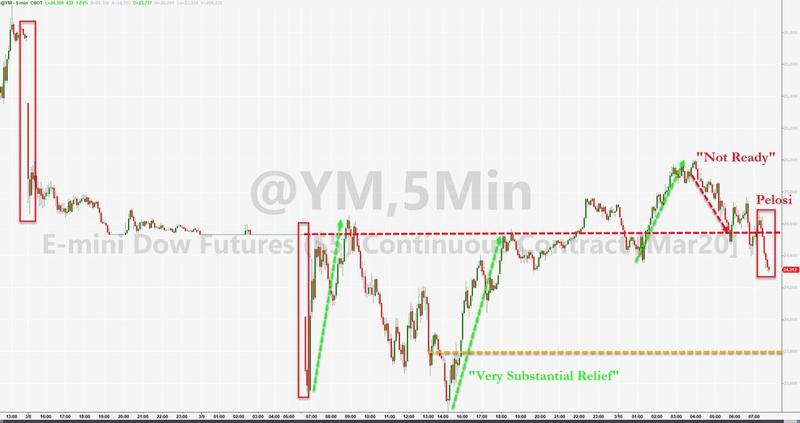 Trump did try and ring a positive tone though with a follow-up tweet claiming how well this virus team is doing…
Our CoronaVirus Team has been doing a great job. Even Democrat governors have been VERY complimentary!

— Donald J. Trump (@realDonaldTrump) March 10, 2020