Johns Hopkins Doctor Warns, 'What Happened In Wuhan Could Happen Here'
by Tyler Durden
ZeroHedge.com
Tue, 03/10/2020
Renowned Johns Hopkins surgeon, researcher and policy expert Martin Makary told CNBC on Tuesday morning that the virus outbreak in Wuhan, China, could be easily replicated across America.
"What happened in Wuhan could happen here. Why do we think otherwise?" Makary said.
Makary said the immune system of a typical American is "not stronger than the Chinese immune system," adding that "viruses don't care about politics and they don't care about location."
With 750 cases of Covid-19, the airborne virus is quickly spreading across the US, now seen in more than 30 states, with officials in several states declaring a state of emergency. The lack of test kits, limited travel restrictions, and no vaccine for 12-18 months suggest that the map below will get a lot redder in the coming weeks: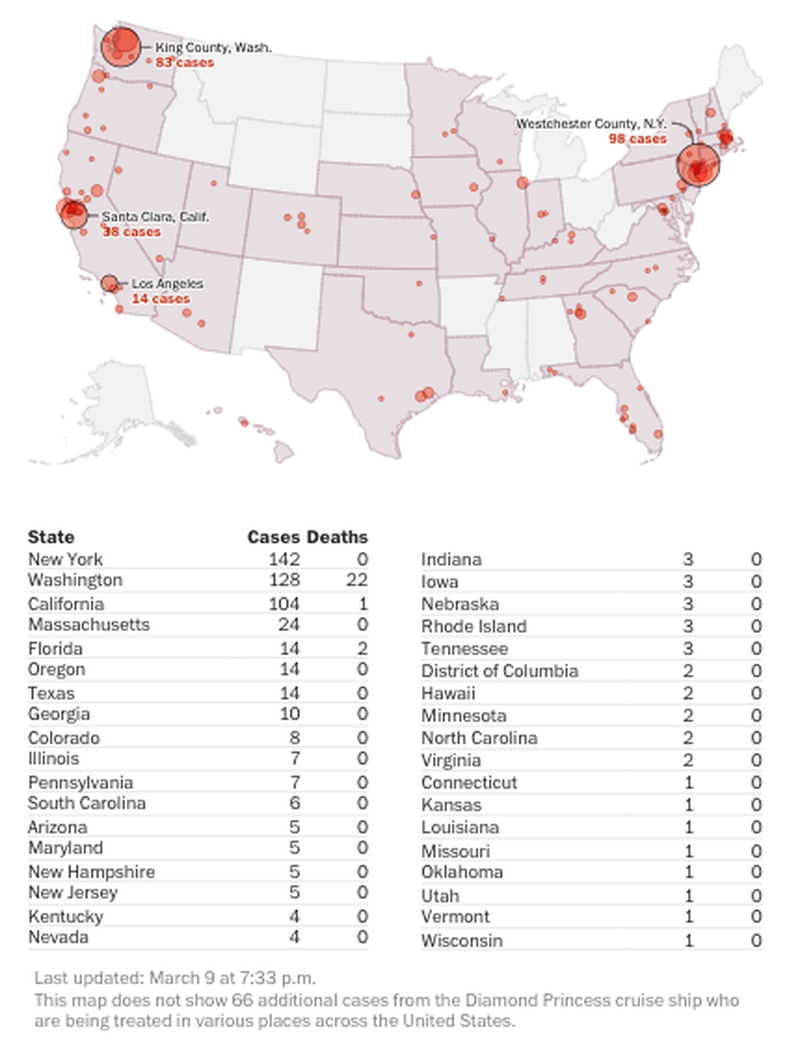 Makary said, "We need to tell people right now to stop all nonessential travel. I feel strongly about that," adding he does not "like the idea of talking about contingency plans, but we've got to start making these plans."
What's becoming increasingly evident is that America isn't ready for a virus outbreak. He said the virus could cause havoc on the health care system for upwards of three months. "If we get 200,000 critical care cases, we're going to be overrun," he warned. "So we need to do more" to prepare for the worst.
President Trump is well aware of the present situation and how the virus is crashing the stock market. He said Monday, "nothing is shut down, life and the economy go on." But Trump's optically pleasing headlines are much different than what his Secretary of Health and Human Services, Alex Azar, is saying, who warned that "everyone should take precautions regarding the virus."
The first indications that the US could be transforming into a Wuhan-like scenario are in areas such as King County, Washington; Santa Clara, California; Los Angeles; and the Tri-state area, where confirmed cases have been soaring in the last few days. Without travel restrictions and the lack of test kits, the virus is a perfect storm that could lead to thousands of more infected in the weeks ahead.