Bank Of America: "We Are In A Global Recession"
by Tyler Durden
ZeroHedge.com
Fri, 03/06/2020
The market scrambled to hit Michael Hartnett's "S&P price target of 3,333 by March 3 " more than a month early. And now comes the hangover.
With risk assets crashing, gold soaring, and bonds enjoying their biggest yield drop in years – if not ever -the time to pay the piper has come, and in his latest weekly Flow Show titled appropriately "Crashes, bubbles & leadership", the Bank of America CIO shows the YTD cross asset performance, and it is a clear indication that a deflationary black swan has made a hard landing in the middle of Wall Street, with gold the best performing asset for the first time in a decade:
gold 7.9%,
government bonds 3.8%,
IG bonds 2.8%,
US dollar 1.0%,
cash 0.3%,
HY bonds 0.0%,
global equities -4.8%,
commodities -14.5% YTD.
Of course, for gold to be soaring, risk has to be crashing, and sure enough, the global equity market cap collapsed by a record $9tn – or two-thirds of China's GDP – in 9 days, while developed market 10-year bond yields at 16bp, the lowest in 120 years.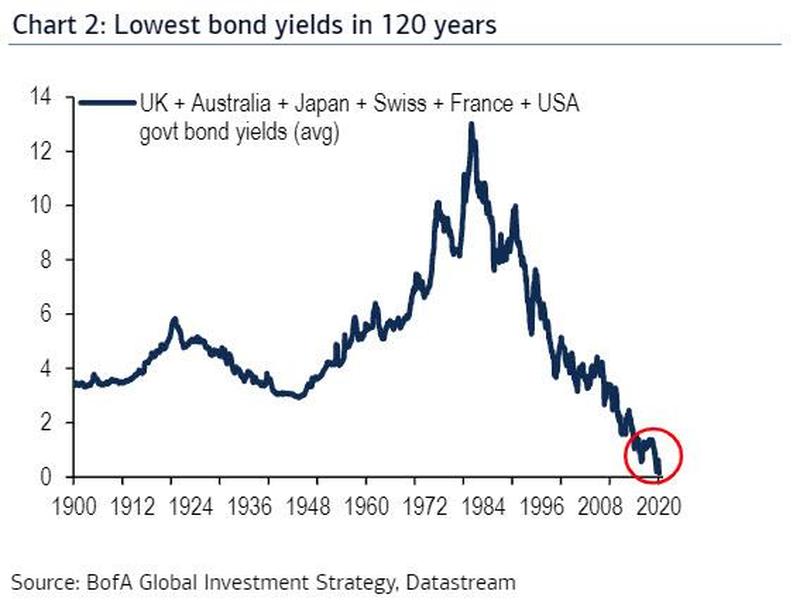 It's not a uniform puke in stocks, because while EU banks (SX7E -25%), US airlines (-30%) are in a bear market "meltdown" with laggards e.g. FAANG stocks, IG bonds, and "credit event" tells such as private equity (PSB), levered loans (BKLN) & CLOs (CLODI) vulnerable to policy impotence, recession, default, according to Hartnett, China stocks are back to old highs, although where they would be without now explicit government support is anyone's guess.
But while governments may be buying risk assets to prop up markets, retail investors are puking, with $23.3BN in equity outflows (most since Aug'19), and $12.6BN in bond outflows, the most since Dec'18, as investors scramble for the safety of cash.
And speaking of bond flows, Hartnett concludes that the "bond bubble pops" with the 2nd biggest weekly outflow in IG/HY/EM debt ever of $16.1bn (biggest was 2013 Taper Tantrum )…
. and the 3rd biggest outflow from financials of $3.0bn (biggest was Dec'18 – Chart 5).

What does this unprecedented shift in investors sentiment mean for the global economy? Alas, nothing good: according to Hartnett, who may or may not speak for all of Bank of America, the "working assumption is that as of March 2020 we are in a global recession" (see PMI of world's 2nd largest economy China – Chart 6); with the sharp drop in 2020 global EPS estimates (8.7%, down from 10.7%) just beginning (Chart 7)."

The Rest…HERE