Italian Death Toll Surges To 34 As Confirmed Cases Jump 42% Overnight; Six Suspected Cases Isolated In NYC: Virus Updates
by Tyler Durden
ZeroHedge.com
Sun, 03/01/2020
Summary:
Rhode island announces "presumptive" case; patient recently visited Italy
Italy reports 42% jump in cases overnight to nearly 1,700
6 being tested in NYC for coronavirus
South Korea confirms 18th death, officials seek murder charges for founder of church at epicenter of outbreak
American Physical Society cancels major scientific conference
Juventus quarantines U23 squad
Iran death toll hits 54 as Trump offers aid
Thailand, Australia report first deaths
Spain case count hits 73; France hits 100
Independent scientist says it could have been spreading in WA for six weeks, with hundreds infected
Italian cases number more than 1,100; South Korea reports more than 3,700
Italian death toll hits 29
Luxembourg reports first cases, says it's linked to Italy
UK cases rise to 35 as 12 new cases confirmed; 2 cases infected inside UK
UK health secretary says China-style lockdowns "an option"
* * *
Update (1230ET): Italian health authorities have reported more than 500 new coronavirus cases, bringing Italy's total to 1,694, a 42% surge overnight, and raising the death toll to 34, the second-highest outside mainland China (after Iran).
Despite reporting less than half of the number of cases confirmed in South Korea, Italy has recorded significantly more deaths, suggesting that the virus is much more widespread than officials realize.
Meanwhile, NBC News reports that 2 more people in New York City are being tested for the coronavirus, according to the Department of Health. Since yesterday, another suspected cases was deemed negative, bringing the total of negative cases in NYC to nine so far.
* * *
If there's one thing we've learned since the coronavirus outbreak went global in January, it's that a lot can change in 24 hours. Seemingly overnight, the viral hysteria has apparently arrived in the US, alongside the news of the first virus-related death in Washington State.
Hoarding has already begun. President Trump has issued "do not travel" warnings affecting 'hot zones' in Italy and South Korea. In Italy, the Level 4 State Department advisory affects the hardest-hit provinces of Lombardy and Veneto, where 'community transmission' has already been confirmed.
In South Korea, it affects the city of Daegu. In Europe, France and Switzerland have banned large gatherings over 5,000, and cancelled all sporting events. Games, events and conferences across the world have been cancelled as airlines continue to cut back on routes, with the focus turning to Italy and South Korea.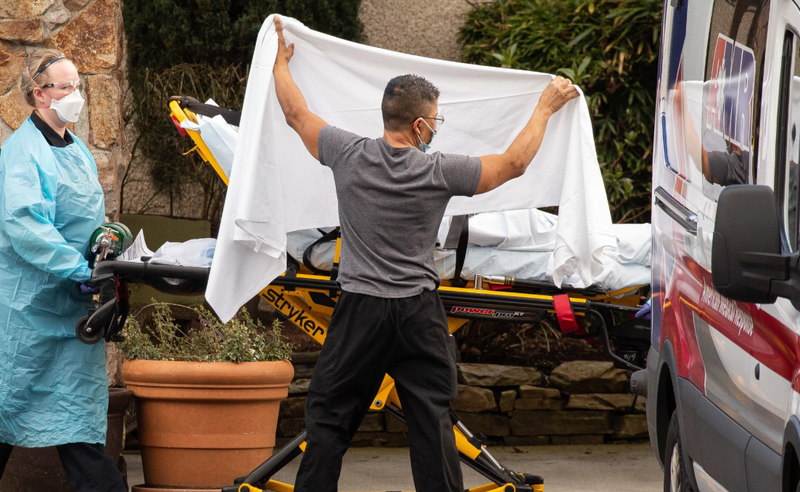 Adding to the growing list of cancellations, the American Physical Society has cancelled one of the world's major international scientific conferences just a day before it was supposed to begin.
In South Korea, Samsung announced that a worker at its smartphone plant in Gumi had contracted the virus. The pace of newly confirmed cases is growing so rapid, it's becoming difficult to keep up: The number of confirmed cases worldwide has reached nearly 87,000, with more than 7,000 cases outside mainland China. The virus has now been detected in at least 60 countries and/or territories. South Korea remains home to the biggest outbreak outside of China with more than half of all cases outside the mainland. As of Sunday afternoon in Rome, Italian health authorities had reported 1,128 cases, while the death toll climbed to 29, according to Al Jazeera.
The Rest…HERE