Leaked Internal Reports Show China's Main Priorities Are Controlling Public Opinion, Social Stability
by Nicole Hao via The Epoch Times,
ZeroHedge.com
Fri, 02/28/2020
Chinese officials in Wuhan and other cities within Hubei Province, where the novel coronavirus outbreak is most severe, reported to their higher-ups in the provincial government that people are not able to secure treatment, running out of supplies amid restrictive lockdown measures, and feeling fearful and anxious about the spreading disease.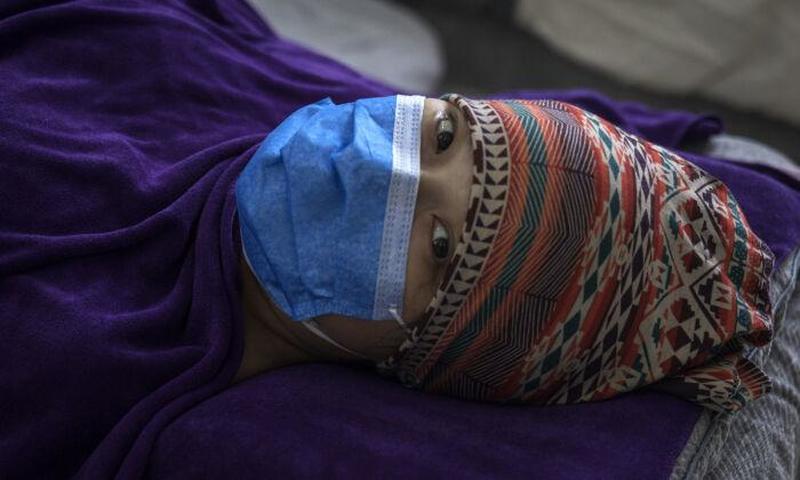 Despite such observations, authorities prioritized how to "control the society" and "manipulate public opinion" to view China's efforts to contain the virus positively, according to internal government reports that The Epoch Times obtained.
Authorities in the city of Shiyan, for example, listed their working targets as:
"monitor closely petitioners and people whose benefits have been severely damaged"—in other words, people most likely to dissent against the authorities;
"strictly prevent key people and groups from assembling and making trouble;"
and "punish heavily the people who spread improper speech or rumors related to the epidemic."
'Increased Social Anger'
The Political and Legal Affairs Commission (PLAC) is a Communist Party agency that oversees the country's security apparatus, including police, courts, and prisons. In the wake of the outbreak, local branches of the PLAC in Xiaogan, Shiyan, Xiantao, and other cities within Hubei, have recently written up "working reports on how to control society."
The local PLACs described difficult living conditions after authorities suspended transportation, public gatherings, and economic activities in order to prevent the virus from spreading.
"Because the epidemic is getting worse and worse, the control methods must be upgraded. People have experienced lots of difficulties due to the comprehensive suspension of business operations, transportation, schools, and so on," the Shiyan city PLAC wrote in its report to the Hubei PLAC on Feb. 16.
"After the city was locked down, the majority of residents lost their income," the Shiyan PLAC said.
"Overall, people have strong negative emotions, such as grief, panic, anxiety, and suspicion. The feeling of anger among society has increased."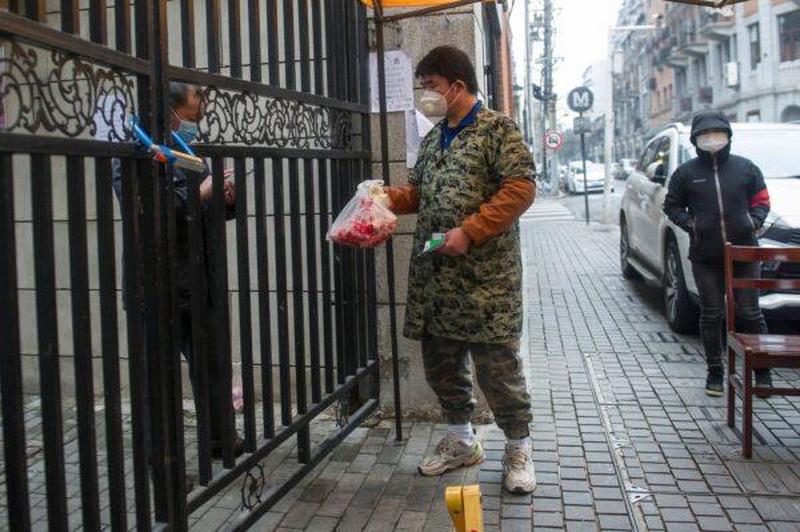 A vendor is delivering meat to a customer in Wuhan, China, on Feb. 27, 2020. (STR/AFP via Getty Images)
Meanwhile, a new "disease control" agency set up within the Hubei government to combat the current outbreak compiles "daily inspection reports," for Party senior officials to read, such as Ying Yong, the provincial Party boss; Wang Xiaodong, the governor; and Huang Chuping, the vice governor.
The reports go into detail about residents' plight. On Feb. 19, the agency said in its report:
"Residents of Hongmiao village in Anlu city [a county-level city within Xiaogan city, Hubei] complained that the city government blockaded the village by using barbed wire net. It has been six days, and nobody has visited them [to supply basic necessities]."
The Hubei Public Security Bureau, in charge of the province's entire police force, also drafts "working reports" for the provincial government on how the police are helping to "prevent and control the novel coronavirus."
The Bureau described life in Hubei thusly on Feb. 21:
"In general, residents lack basic life necessities. For example, some families used up all their gas for cooking; some families need baby formula and diapers… A large number of residents want to leave the city and go out to make a living… They become extreme in behavior."
The Rest…HERE