New Virus Cases In South Korea Surpasses China For First Time
by Tyler Durden
ZeroHedge.com
Thu, 02/27/2020
The outbreak of COVID-19 in South Korea has just hit another unfortunate milestone: For the first time on Thursday, new cases in the tiny East Asian country of just 25 million surpassed new cases in China.
While few trust the Chinese numbers, the message is still clear: the global outbreak's center of gravity is moving from Wuhan over to Daegu, and that the global spread of the virus is accelerating, putting governments and epidemiologists on edge.
On Thursday, South Korea confirmed 505 new cases, compared with 433 in China, according to China's NHC.
Across South Korea, total cases have hit 1,766 in the 38 days since the first case was confirmed on Jan. 20. Of these, 1,132 are from Daegu, 345 from neighboring North Gyeongsang Province, and another 56 are from Seoul. A total of 13 have died.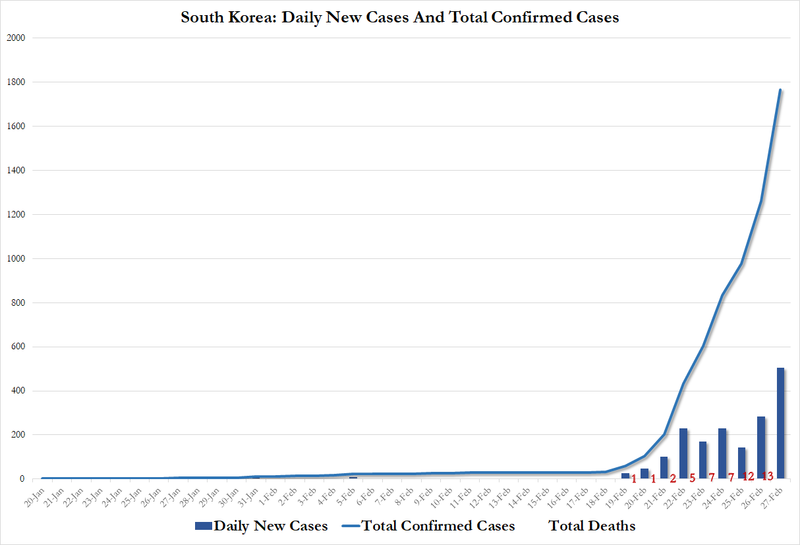 More broadly, this week marked the first time where new cases outside China surpassed those in China. The rapid surge in cases in Daegu and elsewhere made South Korea home to the biggest cluster of cases outside the mainland as it surpassed the "Diamond Princess's" infection total earlier this week.
So far, most of the cases have been connected to the Shincheonji Church of Jesus and its branch in Daegu, a city in the southeastern area of South Korea.
South Korean President Moon Jae-in promised to avoid the draconian crackdowns utilized by China, even as the WHO praised Beijing's heavy handed tactics. But as the virus spreads and hysteria takes hold, with the US and South Korea cancelling military exercises for the time being, who knows what lengths the government will go to prevent the outbreak from spiraling out of control.