How Korea's 'End-Of-Days' Coronavirus Patient Sparked An Epidemic
by Tyler Durden
ZeroHedge.com
Thu, 02/27/2020
As new cases of COVID-19 in South Korea surpass China for the first time, Bloomberg has pieced together the unbelievable story of how a religious fanatic belonging to an 'end-of-days' cult became the Korean 'Typhoid Mary,' spreading the disease throughout her community at an alarming rate.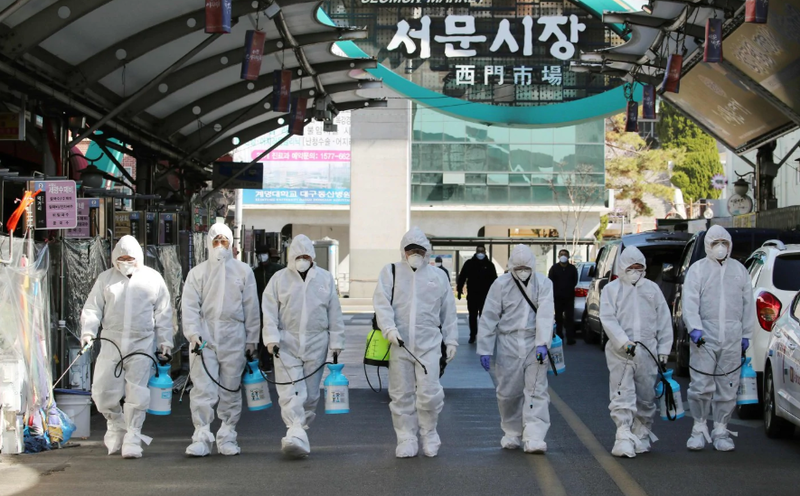 A little over a week ago, South Korea had just 30 cases – a figure which seemed to remain stable for several days. This calmed fears of contagion, leading to many Seoul residents relaxing their guard – taking off masks, getting back on the subway, and shopping at local malls, according to the report.
Yet, as the country breathed a cautious sigh of relief, an unidentified 61-year-old woman walked into a health clinic on February 17 in Dageu, around 150 miles south of Seoul – the country's 31st case. The woman, who occasionally commuted to Seoul, tested positive for COVID-19.
Patient 31 first checked into the Saeronan Chinese Medicine Hospital on Feb. 7, complaining of headaches after being involved in a car accident the day before. According to the hospital, the patient didn't have any record of traveling overseas nor any known contact with a coronavirus patient. She also didn't have any fever, cough or respiratory symptoms.
On the third day of being hospitalized, the patient developed a fever and received a flu test, which came back negative, according to the hospital.
The next day, she left the hospital for two hours to attend a morning service at the Shincheonji church in southern Daegu, according to Korea's CDC. It's common in South Korea for hospital patients to come and go — even walking outside wearing hospital garb and wheeling intravenous drips alongside them.
The woman also had lunch with a friend at a hotel in eastern Daegu on Feb. 15 and attended another Shincheonji worship service on Feb. 16, the country's health authorities said. -Bloomberg
It wasn't until February 17 that her health had deteriorated to the point where she went back in to the hospital, where a scan showed signs of pneumonia, prompting the test for coronavirus. Ten days later, her infection was confirmed.
As authorities scrambled to trace her travel history to identify potentially infected people, they learned that she had spent the previous 10 days attending two worship services with at least 1,000 fellow members of a secretive religious sect, Shincheonji, whose leader preached that the end of days is coming.
Within 24 hours, the nation's number of confirmed cases started multiplying exponentially. The tally rose by 20 during that period, doubled the following day and then doubled again on the third day.
By Wednesday, the count skyrocketed past 1,000 — a more than 30-fold increase in a week that prompted the government to raise its health alert to the highest level. At least half of the new cases are linked to the sect called the Shincheonji — which translates to "new heaven and land" and whose members worship side-by-side in cramped spaces. -Bloomberg
"What made this case so much worse was that this person spent a considerable amount of time in a very crowded area," said Seoul National University professor of health policy, Kim Chang-yup. "There's growing fear and resentment among the people right now."
On Wednesday, South Korea's health ministry announced a manhunt for over 212,000 members of the sect, while the country's Centers for Disease Control began screening 9,300 members on top of anyone who had attended the two services. It expects to conclude tests by Wednesday of more than 1,300 sect members who are showing symptoms.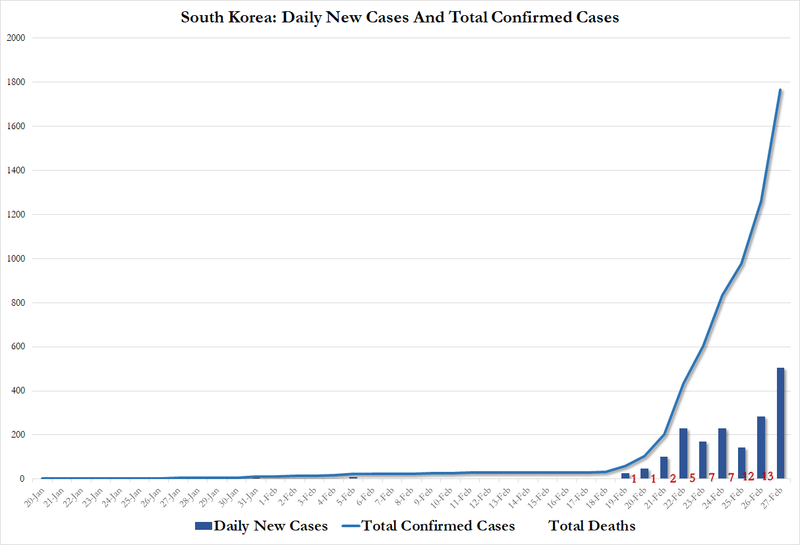 Former sect member Yoo il-han, who runs a support group for those wanting to leave the cult says authorities are going to encounter great difficulty tracking potential patients down, as the sect is highly secretive and protective of its members – warning that Satan will try to reach them through their families.
"Concealment is the key," said Yoo. "They tell you: Don't tell anyone, including your family members, what you believe in, and don't believe what you see about Shincheonji online."
South Korean health officials still don't know how the woman was infected.
Shincheonji was founded in 1984 by Lee Man-hee, who is now 88, and claims to be an immortal prophet sent by Jesus Christ to lead what has blossomed to 300,000 followers in 29 countries, according to Bloomberg.
The group's emphasis on continually gathering for worship, recruitment and other activities may be the root cause of the cascading number of infections among Lee's disciples, said Stella Kang, a former sect member.
At the two worship services attended by patient 31, more than 1,000 people sat on the floor, elbow-to-elbow and knee-to-knee, for as long as two hours. -Bloomberg
"Their belief system is that the end time is coming soon and our physical body is not as important," said Kang, a former sect member. "So even if you are really sick, you have to go to the church because that gives you the word of life."
Authorities are now trying to figure out if the 31st patient is connected to an outbreak at a different hospital outside Daegu, where a funeral was held last month for the brother of the sect's leader. This poses its own set of risks, as South Korean funerals are often carried out next to hospitals, where attendees eat and drink together in a nearby room. Funeral homes, many of which resemble conference centers, can have multiple services taking place at the same time.
That said, "The Daegu incident has certainly raised public awareness of the need for social distancing," according to Kim.