White House Threatens Retaliation Against Chinese Journalists As Beijing Expels WSJ Reporters
by Tyler Durden
ZeroHedge.com
Mon, 02/24/2020
Summary:
Stocks slide as CDC releases new US case numbers
Italy reports 7th death, 200+ confirmed cases
WHO says outbreak not yet a 'pandemic'
WH reportedly considering expulsion of Chinese journalists in retaliation for WSJ reporters
US consulate in Milan temporarily halts visas
First cases reported in Oman, Bahrain
WHO kowtows to China in statement
Wuhan issues order to loosen lockdown, then U-turns
NHC says outbreak is fading, though situation remains "grim"
China approves crackdown on wildlife trade after WHO says virus likely came from bats
Iranian lawmaker says more than 50 deaths in Qom; officials say 12
Hong Kong bars South Koreans
more cases reported in SK
* * *
Update (1420ET): We're noting some new info from the CDC about the latest cases diagnosed in the US. Of the 14 non-Diamond Princess-related cases cited earlier, two of them are new: One is in Humboldt County, and the other in Sacramento County, both in California, per the Guardian.
The CDC added that it's preparing for outbreaks that could warrant the closure of schools and universities in the US.
* * *
Update (1350ET): Reports claim Washington is weighing a decision to expel Chinese journalists after Beijing cancelled the press credentials of 3 WSJ reporters over an allegedly 'racist' opinion column.
In response to Beijing's decision, the State Department published an official condemnation.
The United States condemns the move by China to expel three @WSJ journalists. Mature, responsible countries understand that a free press reports facts and expresses opinions. China should not restrict #freespeech. https://t.co/szm0ujq2Ua

— Secretary Pompeo (@SecPompeo) February 19, 2020
Looks like Bloomberg got the scoop:
Scoop from @nwadhams @SalehaMohsin and @JenniferJJacobs

White House considering retaliating against China's expulsion of WSJ journalists with journalist expulsion of its ownhttps://t.co/pWmvg4AOwK

— Joe Weisenthal (@TheStalwart) February 24, 2020
By expelling Chinese journalists, the US would be seeking to show Beijing that it won't stand idly by and tolerate these press restrictions. For President Trump, whose administration has been characterized by a deep and abiding animosity toward the press, it marks an unusual example of Trump siding with the American media.
It also comes after the State Department last week designed five Chinese media organizations as "foreign missions": these included Xinhua and the PD.
Also, it's notable that the meeting where the administration officials reportedly discussed the retaliation was led by Matt Pottinger, a deputy national security advisor and former WSJ reporter who is purportedly the administration's point man on Asia policy.
The administration's options were to be discussed in a meeting of senior administration leaders at the White House later Monday led by Matt Pottinger, the deputy national security adviser who was once a Wall Street Journal reporter in Beijing, according to U.S. officials familiar with the deliberations.
There's an intense debate over how severely to respond to the expulsions last week. Some advocate ordering dozens — and perhaps hundreds — of Chinese reporters to leave, while others say that's not legally possible or in keeping with American values on freedom of the press, according to several of the officials.
While declining to comment on specific actions under consideration, John Ullyot, a spokesman for the National Security Council, said Friday that China's move against the American reporters was an "egregious act."
It's also notable that WSJ is owned by Trump ally Rupert Murdoch.
In other news, the American consulate in Milan has said it will halt visa approvals until March 2 as the outbreak in Italy worsens.
Can't say we blame them: Here's an update of our chart of the cases in four of the countries with the largest outbreaks outside China.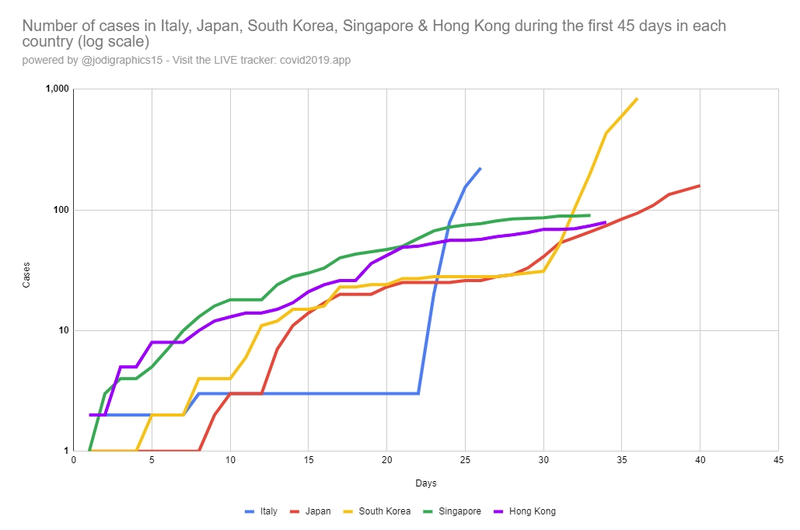 * * *
Update (1340ET): A Chinese airline is reopening domestic flights as Chinese officials start to lower their crisis-level outbreak standards, while UAL said Monday that it wouldn't cancel flights between the US and South Korea.
As China tries to encourage its people to get back to work, it looks like the CCP is now telling villagers that only obedience to The Party will cure the virus.
This #CCP cop tells you, if #CoronavirusOutbreak happens in any other country, apart from praying to heaven, they really can't do anything else. But in #China, as long as you listen to the party, the #virus will be conquered very soon. #COVID2019 #Coronavirus pic.twitter.com/4lEIAjaa1s

— 曾錚 Jennifer Zeng (@jenniferatntd) February 24, 2020
The Rest…HERE