WHO Turns On China, Demands To Know How Nearly 2,000 Doctors Were Infected With COVID-19
by Tyler Durden
ZeroHedge.com
Fri, 02/14/2020
Summary:
China says 1,716 medical workers have been infected
WHO demands to know more about sick doctors, insists group of 12 virus experts will reach Beijing over the weekend
Singapore reports largest daily jump in cases amid increased human-to-human transmission
Hong Kong reports 3 new cases
Hubei's new party boss orders quarantine tightened
President Xi touts new "biosecurity law"
Hong Kong Disney land offers space for quarantine
Chinese company says blood plasma of recovered patients useful in combating the virus
US mulling new travel restrictions
Japan reports 4 new cases; one patient recently returned from Hawaii.
CDC Director: Virus is "Coming" to the US.
* * *
Update (1040ET): The WHO has just wrapped up its now-daily presser for Friday, and it appeared to focus on imminent plans to send a group of a dozen scientists and researchers to Beijing to figure out exactly what the hell is going on.
Much fuss has been made over the past week over China's continued refusals to allow Americans, or any other foreigners, for that matter, to offer assistance with the virus response. It's almost as if they're…hiding something…
Even after yesterday's big reveal about the change in their 'pro forma accounting standards' to reflect a higher death toll and number of confirmed cases (the jump alarmed global investors and prompted a selloff on equity markets), China still won't let Americans participate in a WHO-sponsored team of 12 researchers who are traveling to the mainland.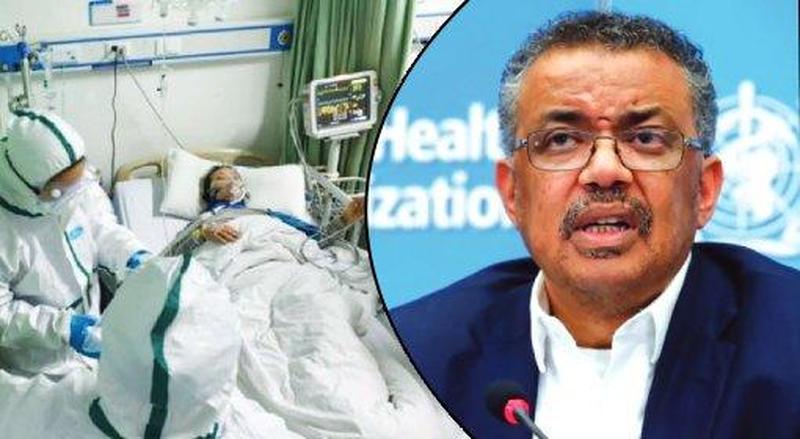 It was a big deal earlier this week when Beijing said it would reluctantly accept the team, ending weeks of suspiciously standoffish behavior (though the WHO bigwigs did travel to Beijing for meetings). But as one analyst said earlier on CNBC: 'We want to see foreign boots on the ground before we simply take the Chinese at their word'.
It's also notable how the WHO, initially a purveyor of what seemed like propaganda hot off the presses in Beijing, seems to have turned completely against its benefactor, now treating it with public suspicion.
WORLD HEALTH ORGANIZATION TEDROS SAYS WE NEED TO KNOW MORE ABOUT INFECTION OF 1,760 CHINESE HEALTH WORKERS, INCLUDING TIME PERIOD AND CIRCUMSTANCES
WHO BOSS TEDROS SAYS HE EXPECTS FULL TEAM OF WHO-LED INTERNATIONAL HEALTH EXPERTS TO TOUCH DOWN IN CHINA OVER WEEKEND TO HELP PROBE CORONAVIRUS
WHO MISSION TO CHINA WILL FOCUS ON UNDERSTANDING TRANSMISSION OF CORONAVIRUS, SEVERITY OF DISEASE AND IMPACT OF ONGOING RESPONSE MEASURES – WHO CHIEF TEDROS SAYS
WORLD HEALTH ORGANIZATION TEDROS SAYS WE NEED TO KNOW MORE ABOUT INFECTION OF 1,760 CHINESE HEALTH WORKERS, INCLUDING TIME PERIOD AND CIRCUMSTANCES
But after today's WHO press conference, we were left with the distinct impression that it's almost as if China doesn't…want the team to come.
Why else would they have waited to reveal the figures about all the sick doctors and health-care workers until Friday morning in the US and Europe? Just a thought.
Back in the US, a team of American expertss is prepared to travel to China to investigate the outbreak on a moments notice, should they ever receive clearance from a government official, according to Secretary Azar.
As he said (and we noted) earlier, the US is bracing for the possibility that the warm weather doesn't kill the virus, as President Trump expects.
Anyway, moving away from China, we've seen unconfirmed reports of four patients in St. Petersburg escaping a COVID-19 quarantine. Earlier in the week, two women escaped quarantines in Siberia.
* * *
Update (1000ET): China is turning the quarantine nob up to '11'.
After imposing strict lockdown conditions on nearly a third of the country, Beijing's is kicking off its shift to 'wartime measures' by adopting even more strikingly draconian measures on the residents of its capital city.
From Feb. 14 on, all people returning to the city will be advised to quarantine for 14 days.
Meanwhile, the BBC reports that hundreds of conference atendees in London have been contacted by health officials after one of them was later diagnosed with the virus.
The person, who has not been identified, attended the UK Bus Summit at the QEII Conference Centre last week. Two Labour MPs who attended the conference said they're cancelling public events until Feb. 20, just in case.
So far, nine people in the UK have been confirmed to have the virus.
* * *
Update (0915ET): Japan has reported 4 new cases of the virus, including one man who recently returned from the US state of Hawaii, and another who helped transfer an infected patient diagnosed aboard "the Diamond Princess", the cruise ship that has been quarantined in Yokohama for 10 days.
Meanwhile, over in the US, this interview of the director of the CDC warning that the virus could become widespread in the US 'beyond 2020'.
* * *