Are There Really 10,000 Diagnosed Covid-19 Cases In Wuhan That Aren't Being Counted?
by Tyler Durden
ZeroHedge.com
Wed, 02/12/2020
Summary:
UK hospital confirms worker found to be infected treated 'small number' of patients
Russia releases two Chinese nationals who recovered from virus
China Grand Prix likely to be cancelled
Couple onboard 'Diamond Princess' tell CNBC situation is "frankly terrifying".
AFP publishes report exposing worsening shortages of food and supplies in Wuhan
Cruise ship rejected by four countries allowed to dock in Cambodia
Rumors of 10k in Wuhan not included in official count of cases
NYT follows WSJ in exploring problems with Chinese testing kits
* * *
Update (0824ET): At this point, some of the world's most prestigious media organizations, including WSJ and NYT, have reported that health officials are probably undercounting the number of coronavirus cases in Wuhan.
After WSJ spotlighted the issue in a story published online last night recounting how officials turned away seriously ill patients who failed to pass swabtests, the NYT followed up this morning with a piece about Beijing's efforts to speed up testing.
>Dr. Zhang Xiaochun, who works in a hospital in Wuhan, was in dismay. Her patient had been running a fever for nine days, and a CT scan showed signs of pneumonia — symptoms of the new coronavirus sweeping across the central Chinese city.
But a test to confirm the diagnosis would take at least two days. To Dr. Zhang, that meant a delay in isolating her patient — and getting potentially lifesaving treatment.
This past week, Dr. Zhang started a social media campaign with an urgent call to simplify screening for the new coronavirus. It was an unusually public effort that quickly found support among public health experts and the government as China grapples with one of the deadliest epidemics in its recent history.
"The purpose is to isolate and treat quickly," Dr. Zhang said in a telephone interview. "It amounts to extraordinary measures taken in extraordinary times."
To fix the issue, Chinese health officials are trying to increase the supply of nucleic acid coronavirus tests, which they believe to be more reliable than swap tests, which often don't go deep enough into a patient's chest to find evidence of the virus.
A major bottleneck has been a shortage of nucleic acid testing kits used to confirm the presence of the coronavirus. So Dr. Zhang proposed that doctors could first use CT scans to detect pneumonia and quickly isolate and treat patients who have it.
CT scans are convenient and can produce immediate results, Dr. Zhang said. Experts say people infected with the coronavirus would be likely to have lesions in both lungs.
Following a week of Chinese police rounding up anyone suspected to be infected and locking them away in an official quarantine, the rumors are that there are 10,000 cases in Wuhan who have been clinically diagnosed via CAT scans of their chest (as we explained earlier, swab tests being used in viral tests are notoriously unreliable), but haven't been included in the official statistics, as twitter user @fxmacro reminds us.
Numbers have peaked but don't be surprised to see an uptick over the next week because there are 10k clinically diagnosed via cat scans but not counted as confirmed in hubei … with another 10k still awaiting testing the rest of China is well on its way to recovery

— FxMacro (@fxmacro) February 12, 2020
Even the WHO has warned that we're only seeing "the tip of the iceberg."
It's definitely something worth thinking about.
The number of cases and deaths hasn't changed since Tuesday night in the US, with the number of confirmed cases around the world topping 45,000, with 44,653 of those in mainland China, according to the SCMP.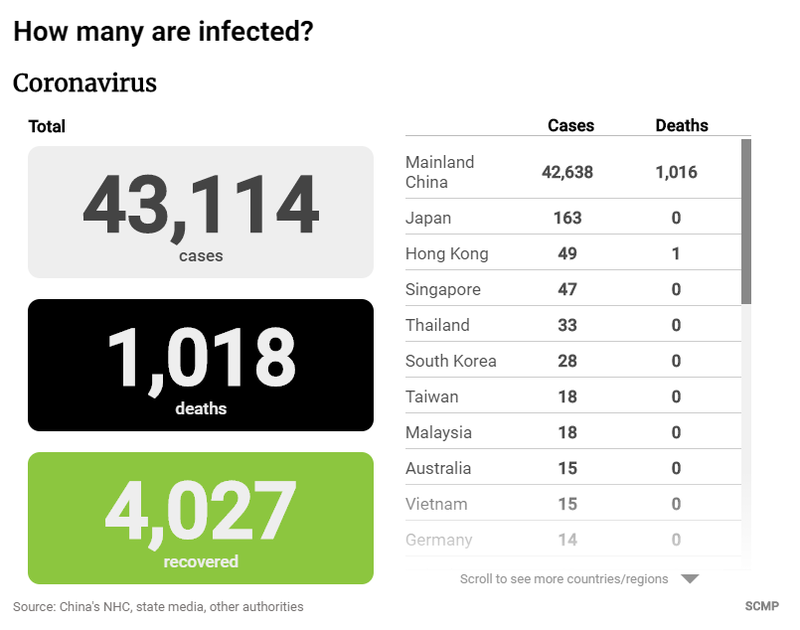 We leave you with this clip shared by reporter Jennifer Zeng of hazmat-suit-wearing workers loading bodies into a van…horrifying scenes that have become common in Wuhan.
Child screaming while shooting:"Mom ! So many bodies in the van! So many!" Mom says:"Yes, I saw it." One of the many scenes in #China during #CoronavirusOutbreak #coronavirus #COVID19 "妈妈,车里面好多尸体!" #武汉肺炎 #新冠肺炎 #新型冠状病毒 pic.twitter.com/Iwdyt3R5RE

— 曾錚 Jennifer Zeng (@jenniferatntd) February 12, 2020