"We're Totally In The Dark" – Japan Not Doing Enough To Contain Outbreak, 'Diamond Princess' Passengers Warn
by Tyler Durden
ZeroHedge.com
Sun, 02/09/2020
Summary:
Virus death toll surpasses SARS (total: 813)
New cases confirmed in UK, Spain, Singapore
Passengers aboard 'Diamond Princess' warn authorities aren't doing enough to protect them – and others
Officials in Shenzen say they won't block Foxxconn factory reopening
Cruise ship quarantined in Hong Kong allowed to leave after 4 days
* * *
Last night, we reported that Chengdu had been placed under strict lockdown, adding another 14.4 million Chinese to the 400 million+ already living under virtual house arrest across the country as Beijing struggles to contain the coronavirus outbreak that has already claimed more lives than SARS did during its nearly year-long run.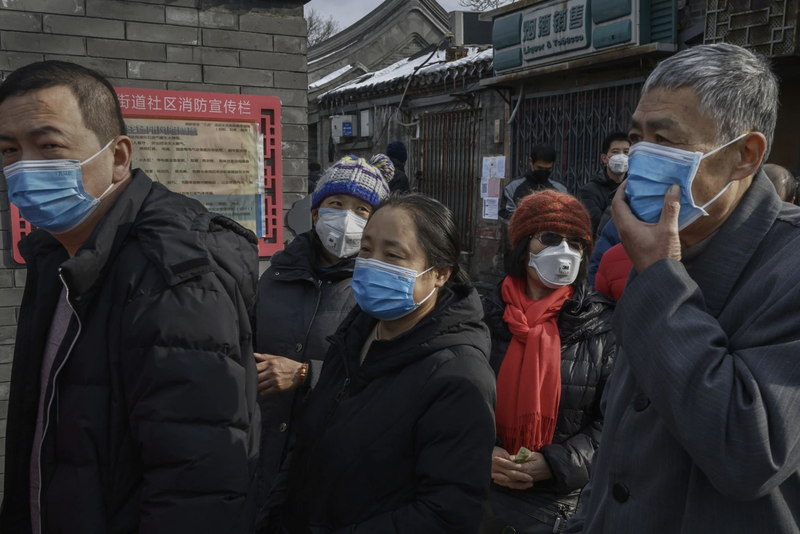 And as fears about the economic fallout from the outbreak grow, the government in Shenzen, a city that has been on lockdown for a couple of days, reportedly denied rumors that it would prevent Foxconn from re-opening local factories. In a transparent to boost confidence in China's frozen manufacturing sector, local officials said the factor would reopen asap after inspections had finished.
The local government of the city of Shenzhen in southeastern China said on Sunday it had not blocked plans by Apple supplier Foxconn to resume production, adding that the company would restart once inspections were completed$AAPL

— *Walter Bloomberg (@DeItaOne) February 9, 2020
CNBC's Eunice Yoon, a reporter who has doggedly covered the outbreak from Beijing, warned that factories won't go back online across the country tomorrow, as Chinese officials had said. Instead, she expects the switch back to work would be gradual and depend largely on the whims of local officials. Only minutes ago, Chinese state media reported that the first workers would return to factories in 'batches'.
Still, whether the Chinese economy can avoid the crash predicted by JPM remains unclear.
In other news, one reporter from the Epoch Times, a newspaper that has assiduously covered the virus despite threats from the mainland government, said she believed based upon her research that the virus might be artificial, a question that others have raised.
不太清楚。各种说法很多,各种可疑之处也很多。我趋于相信是人造病毒。希望科学家能尽快调查清楚。 https://t.co/wYi5FgHfth

— 曾錚 Jennifer Zeng (@jenniferatntd) February 9, 2020
Out of all 31 provinces in China, Guangdong Province is quickly becoming the second-worst-hit after Hubei, even though the two provinces don't share a land border. The ET shared a video of a third makeshift nCoV hospital being built somewhere in the province, apparently.
Probably somewhere in #Guangdong province(the man in the video speaks Cantonese), a huge temporary "hospital" under construction. 据说是 #广东 某地,大型临时医院在建,收容 #武汉肺炎 #新冠肺炎 病人。#Coronavirus #coronaviruschina #CoronavirusOutbreak #全民反抗 #全民自救 pic.twitter.com/7EhniJqIPy

— 曾錚 Jennifer Zeng (@jenniferatntd) February 9, 2020
Meanwhile, more disturbing videos of Chinese resisting the forced quarantines have surfaced.
Woman fighting fierecly, with a knife, against forced quanrantine, one of the many scenes in #China during #CoronavirusOutbreak. It was said she got taken away nevertheless. #Coronavirus #coronaviruschina 女子揮刀反强制隔离。据说最后还是被制服带走了。#武汉肺炎 #新冠肺炎 pic.twitter.com/s0PlWVIaXK

— 曾錚 Jennifer Zeng (@jenniferatntd) February 9, 2020
Someone says what she is saying is "People are innocent", or "People are guiltless". https://t.co/aTlFScjvrc

— 曾錚 Jennifer Zeng (@jenniferatntd) February 9, 2020
Tensions between villagers and outsiders continue to run high as well.
In an era of #coronavirus in #China , villagers failed to stop someone from going somewhere. #coronaviruschina 与其 #全民互害 互斗,不如全民一起反抗中共。#全民反抗 #全民自救 #全民互救 #武汉肺炎 #新冠肺炎 pic.twitter.com/8RMEWNiwO7

— 曾錚 Jennifer Zeng (@jenniferatntd) February 9, 2020
The bitterness felt toward the government has prompted the creation of memes and videos like this.
WHAT IS THE REAL VIRUS?
誰才是真正的病毒?#coronavirus #CoronavirusOutbreak#武漢 #武漢肺炎 #天滅中共 #武昌起疫 #武汉肺炎 #新型冠状病毒 pic.twitter.com/gaVaXkCA7f

— 曾錚 Jennifer Zeng (@jenniferatntd) February 9, 2020
Quarantines have lasted for more than two weeks in some places, yet many outsiders still have no idea how those living under quarantine are surviving. This video offers an important clue:
This is how you get your food supplies at the age of #coronavirus quarantine in a village in #China. #新冠肺炎 的封村时代,大家都过上平等的社会主义新生活了? #武汉肺炎 #coronaviruschina pic.twitter.com/kqZjVv7o3o

— 曾錚 Jennifer Zeng (@jenniferatntd) February 9, 2020
Expanding on the death toll we reported last night, local officials confirmed 89 new deaths from the virus on Saturday, a number that many suspect might be wildly underrated following additional reports of Beijing cremating bodies that haven't yet been counted in the local statistics. Still, 89 is up from 86 fatalities on Friday, according to figures released early on Sunday by the country's health authority, per the SCMP.
Beijing also touted the fact that the number of new cases dropped on Saturday. Newly confirmed coronavirus cases in the mainland rose by 2,656 on Saturday, down from 3,385 new cases on Friday, according to China's National Health Commission. The total number of mainland cases now stands at 37,198, plus an additional ~350 confirmed cases outside China. A local party chief in Wuhan has called on local health officials to finish testing all suspected cases in the city (remember, the government rounded them all up a few days ago) within two days, before the people riot and Beijing sends in the tanks.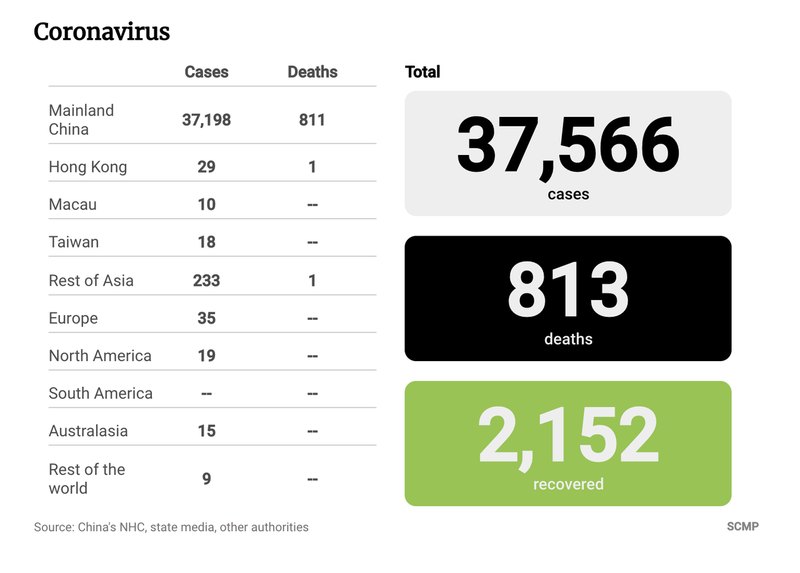 Britain and Spain on Sunday confirmed a new coronavirus case, bringing the total cases in the UK to four, while Spain now has two. In the UK, the infected person was a "known contact of a previously confirmed U.K. case" (who allegedly contracted the virus in a French ski chateau). The case in Spain is a British man who lives on Majorca. 6 new cases were confirmed on the cruise ship in Japan (we'll get into more on that later), while authorities in Hong Kong ended the four-day quarantine of another ship after finding no evidence of infections among its 3,600 passengers and crew, per NYT.
New cases were also confirmed in Singapore (three new cases), while a new study published by Kyodo News found that half of all new infections occur within the virus's incubation period, bolstering theories that it spreads "silently" – ie before infected patients display symptoms.
At least one of every two instances of human-to-human transmission of the new coronavirus is believed to occur while the first patient is not yet showing symptoms, according to an estimate by a group of Japanese university researchers.
Based on its determination, the team, headed by Hokkaido University professor Hiroshi Nishiura, has called for preventive measures as well as reinforcing the medical care system against a potential sharp rise in coronavirus patients, rather than focusing exclusively on isolation as a way to contain the disease.
According to the estimate based on 26 human-to-human infection cases released by six countries such as China, Thailand and the United States, the timing of the secondary infection was shorter than previously thought.
Elsewhere, the government is fighting back against the torrent of criticism unleashed by the death of Dr. Li by claiming that the disruption is the work of foreign state actors – a classic trope invoked by the Chinese government to whitewash its mistakes. The Global Times, a pro-Communist Party tabloid, accused "Hong Kong secessionists and foreign entities" of trying to provoke public discord in China by sensationalizing Dr. Li Wenliang's death (he succumbed to the virus late last week).
On Sunday morning, the NYT published one of the most extensive looks at life aboard the 'Diamond Princess', where more than 2,600 passengers (minus those who have tested positive and been taken to a hospital) are understandably going stir crazy while simultaneously being consumed by paranoia as they try to avoid a monster that can't be seen or heard.
So far, more than 70 passengers and crew have tested positive for the virus, making the ship host to the largest coronavirus outbreak outside China. Quarantining the ship was a coup for Japanese health authorities:they successfully prevented what probably would have been a brutal outbreak in Japan, a country where more than 20% of the population are elderly and/or ailing.
The NYT reporter makes it seem like she's talking to passengers directly, as if she were aboard the ship. But judging by the Dateline, the piece was reported entirely from Tokyo. Most of these conversations must have occurred via phone.
One passenger described keeping track of the number of cases by counting the ambulances that arrive to cart away the infected.
"Now we will start counting ambulances and know that's the number being removed," said Sarah Arana, 52, a medical social worker from Paso Robles, Calif.
The same individual discussed strategies for limiting stress, since it weakens the immune system and makes one more vulnerable to infection.
"I know that stress and anxiety compromise my immune system," said Ms. Arana, who is on her first cruise. "My whole thing is just to stay calm, because no matter what, I'm here. But every day it's anxiety-provoking when we see the ambulances line up on the side of the ship."
The quarantine of the Diamond Princess was imposed by Japanese health officials who learned that a man who had disembarked on Jan. 25 tested positive for the virus in Hong Kong.
Another passenger told the NYT that they didn't understand why authorities were only testing people with symptoms (aka fevers) or who had direct contact with the infected man.
"I do not now believe they are containing this epidemic by keeping us quarantined," said Gay Courter, 75, an American novelist and avid cruisegoer who was isolated in a cabin with her husband, Philip. "Something is wrong with the plan."
Some passengers speculate that the virus might be transmitted through the ship's ventilation system. Others worry it could be spread via the food. This is that kind of all-consuming paranoia, the kind that injects an element of terror into every daily interaction.

"Nobody can tell us for certain," said Ms. Courter. "There's no scientific evidence this is not being spread through food handlers or the people delivering the food, even in rubber gloves."
Passengers have been speculating that the virus could be transmitted through the ship's air ventilation system. Some shared their concerns with the United States Embassy in Tokyo.
One rumor that spread like wildfire across the ship claimed the US government was working to evacuate Americans aboard the cruise ship. So far, that has not happened. Some passengers with chronic health issues like diabetes are extremely worried about running out of medicine.
On Wednesday, Carol Montgomery, 67, a retired administrative assistant from San Clemente, Calif., had a low-grade fever. Her husband John, 68, a retired city planning director, was concerned about his diabetes, and about whether he should clean the air ventilator he uses every night for sleep apnea.
"We're sitting inside this room and the number of cases is slowly rising," Mr. Montgomery said. "It's just very disconcerting that we can't get tested to figure out if we have it."
About as interesting as that NYT story is this piece by WSJ. It's a blatant piece of access journalism – the worst kind when you think about it since the reporters clearly got the green light from Communist Party officials – but the reporters found a way to outsmart censors and embed clues and hinted-at criticisms within the text.
The report recounts a cross country journey undertaken by Shen Wufu, a young businessman who was quarantined in the Chinese city of Shantou after picking up the virus during a multi-city journey. Authorities aren't certain where he picked up the virus, but he believes it was during a brief stop in Wuhan on Jan. 18, a time when government officials were still actively suppressing news about the outbreak (or so many suspect).
A map of his journey shows how the government's sluggish initial reaction to the virus placed millions in jeopardy. In reality, Shen isn't so different from the super-spreader we mentioned earlier, though the government might argue that they acted quickly enough to prevent this.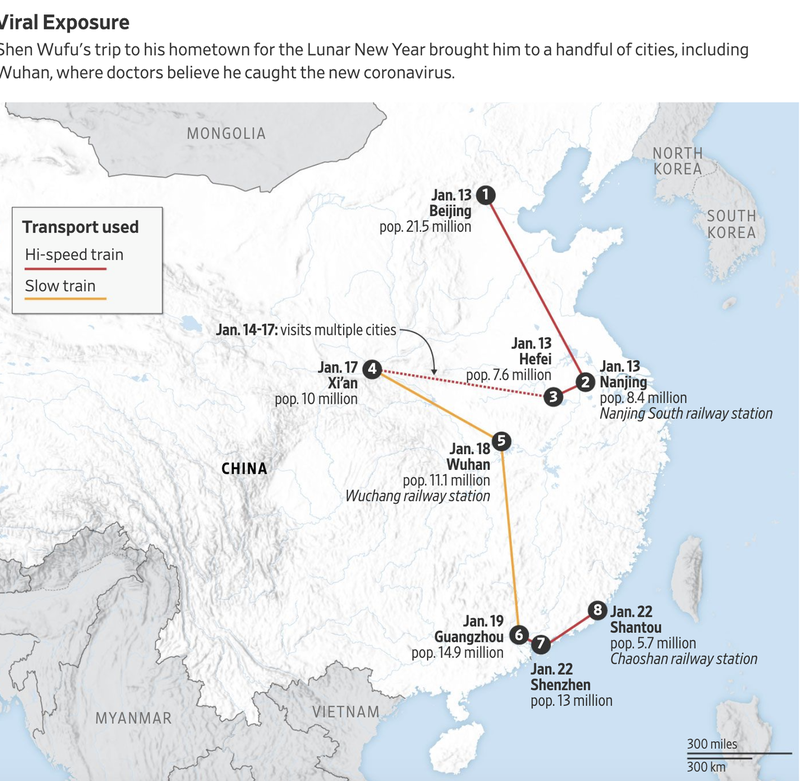 To be sure, the paper noted that Shen is "living proof that some Chinese countermeasures are working," like the fact that he was eventually quarantined thanks to a pair of quick-thinking local officials (who we imagine will be scapegoated for failing to suppress the virus at the orders of the leadership).
As it becomes increasingly clear that the outbreak is getting worse, not better, despite the supposed 'decline' in new cases (which is supposed to show that the state's heavy handed methods are working), the World Health Organization cautioned on Sunday against reading too much into those numbers, saying that Wuhan and Hubei remain in the middle of a "very serious outbreak."
Though we didn't need the New York Times to figure that out.