China On Edge Of Chaos: "7 Cities, 23 Million People Under Quarantine"
by Tyler Durden
ZeroHedge.com
Thu, 01/23/2020
Summary:
7 Chinese cities, around 23 million people, effectively under quarantine
Multiple cases across the world – from Scotland to Singapore and USA
634 Infected (according to Chinese officials)
18 Dead (following 1st death outside Wuhan)
WHO says "not the time to declare a global health emergency"
"Make no mistake: This is an emergency in China," Tedros said. "But it has not yet become a global health emergency. It may yet become one."
In #Wuhan,people are collapsing on streets due to the deadly #WuhanPneumonia .
so helpless.#WuhanCoronavirus #WuhanOutbreak pic.twitter.com/X5ho3Llpcm

— 巴丢草 Badiucao (@badiucao) January 23, 2020
Update (1325ET): The World Health Organization, after a second day of meetings, have decided AGAINST declaring an international virus alarm. The panel was reportedly split on the decision and may revise the decision but for now states that "now is not the time" to declare an emergency.
"Make no mistake: This is an emergency in China," WHO Director-General Tedros Adhanom Ghebreyesus said. "But it has not yet become a global health emergency. It may yet become one."
* * *
Update (1300ET): CNBC's Eunice Yoon just provided a shocking update to the status of the deadly virus in China:
"7 cities and 23 million people are effectively under quarantine."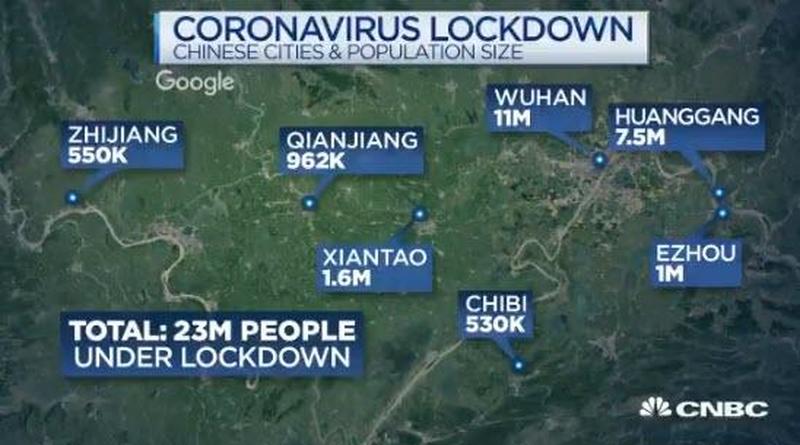 CNBC's @onlyyoontv breaks down what's happening on the ground in China with the coronavirus spreading on @CNBCTheExchange . What cities are closed, how many people are impacted, the precautions they're taking and the huge impact on the Lunar New Year. pic.twitter.com/YFEHjQP0Cy

— The Exchange (@CNBCTheExchange) January 23, 2020
That is more people quarantined than the population of Florida (21.6m).
Outside of China, cases keep appearing (map does not include recent cases in Scotland and Ireland):