"No Individuals Have Been Held Accountable": WSJ Editorial Board Slams FISA Circus
by Tyler Durden
ZeroHedge.com
Wed, 12/18/2019
Following the release of the DOJ Inspector General's report revealing that the FBI deceived the Foreign Intelligence Surveillance Act (FISA) court in order to spy on former Trump campaign aide Carter Page, presiding FISC Judge Rosemary Collyer issued a rare public rebuke – while ordering the agency to clean up its act, and fast.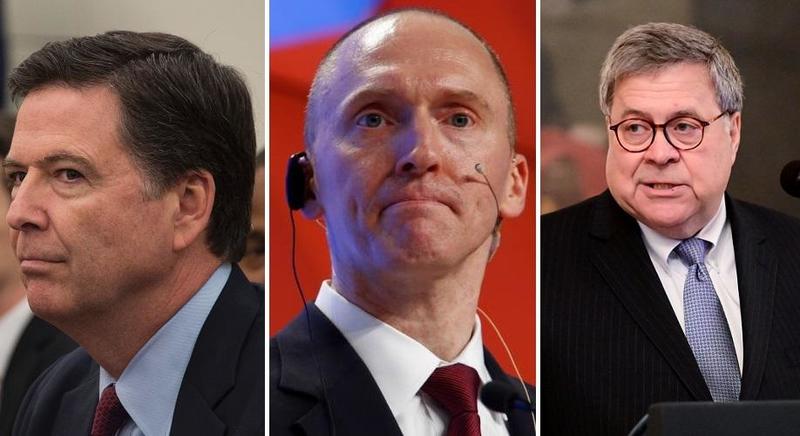 Collyer noted despite the FBI's "heightened duty of candor," officials fabricated evidence and concealed information from the court which harmed their argument that Page was an "agent of a foreign power," fabricated evidence.
Because of this, the court is now concerned about "whether information contained in other FBI applications is reliable."
Those involved in the operation to take Trump down, meanwhile, are scrambling to downplay the IG report while taking as little responsibility as possible. After the FBI first tried to pass the buck – insisting that the Page applications were legit since the FISA court approved them, former FBI Director James Comey's feet were finally held to the fire by Fox News host Chris Wallace last weekend:
Watch @comey try to squirm out of Wallace's question. Comey is a total snake and a liar. Just watch him try to lie with the cold, hard facts placed right in front of him:
pic.twitter.com/zeA54eQ1ip

— Eddie Zipperer (@EddieZipperer) December 15, 2019
The former FBI Director went into full boyscout mode when he chalked up the 17 'serious errors' found by the IG to "real sloppy" work, adding "..I was overconfident in the procedures that the FBI and Justice had built over 20 years. I thought they were robust enough."
Meanwhile, former CIA Director John Brennan acknowledged on Tuesday that "there were mistakes made" during the application process.
And former Director of National Intelligence, James Clapper, has been using the old 'we were just following orders' line after it was revealed he and the other Obama-era IC heads were under investigation by US Attorney John Durham, telling CNN in October that he was just investigating what "the then commander-in-chief, President Obama, told us to do."
Clapper appears to admit Obama instructed him to target the Trump campaign:

"Obama told us to do … assemble all the reporting that we could that we had available to us and put it in one report that the President could pass on to the Congress … " pic.twitter.com/4YJcNqUYGa

— Tom Elliott (@tomselliott) October 8, 2019
And despite all that we now know, the Wall Street Journal editorial board asks; why hasn't anyone been held accountable?
Judge Collyer's order demands that the government, no later than Jan. 10, inform the court "in a sworn written submission" what it has done and plans to do to make sure future FISA warrant applications aren't tainted. This is useful and is the first public evidence we've had that the FISA judges believe they were deceived.
Yet it also underscores how the FISA process dilutes political accountability. The FBI has tried to say its applications were kosher because a court approved them, while the court now fingers the FBI for deception. But so far no individuals have been held accountable, and the abuses would never have been discovered without the digging of former House Intelligence Chairman Devin Nunes. -WSJ
Indeed, the only person that might be held accountable was an FBI attorney – Kevin Clinesmith, who fabricated evidence in the Carter Page FISA app to say he wasn't a CIA source, when in fact he was – with "positive assessment."
And while Clinesmith was slapped with a criminal referral by the IG, he is far from the only person within the agency whose hands are dirty. Yet – as the Journal notes, nobody else has been held to account.
In closing, they write "Congress created FISA in the late 1970s to protect against previous FBI wiretap abuses. Clearly it hasn't worked, and more bureaucratic hurdles won't stop FBI officials who lie or alter email evidence. Injecting judges into secret executive-branch national security decisions was always a mistake, and now we know it abets abuse more than prevents it."