Starbucks Barista, Who Called Cop "PIG" On Thanksgiving, Fired
by Tyler Durden
ZeroHedge.com
Sat, 11/30/2019
A Starbucks employee who printed the word "PIG" on the labels of a Kiefer, Oklahoma police officer's coffee has been fired, according to the company.
The Kiefer police officer went to the Glenpool Starbucks on Thursday to pick up five drinks for dispatchers working on Thanksgiving, according to Police Chief Johnny O'Mara in a Facebook post.
"What irks me is the absolute and total disrespect for a police officer who, instead of being home with family and enjoying a meal and a football game, is patrolling his little town," he added.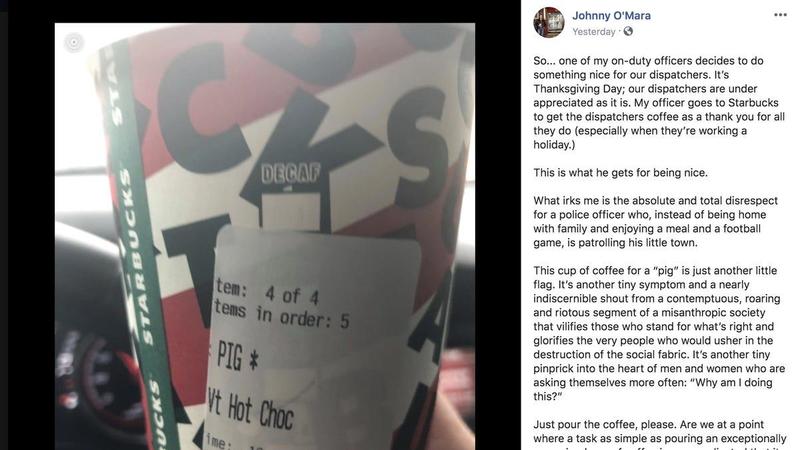 "This cup of coffee for a 'pig' is just another little flag," the post continues. "It's another tiny symptom and a nearly indiscernible shout from a contemptuous, roaring and riotous segment of a misanthropic society that vilifies those who stand for what's right and glorifies the very people who would usher in the destruction of the social fabric. It's another tiny pinprick into the heart of men and women who are asking themselves more often: 'Why am I doing this?'"
Starbucks called the incident "absolutely unacceptable," adding that they are "deeply sorry to the law enforcement officer who experienced this," according to CNN.
"The Starbucks partner who wrote this offensive word on a cup used poor judgement and is no longer a partner after this violation of company policy," reads a company statement. "This language is offensive to all law enforcement and is not representative of the deep appreciation we have for police officers who work tirelessly to keep our communities safe."
The company issued a joint statement with the Kiefer police department, saying they're using the incident "as an opportunity to leverage our shared platforms to promote greater civility."
The Seattle-based coffee chain will meet with Kiefer police to discuss other ways to work together, and will host a Coffee with a Cop event where baristas and and members of the community will be educated as to "the critical role dispatchers and police offers play in keeping our communities safe."