Hong Kong Police Officier Shot With Arrow As Fiery University Standoff Rages
by Tyler Durden
ZeroHedge.com
Sun, 11/17/2019
Following a week of Hong Kong student protesters occupying the city's university campuses where severe clashes with riot police have witnessed increasingly brazen and dangerous tactics such as using javelins and bows and arrows against police lines, security forces are looking to clear the last one at Hong Kong Polytechnic University (PolyU) on Sunday.
Early last week protesters took control of Chinese University of Hong Kong (CUHK) campus, and from there the war to control the city's academic centers was on.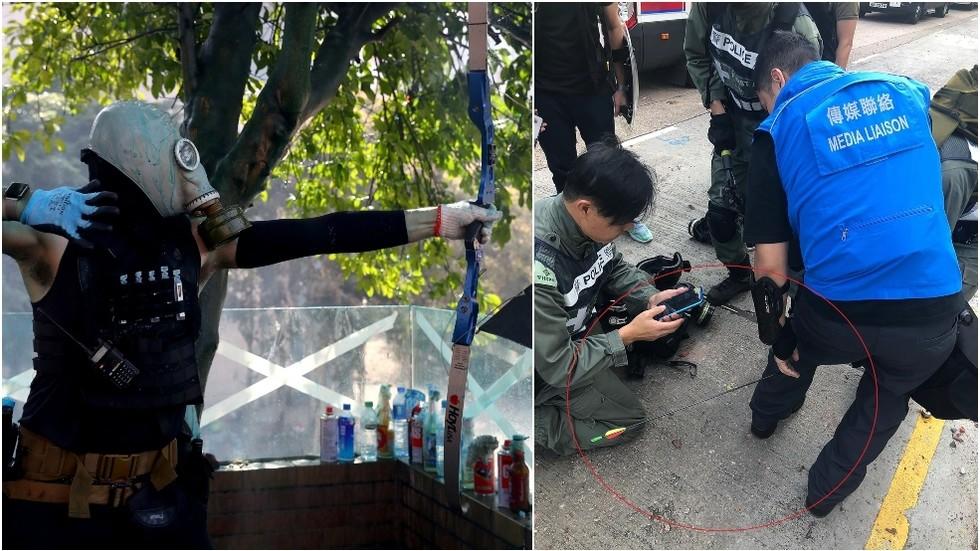 At each, students raided sports equipment storehouses and could be seen setting up makeshift petrol bomb factories on sports fields.
Given the escalation in tactics, including deadly weapons such as bows and arrows, HK police have now designated the students occupying the university as "rioters".
Conviction for 'rioting' in Hong Kong brings a mandatory prison sentence, thus the new designation is considered a significant new step by police.
And now at least one police officer has been shot with an arrow amid a chaotic scene that's included student barricades and metal spikes set up on roadways.
Students have also been utilizing homemade catapults and slingshots, and hurling rocks, bricks, and desks off of campus buildings.
The injured officer has been described as part of police media liaison office. An arrow reportedly launched from the student side struck his leg and pierced through to the other side, as photographs showed of the gruesome injury.
He was said to be conscious when transported to the hospital and is expected to recover.
The Rest…HERE