The Present Leftist Coup Will Culminate with a Reign of Terror Including the Unlimited Use of Guillotines
by Dave Hodges
TheCommonSenseShow.com
Tuesday, October 29, 2019
Did you know that the guillotine is the most efficient and cleanest killing machine on fhe planet? Off with the head and the organ harvesting can continue in abundance. Reportedly, a guillotine can chop off the heads of about 100 people per hour. In one hour, the ruling authority has the capacity to execute as many as three million people. In one ten hour day, 30 million people could be executed by way of the guillotine. The best question to ask is not whether anyone would do this, but rather, how many people will be executed by guillotine after the Leftist overthrow of America is complete and the reign of terror begins? Yet, very few have the courage to even look objectively at this topic. Even fewer would dare to talk about it in private conversations. Certainly, one would never dare to write about this topic for fear of being branded as insane in need of involuntary incarceration and forcibly medicated. AS for myself, I have nothing to lose. My fate is sealed if this Leftist, Bolshevik Revolution is completed and likes of a despot, like Hillary Clinton, is installed as our new leader. Yet for years, some Americans have ignored their own safety and subsequently there are a few brave individuals who have warned America about what is coming.
Beheading Centers Abound
There are beheading centers in America. Their locations are held in secret as much as possible. The locations of UN troops lare largely held in secret. The locations of guillotines and concealed UN troops are often share a common location. These locations include abandoned military bases which have previously been shut down by the BRAC Commission. Every closed base that has not been shut down and subsequently converted to commercial and residential development, should be considered to be an anti-American-Deep-State-Controlled location. Further, there are some bases that are open but large swaths of the base are open to foreign troops (ie UN troops) in such places as Ft. Stewart in Georgia. I am in possession of information that many guillotines are stored in underground facilities at various military bases, such as Luke Air Force base, Glendale, AZ. Camp Grayling in Michigan is another site where both variables remain hidden and covert. Additionally, there are people of prominence and respect who have warned the American public about what is coming.
Is anyone else daring to ask questions about the UN takeover of a public facility takeover in Utah?
Ex-FBI Ted Gunderson, Bill Pawelec and Ex-NSA A.C. Griffith
When retired FBI agent, the now deceased Ted Gunderson, reportedly told a gathering of militia members that the federal government had set up 1,000 internment camps across the country, I had no trouble believing his(e.g.REX 84, Operation Garden Plot and now the NDAA). However, when Gunderson reported that the federal government was storing over 500,000 caskets outside of Atlanta, I also knew he was accurate on this point because Sherrie Wilcox found the evidence in the adjacent photo. However, when I heard that Gunderson was accusing the government of storing 30,000 guillotines, I thought he had lost his mind. Here is a picture of what Sherrie found 50 miles outside of Atlanta which validated the Gunderson claim.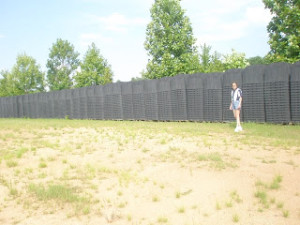 The Rest…HERE