Unemployed Americans Spent More With $600 Weekly Boost Than Before Pandemic; That's About To Go Away
by Tyler Durden
ZeroHedge.com
Thu, 07/16/2020
At the end of this month, millions of unemployed Americans are set to lose their $600-per-week federal unemployment boost on top of their standard benefit. The program, part of the CARES Act, constituted a good portion of the $108.5 billion the US Treasury paid towards unemployment benefits in June.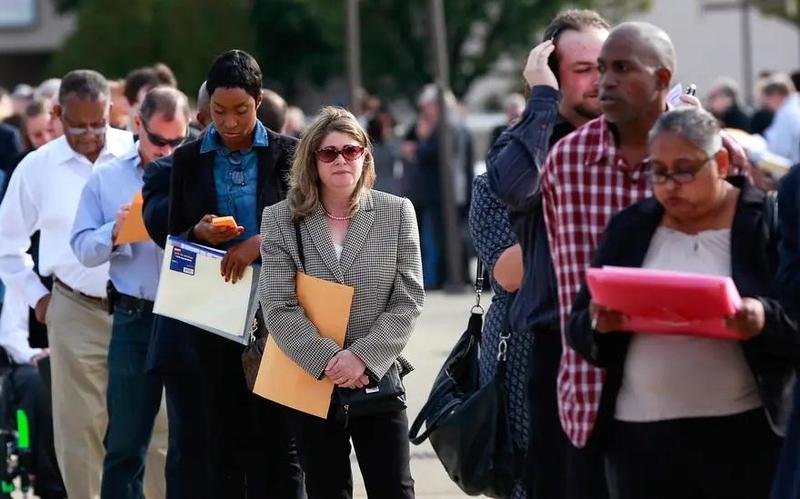 And according to a new study released Thursday, Americans who received enhanced unemployment benefits spent roughly 10% more than when they were working, according to Reuters. This of course makes sense, as some 63% of jobless workers making more on unemployment than when they were working.
Researchers analyzed transactions for 61,000 households that received unemployment benefits between March and May. Spending dropped for all households as the virus spread and led to business shutdowns, but then rose when households began receiving jobless benefits, the study found.
That contrasts with a typical recession, when households receiving unemployment benefits usually cut spending by 7% because regular jobless benefits amount to only a fraction of a person's prior earnings, the research found. -Reuters
"Some folks are getting unemployment benefits that are larger than what they were getting paid [at] their previous jobs. That really potentially creates some wealth disincentive effects," said Harvard Economics professor Raj Chetty earlier this month at an event sponsored by the left-leaning Center on Budget and Policy Priorities.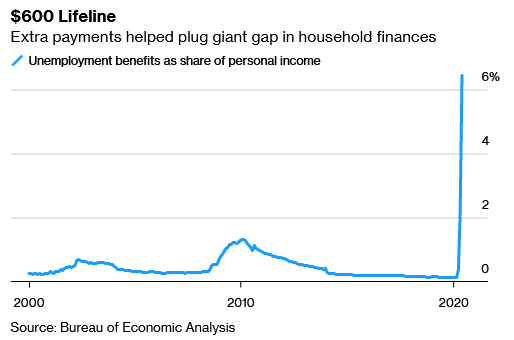 Ending the program has stoked concerns over a steep fall in spending after the payments expire, as the 'bonus' unemployment benefits have been helping to prop up consumer spending for some 25 million unemployed Americans. According to the Century Foundation, if the supplemental payment isn't extended through the end of the year, the poverty rate will jump from 12.3% to 16.3% (via Washington Examiner).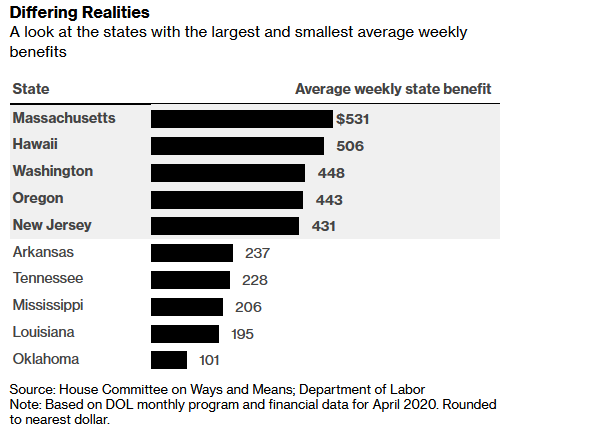 "Our estimates suggest that expiration will result in large spending cuts, with potentially negative effects on both households and macroeconomic activity," said the researchers cited by Reuters, who also found that households forced to wait several weeks for their first unemployment checks cut spending by around 20%.
For Chris Bolei, 63, the extra $600 a week is "a lifeline to our pre-pandemic existence." Before the pandemic, Bolei, from San Rafael, California, was making about $75,000 a year as a maintenance supervisor. Even with the government aid he and his wife, who is high-risk for severe complications from Covid-19, struggle to pay their bills. Without the weekly bonus, he said his rent payments and wife's medical bills will become impossible. -Bloomberg
Democrats are pushing to extend the $600 weekly payment as more than 30 million Americans are estimated to be receiving unemployment benefits.
Many employers, meanwhile, have argued that the federal supplement has discouraged employees from returning to work.
For example, at the diner chain Waffle House Inc., based in Norcross, Georgia, some employees aren't coming back to work because they make more money from unemployment, creating a shortage during some shifts, according to spokeswoman Njeri Boss. -Bloomberg
A Goldman Sachs survey found that 84% of small businesses participating in the Paycheck Protection Program (PPP) are expected to exhaust their funding by the first week of August, while just 16% are confident they can continue to pay staff without more bailouts.
Meanwhile, jobs are difficult to come by. As of July 10, job postings were around 23% lower than the same period in 2019 according to Indeed.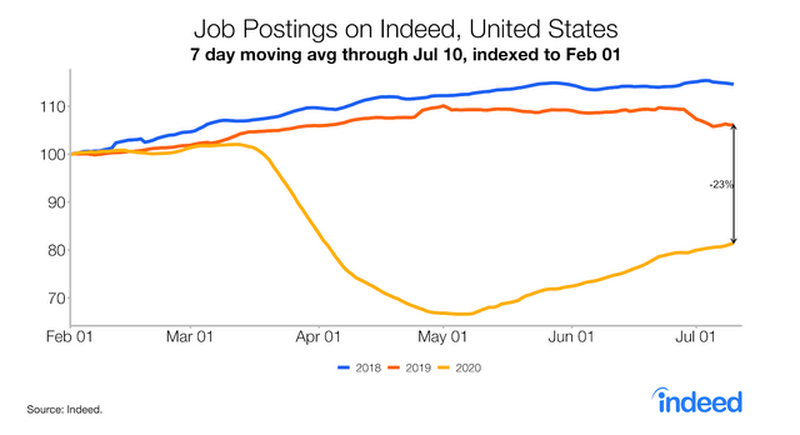 Job postings for higher-wage occupations have dropped the most – at 32% below trend vs. 14% for lower-wage occupations.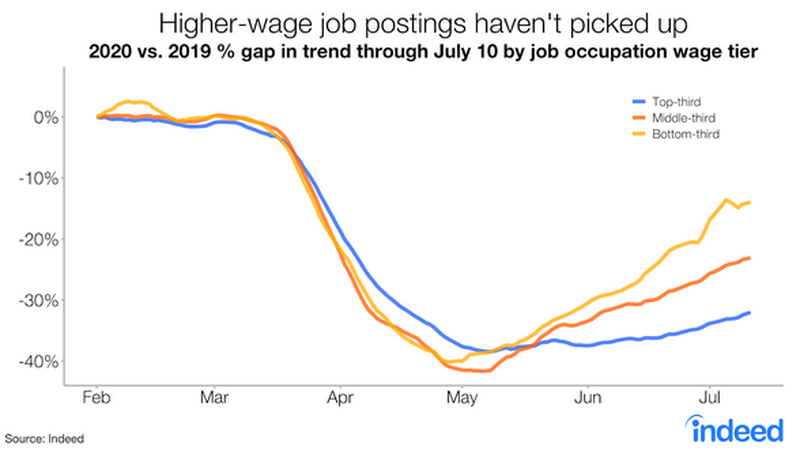 The pandemic has affected hospitality and tourism jobs the most, which have seen job postings down 35% or more vs. 2019.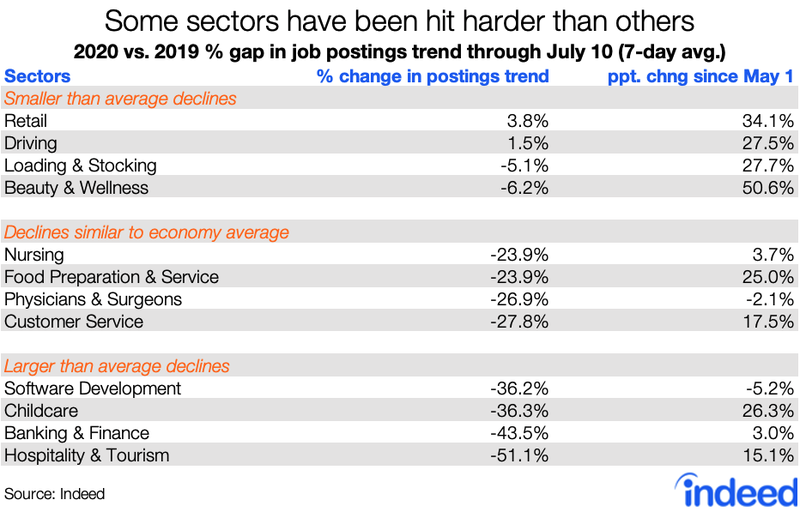 By region, Honolulu, San Francisco and San Jose have seen the largest downtrend in job postings, but have picked up in places such as Orlando, Miami and Las Vegas.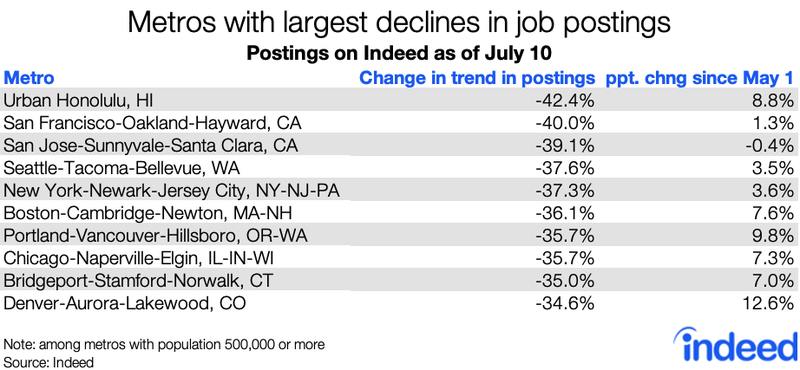 So – with $2,400 per month federal unemployment bonus set to evaporate in two weeks and the jobs picture 'less than rosy,' one has to wonder if GOP lawmakers will cave to Democrat demands and extend the program.