153 "Left-Leaning" Economists Say US Should Continue To Hand Out Free Money Indefinitely
by Tyler Durden
ZeroHedge.com
Tue, 07/07/2020
Once the money helicopter takes off, it can never again land. It's also why once a country is on the road to socialist utopia, also known as Venezuela or CHOP, and "free money for everyone" has been unleashed, there usually are no detours until financial ruin for everyone is finally achieved.
And while the road to hell may or may not be paved with good intentions, it certainly is lined with Magic Money Trees, and all around them are clueless socialist Keynesian economists who fail to grasp (or perhaps grasp all too well) that the current situation is no longer fixable, and their only policy recommendation is to do even more of what led the world to the edge of financial ruin.
According to Reuters, a group of 153 "left-leaning" economists have signed a letter calling on US policymakers to keep providing direct cash payments to Americans until the economy is stronger. And since the economy will never get stronger as long as tens of millions receive hundreds of dollars in government checks, listening to these clueless morons is the surest way to achieve Putin's and Xi's vision of destroying America from within, without ever firing a shot.
The group of "mostly left-leaning" economists said in an open letter organized by the Economic Security Project and The Justice Collaborative that direct cash payments can improve financial security, boost consumer spending and may speed up the recovery. Of course, direct cash payments tend to achieve just the opposite, but let's not bother the "left-leaning" economists with such trivial as reality and facts.
"The first round of economic impact payments were a lifeline that helped some get by for a few weeks," the economists wrote. "Even after businesses start to re-open and jobs begin to come back, there will be significant economic fallout, and demand will continue to lag if people don't have money to spend."
The letter was signed by 153 economists who have directly or indirectly contributed to the economic collapse of the United States, including Jason Furman, who chaired the Council of Economic Advisers during the Obama Administration; Claudia Sahm, a former Fed economist; Darrick Hamilton from the Kirwan Institute for the Study of Race and Ethnicity at The Ohio State University; and Indivar Dutta-Gupta, co-executive director at the Georgetown Center on Poverty and Inequality.
Naturally, some of the signatories are advising the campaign of presumptive Democratic presidential nominee Joe Biden according to Reuters.
Why now? Because the $600 supplement Congress added to weekly unemployment benefits – which has demotivated millions of Americans from seeking a job as they instead take more money home thanks to government welfare – are set to expire at the end of the month, leaving jobless Americans at risk of facing a cash cliff while jobs are still scarce.
Congressional lawmakers are on a two-week recess and will face pressure to make decisions when they reconvene in late July. And since money is now literally being printed and then immediately used to plug the record US budget deficit, even if it means a debt chart that is hilariously parabolic…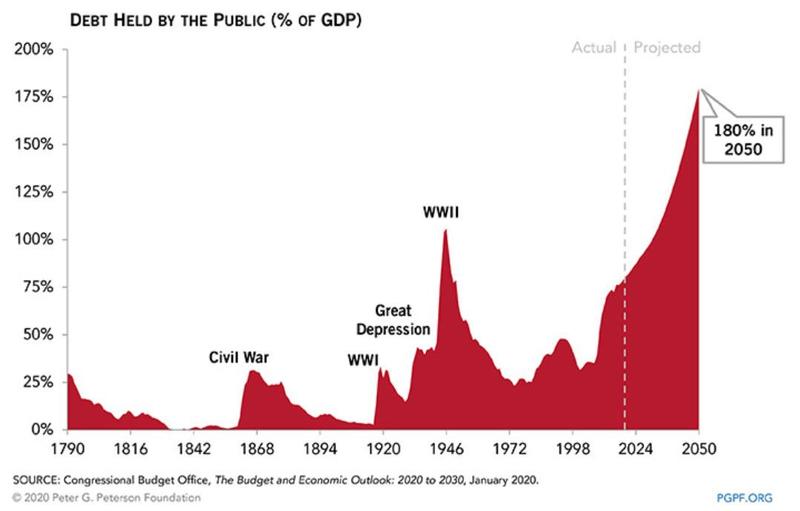 … we expect Congress to promptly approve trillions more in handouts because we are now at a point when the mere suggestion that a government backstop is gone – whether for capital markets, for corporate bond issuers, or for individual welfare checks – could be enough to spark a revolution.