Arizona Reports 29% Jump In Daily COVID-19 Cases: Live Updates
by Tyler Durden
ZeroHedge.com
Fri, 06/19/2020
Summary:
Arizona reports surge in new cases
WHO says global outbreak accelerating
Fla reports record jump
California reports second straight record jump
UK sees daily cases, deaths increase over yesterday
Global deaths top 450k
Cases top 8.5 million
Germany reports largest jump in cases in a month
UK lowers virus threat ranking
China releases genome showing Beijing outbreak caused by "European" strain
India reports another record jump in cases
Russia reports ~8k new cases
Singaporeans allowed to dine in restaurants for first time
* * *
Update (1127ET): Cases have also surged again in Arizona, climbing 29% DoD. There were 3,246 cases reported on Friday. The state reported 3,246 on Friday vs 2,519 on Thursday. Friday's number represents the state's second record daily jump in a row.
Here's the latest statewide breakdown courtesy of a local TV station.
Number of deaths: 1,312 Number of cases: 46,689 Number of total tested: 532,697 (at both private and state labs)
Community transmission: Widespread
Case locations by county:
Maricopa: 25,999
Pinal: 2,130
Coconino: 1,470
Pima: 5,019
Navajo: 2,928
Yavapai: 417
Apache: 2,103
Cochise: 332
Graham: 59
Santa Cruz: 1,293
Yuma: 3,857
Gila: 125
Greenlee: 14
Mohave: 686
La Paz: 257
Looks like the market is taking the deluge of record case numbers, which comes after JHU determined yesterday that 10 states have 7-day averages at record highs, seriously again.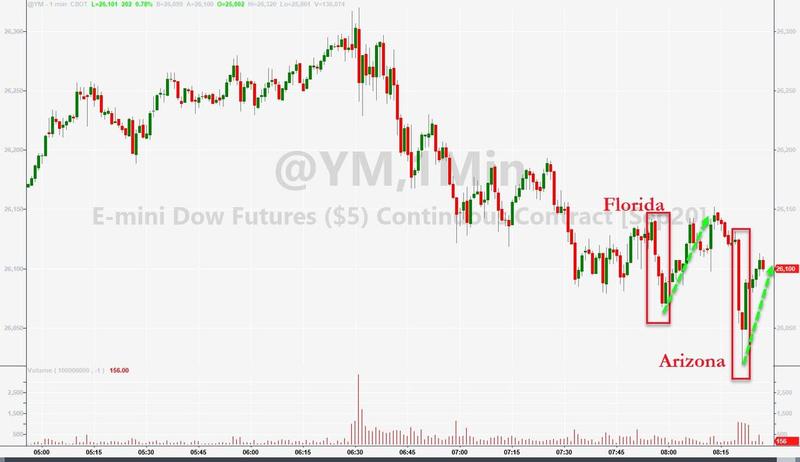 * * *
Update (1120ET): During Friday's press briefing, WHO Director General Dr. Tedros warned that the worsening situation in Latin America, the global outbreak is accelerating.
WHO CHIEF SAYS CORONAVIRUS PANDEMIC 'ACCELERATING'
* * *
Update (1030ET): Ransquawk just reported the latest official figures out of California, which appear to show another record jump in new cases, with the state reporting 4,317 Friday vs 4,084 on Thursday. That's the state's second record high in a row, and the third in the past week.
Fla. just dropped its latest numbers.
FLORIDA COVID-19 CASES RISE 3.4% VS. PREVIOUS 7-DAY AVG. 3.2%
However, newswires quickly published a correcction showing the actual jump was 4.4% or more than 3,200 new cases. Here's what that looks like on a chart courtesy of the NYT: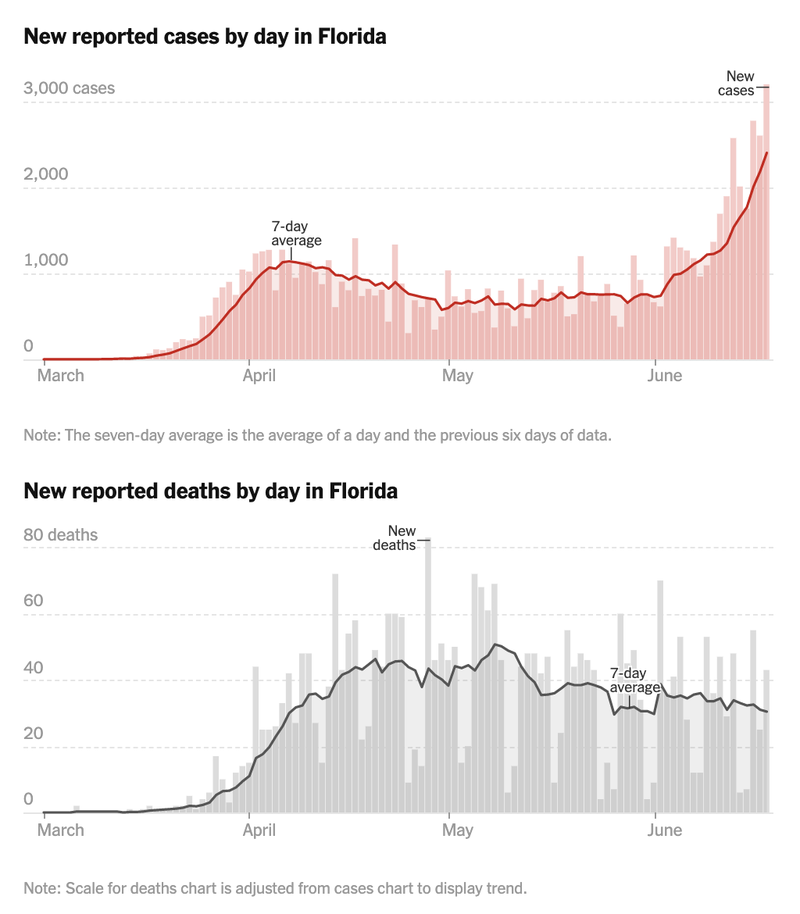 In other news, the UK numbers are out, showing DoD increases in deaths and cases.
As of 9am 19 June, there have been 7,433,114 tests, with 169,600 tests on 18 June.

301,815 people have tested positive.

As of 5pm on 18 June, of those tested positive for coronavirus, across all settings, 42,461 have sadly died.

More info:
▶️ https://t.co/xXnL3FU15k pic.twitter.com/jkxbyXBiEy

— Department of Health and Social Care (@DHSCgovuk) June 19, 2020