Stockman Calls "Bulls**t" On The Latest COVID-19 Fear-Mongering About Spikes In Texas, Arizona
by David Stockman via Contra Corner blog,
ZeroHedge.com
Fri, 06/12/2020
Dr. Fauci and the Scarf Lady are not the only Virus Patrol miscreants spreading the Covid Hysteria and thereby empowering the authorities to keep suffocating everyday economic life and personal liberty in America.
In fact, there is a whole camarilla of current and former health officials, purported disease experts, all-purpose talking heads and other Washington apparatchiks who continue to appear on mainstream media, peddling the hoary tale that coronavirus is some kind of horror flick monster: It purportedly just keeps springing from its Lockdown grave – whack-a-mole fashion – the instant officialdom relaxes its quarantine edicts.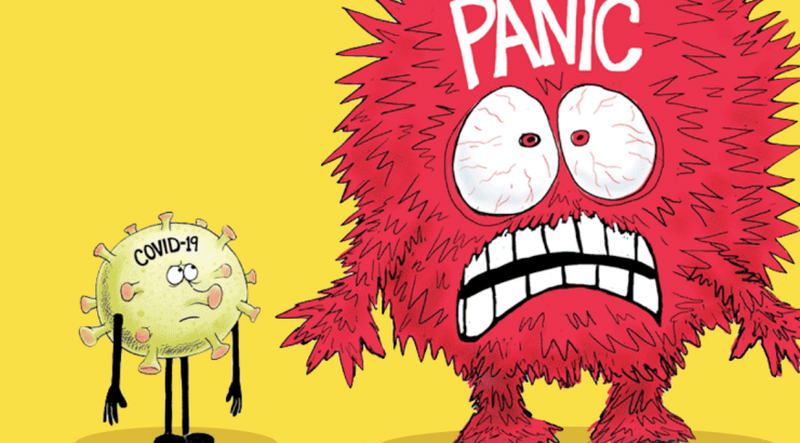 Call these people the "groomers" of Big Pharma, and their job is to keep public fears on the boil so that the demand for high-priced treatments, cures and preventative vaccines becomes overwhelming. And given that the Covid is now rapidly succumbing to the exhaustion of its infection cycle and the summertime sun, their exact current mission is one of bridging the gap.
That is, finding and publicizing local outbreaks and "hot spots" during the months just ahead so that the Virus Patrol will remain in full control of policy and the narrative until the Covid makes its forecasted second wave rebound during next fall's flu season.
After all, they desperately need these hot spots to keep the aggregate narrative alive because it is visibly collapsing by the day.
Back in early May, for instance, the NYT breathlessly carried a leaked study from the Trump Administration that projected a massive surge of new infections and a near doubling of daily death rates by early June relative to levels than extant:
As President Trump presses for states to reopen their economies, his administration is privately projecting a steady rise in the number of coronavirus cases and deaths over the next several weeks. The daily death toll will reach about 3,000 on June 1, according to an internal document obtained by The New York Times, a 70 percent increase from the current number of about 1,750.
The projections, based on government modeling pulled together by the Federal Emergency Management Agency, forecast about 200,000 new cases each day by the end of the month, up from about 25,000 cases a day currently.
The numbers underscore a sobering reality: The United States has been hunkered down for the past seven weeks to try slowing the spread of the virus, but reopening the economy will make matters worse.
Needless to say, that one went down the memory hole ages ago (i.e. around Memorial Day). As of June 10, in fact, actual daily averages for the month to date were:
827 deaths per day, representing a 53% decline, not a 70% increase;
20,694 new cases per day, representing a 17% decline, not an 8X increase;
In other words, these Washington modelers (this one was prepared by FEMA) couldn't hit the broadside of a barn with the antiaircraft guns Chairman Kim uses to dispatch his adversaries. So to keep the Covid-Hysteria alive, they send out the hot spot "groomers".
On of the most mendacious of these groomers is Dr. Scott Gottlieb, who was the Donald's first FDA commissioner and is an alleged pedigreed "conservative" with a berth at the American Enterprise Institute to burnish his numerous sinecures with Big Pharma.
Gottlieb is also a CNBC regular, and yesterday, sitting astride a screen crawler which read "Texas reports second day of record hospitalizations", he was busy promulgating the "hot spot" news about two red states, whose merely semi-craven GOP governors have belatedly attempted to get their economies back in business:
When you look at hotspot regions like Arizona and Texas, they have to be concerned, particularly areas around Houston right now. They could lose control of this very quickly," says @ScottGottliebMD on balancing re-opening with public health.

We call bullshit!
Gottlieb was peddling a pimple on the elephant's ass because, apparently, cable TV audiences generally and bubble vision's especially, were born yesterday. That is, they are infantile victims of recency and confirmation biases and will apparently believe anything served up in a context-free modality.
The truth is, there is nothing worrisome whatsoever going on in Arizona and Texas beyond the fact that the coronavirus started its inexorable spread in these interior states later than on the East and Left coasts, and is therefore cresting slightly later, as well.
But as of June 8, the count of infected cases and WITH Covid deaths in Arizona stood at 27,678 and 1,047, respectively. Those figures a hot spot do not make, nor do they offer any reason for not getting the state's boot-heel off the economy ASAP.
Relative to the USA as a whole and the New York epicenter, Arizona's figures per 100,000 population compare as follows as of June 8:
Infected cases Arizona: 375;
Infected cases USA: 596;
Infected cases New York: 1,963
WITH Covid deaths Arizona: 14.2;
WITH-Covid deaths USA: 32.3;
WITH-Covid deaths New York: 126.0;
In other words, Arizona's mortality rate is less than half of the US average and only 11% of that for New York. So why is it a worrisome "hot spot" by the lights of Virus Patrol shills like Gottlieb?
Indeed, the WITH-Covid mortality rate in Arizona stands at nearly rock bottom, clocking in at at just one-fifth to one-half of the mortality rates in much as European Christendom. To wit, current rates per 100,000 include:
Belgium: 83.1;
United Kingdom: 60.2;
Spain: 58.0;
Italy: 56.3;
Sweden: 47.5;
France: 44.9;
Netherlands: 35.3;
Arizona: 14.2;
The Rest…HERE