"I'm Looking For The Truth!" – Experts Slam States For 'Misrepresenting' COVID-19 Data As Outbreak Recedes
by Tyler Durden
ZeroHedge.com
Tue, 05/26/2020
For better or worse, every state in the US is pushing ahead with plans to reopen their economies. On Tuesday afternoon, California Gov. Gavin Newsom announced that retailers across the state would be allowed to reopen immediately, along with barbershops and salons in some counties. Later this week, Texas and a handful of other states will enter "phase 2" of their reopening plans.
But while the spike in new cases and deaths has decidedly not materialized – the number of new cases confirmed across the US tumbled to its lowest level in 2 months on Tuesday – a handful of states have still be called out for meddling or distorting the data before it was presented to the public to help justify plans to reopen before satisfying the federal guidelines released by the Trump Administration back in April.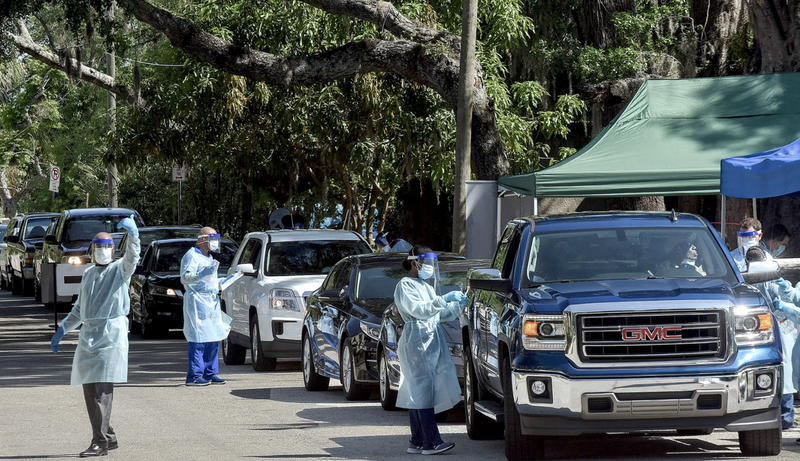 Former Obama-era CDC Director Tom Frieden, a near-constant voice on cable news like MSNBC and CNN, has regularly bashed states like Georgia for allegedly putting President Trump's reelection prospects before people's lives. But Frieden – one of many officials who proclaimed that the White House was deliberately trying to suppress projections calling for 3k deaths per day by June 1 – has moved on to highlighting examples of disingenuous data reporting by the states.
Of course, it has become clear in the weeks since the NYT published those projections that they were way, way off-base, just like the White House explained when it explained why it wasn't relying on them.
But Frieden just can't help himself, apparently, as NBC News reports.
"Accurate, complete and timely information is the best way to understand, respond to and limit the impact of the virus on both health and the economy," Dr. Tom Frieden, who ran the Centers for Disease Control and Prevention under former President Barack Obama, told NBC News.
"This helps to set realistic expectations on how the pandemic will affect people's lives and to inform required changes in behavior to prevent the spread of the virus," he added.
In Georgia, officials have apologized for string of suspicious "errors" that implied the number of new cases were falling earlier and more quickly than the official data bore out (over the past week, the number of new cases has fallen sharply even as access to testing has been expanded).
Georgia officials have apologized and corrected what was described as a "processing error" that wrongly showed a downward trend in the number of new daily infections in the state, making it appear as if new infections had dropped every day for two weeks. The error was at least the third in three weeks, the Atlanta Journal-Constitution reported.
Georgia was among the first states to launch its reopening. Georgia Gov. Brian Kemp, a Republican, said the state on Tuesday recorded its lowest number of hospitalized patients since it began tracking such data in early April.
Florida reported just 7 deaths on Tuesday, but its Republican Gov Ron DeSantis, who is universally loathed by liberals, and state public health officials were called out by a would-be whistleblower who says she was pressured to remove some data from a public website.
In the neighboring state of Florida, which has also moved expeditiously in reopening swathes of its economy, several data-related controversies also have brewed.
According to internal emails obtained by the Tampa Bay Times, state officials directed a top Florida Department of Health data manager earlier this month to remove data from public view that showed Florida residents had reported coronavirus-associated symptoms before cases were officially announced. The emails showed that the data manager, Rebekah Jones, had complied with the order but said it was the "wrong call."
Jones was taken off her role maintaining the state's coronavirus dashboard one day after that directive. She told a local CBS affiliate that she refused to "manually change data to drum up support for the plan to reopen" Florida. Last week, Florida Gov. Ron DeSantis, a Republican, said Jones was under "active criminal charges" for cyber stalking and cyber sexual harassment.
Meanwhile, Florida officials last month stopped releasing the list of coronavirus deaths being compiled by the state's medical examiners, which had at times shown a higher death toll than the total being published by the state. State officials said that list needed to be reviewed as a result of the discrepancy.
A spokesman for the state Health Department said the medical examiners had a different method for reporting deaths and that it was untrue "that deaths have been hidden."
"The government has one mission; academics and scholars have a very different mission," Dr. Dean Hart, an expert on viral transmission and former Columbia University professor who has run for the New York State Assembly as a Democrat, told NBC News.
"As a scientist, I'm looking for the truth, the heck with who it hurts politically," he added.
The Rest…HERE