DR. ANTHONY FAUCI DISAPPEARS AS THE COUNTRY MOVES TO REOPEN
Mac Slavo
May 22nd, 2020
SHTFplan.com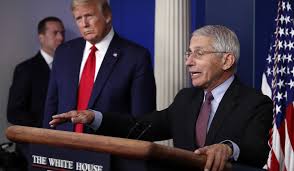 Dr. Anthony Fauci, the tyrant who stood to make a lot of money off keeping the public in a panicked state of fear over the coronavirus, has conspicuously stopped doing TV interviews. For several weeks, you couldn't turn on the TV without seeing his face and hearing him tell you to be fearful.
Prior to his recent absence from the airwaves, Fauci was regularly appearing on national news programs to update the American people on the country's fight against the coronavirus. While Fauci has been on "modified quarantine" after possible exposure to the virus, he has still been present at the White House and testified remotely before the Senate last week, according to CNN.
Fauci's absence was particularly noteworthy this week, given the positive early results regarding a vaccine developed by the biotech company Moderna in partnership with the National Institutes of Health, which Fauci's NIAID falls under.
Despite the NIH's role in helping to develop the vaccine, Fauci did not appear for interviews to discuss the promising results.–CNN
Have you connected the dots yet? Fauci will profit heavily off of anyone who gets the vaccine.
The Rest…HERE