The Face Of Post-COVID Geo-Politics
by Wayne Madsen via The Strategic Culture Foundation,
ZeroHedge.com
Thu, 05/14/2020
The post-Covid international geo-political structure may resemble that which followed the most lethal pandemic that affected the world – the highly contagious Black Death of the 14th century. The bubonic plague killed between 75 and 200 million people in Asia, Europe, and North Africa. It is believed the bubonic/pneumonic plague was carried by black rat flea parasites that travelled to Europe and the Middle East first via the Silk Road from China and then on Genoese merchant ships sailing from Crimea. The fleas spread from their rodent hosts to humans. An eerie connection to Covid-19 is that among the first victims of the Black Death were 80 percent of the population of Hubei province, including the town of Wuchang, present-day Wuhan.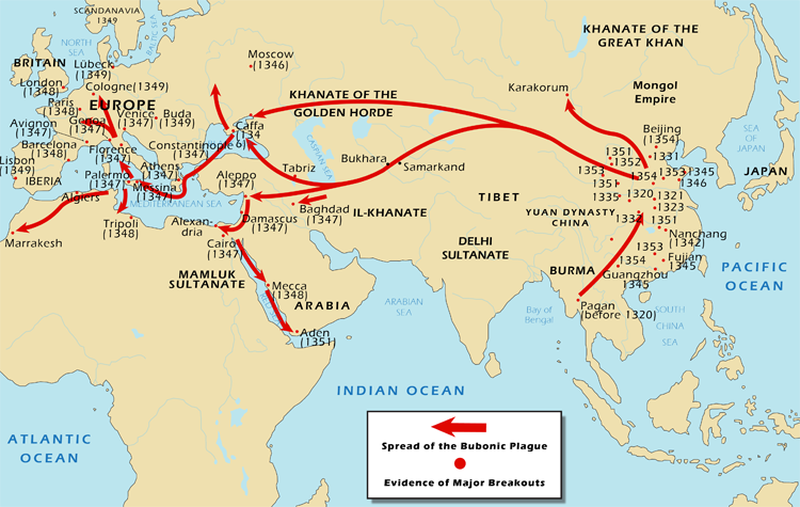 By the end of 1346, India had been largely depopulated and dead bodies were reported to have covered Tartary, Mesopotamia, Syria, and Armenia. In 1345, Damascus was recording 2000 deaths a day. By 1349, the plague had spread through Italy, France, Spain, Germany, England, Scotland, Ireland, Norway, and even far-off Iceland and Greenland. Only regions that had little contact with other countries through trade were relatively spared. These included the Basque region and isolated pockets in the Alpine, Pyrenees, and Atlas mountain ranges. The plague returned in follow-on phases from the 15th to 17th centuries. France lost a million of its citizens in just four years, between 1628 and 1631.
Without a suitable vaccine to fend off Covid-19, the world may copy the effects that the Black death had on geo-politics, trade, the economy, and social structure.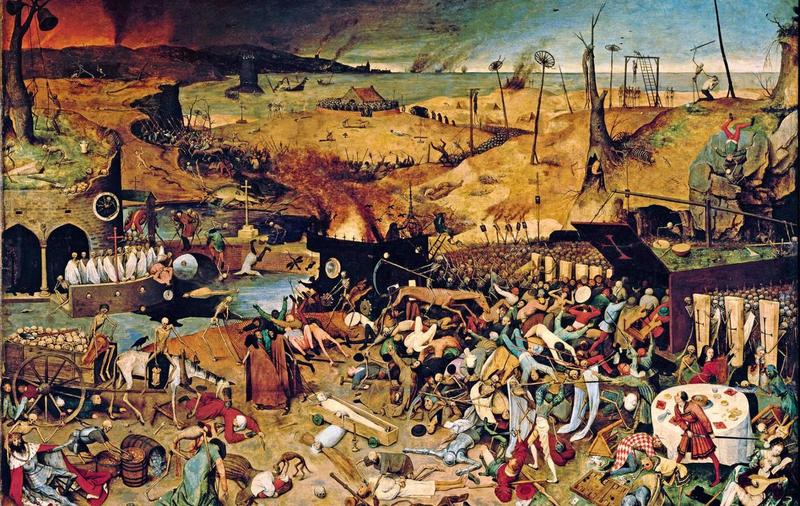 The Black Death saw city dwellers flee for the countryside, stores closing their door, and doctors refusing to see patients. The bubonic plague also jumped species. Humans infected goats, sheep, cows, pigs, dogs, cats, and chickens and vice versa. So far, Covid-19 has been reported to have infected dogs, cats, lions, tigers, and minks.
Just as with the current scapegoating of Covid-19 to blame Asians, Muslims, Jews, and other minorities, the Black Death also saw its share of playing the blame game, often with deadly consequences. Among those targeted in the 14th century as being responsible for the plague were Jews, Romani (gypsies), foreigners in general, religious pilgrims, witches, street beggars, lepers, and Catholic friars. The Jewish communities of Strasbourg, Mainz, and Cologne were decimated.
Just as witnessed with Covid-19, "miracle cures" were in abundance during the Black Death. Ineffective treatments included bloodletting and boil lancing. One suggested cure was drinking a concoction of milk and garlic cloves. Others included drinking a solution of ground chicken bones or cold water mixed with vinegar. Other remedies were to burn incense made of frankincense, myrrh, basil aloe, garlic, and grape leaves; inhale strong odors from latrines to overcome the infectious "vapors" of the plague; wash walls with a solution of water and vinegar; and maintain a diet of wheat bread and citrus fruits, while avoiding red meat. Those who believed the plague was a punishment from God engaged in self-flagellation processions through villages and towns. Today, certain world leaders have advocated bleach and disinfectants, vodka, herbal tonics, and ultraviolet and sunlight to cure Covid-19.
Authorities in Venice began requiring arriving ship crews to be kept on board their vessels for 40 days – what was called a "quarantine." The practice continues to this day as a method by public health authorities to stop the spread of a contagion.
The Rest.HERE