Town Protests Working-Conditions At Nebraska Meat Plant, Workers Too Scared To Return
by Tyler Durden
ZeroHedge.com
Tue, 05/12/2020
Earlier this month the working-class poor in Crete, Nebraska, protested the working conditions at a meat processing plant owned by Smithfield, reported KLKN News.
Dozens of demonstrators were holding signs, with one that read: "Our parents are essential, not dispensable," referring to the rash of virus outbreaks at the facility and the inability of the company to shutter the plant for an extended period for thorough disinfecting.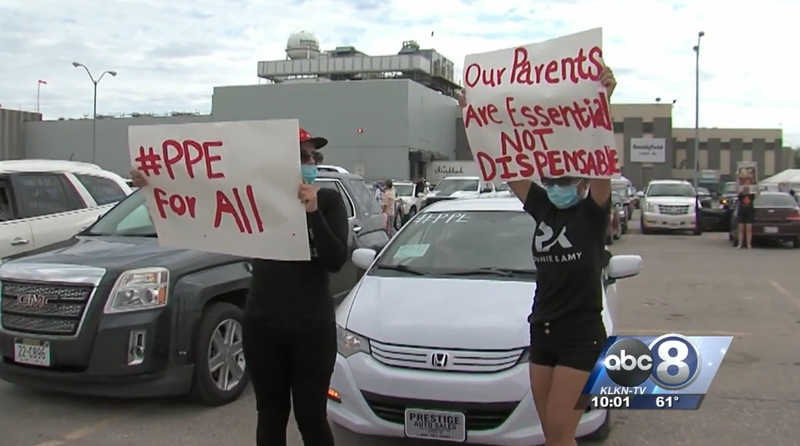 "When are we going to stop? When 300 people are sick? Is that where the COVID is going to stop," Sheila Balbuena told KLKN, who has several immediate family members working at the plant.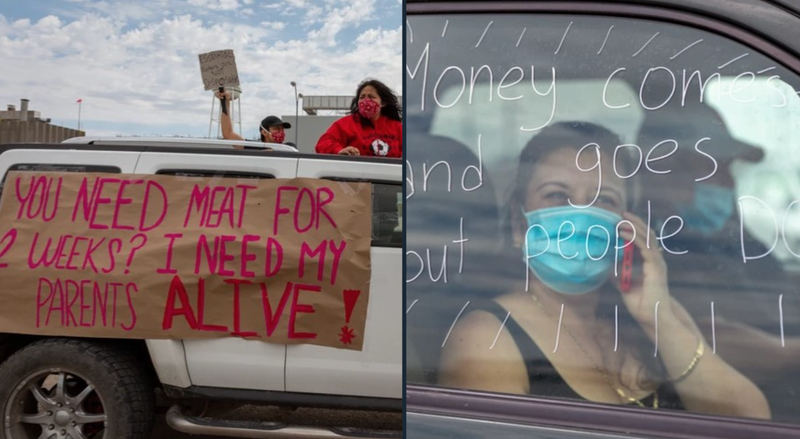 "We would rather not eat meat for weeks or even months as long as everyone's safe and the prices decrease," said Yesenia Regalado, whose parents work at the plant.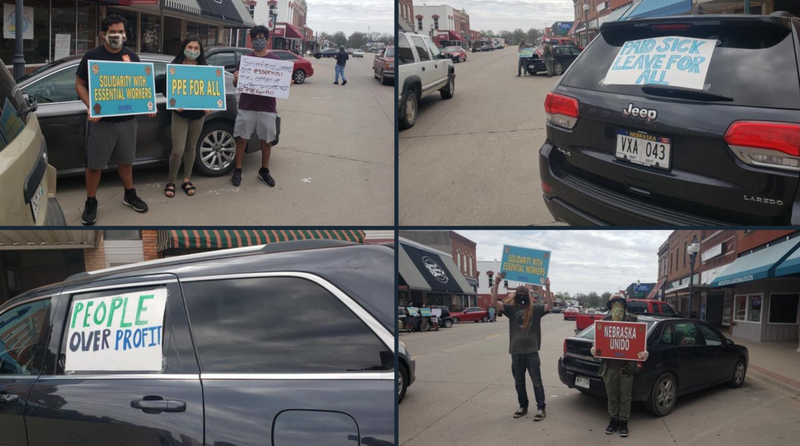 "I haven't been able to hug my mom in the past two weeks because she's worried she's going to affect any of us if she has it, you know," said Emmanuel Sanchez-Mora, whose mother works at the facility.
Nearly a third of Crete are employed at the Smithfield Foods plant on the town's outskirts. The facility has about 2,000 workers and processes thousands of hogs per day, making pork chops, bacon, and should cuts.
Smithfield has not confirmed the total number of sick, but protesters have alleged it's in the hundreds. Across the state, 1,000 meat processing workers have fallen ill, and three have died. Nebraska Gov. Pete Ricketts has shunned media from examining the data behind the outbreak at plants.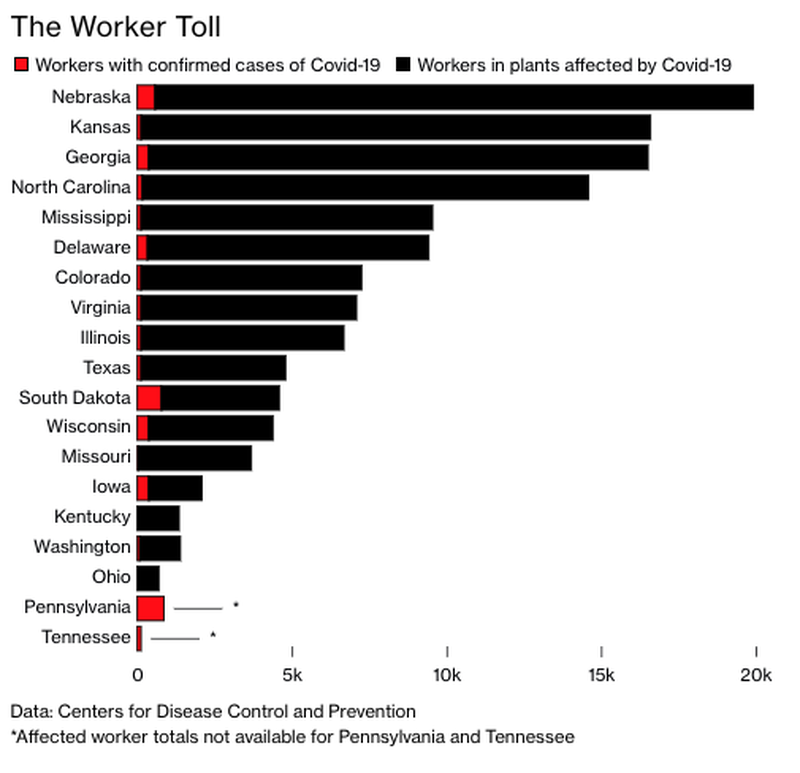 The public health crisis at plants has gone national. At least 5,000 workers at 115 plants have been infected by the virus, with at least 18 dead. President Trump signed the Defense Production Act to keep plants open, despite the alarming number of folks getting sick, all in an attempt to avoid massive food shortages.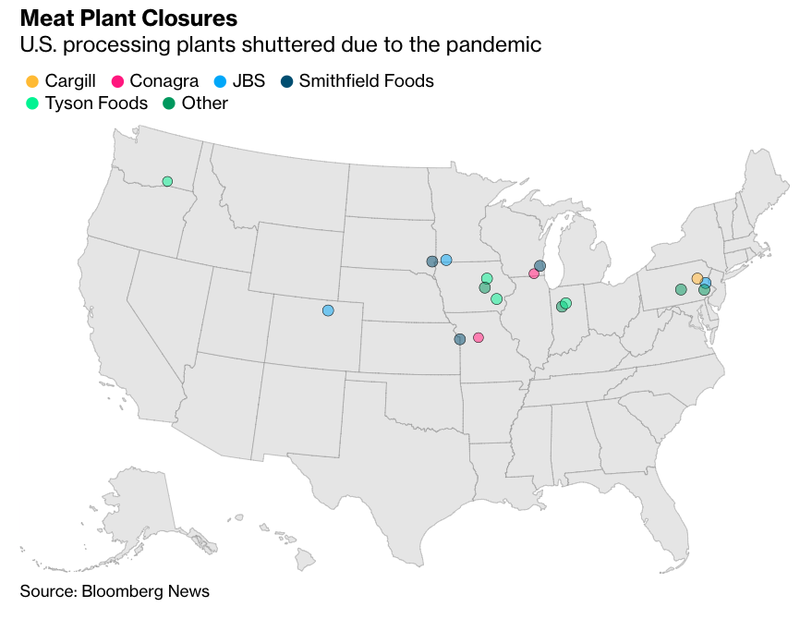 Industrywide, beef and pork production capacity collapsed 40% in April, triggering meat shortages in the first week of May, which have already been seen at some Kroger supermarkets and Wendy's fast-food restaurants. Shortages have since led to soaring beef prices.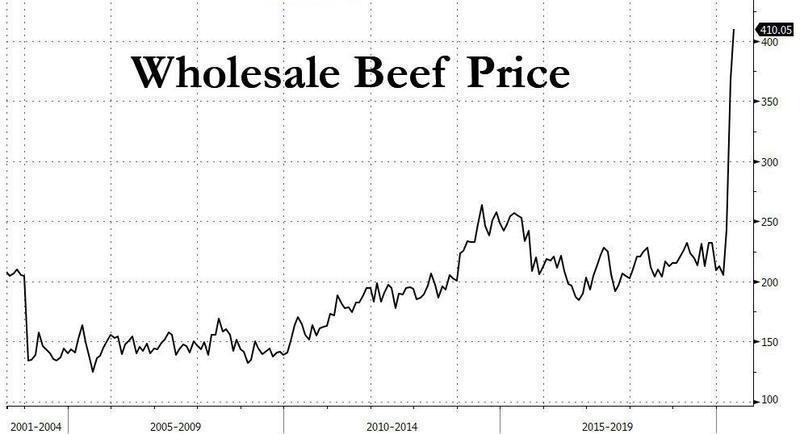 We recently found out the reason why meatpacking plants have become a breeding ground for the virus:
"The cold, damp conditions and crowded workstations in meatpacking plants make infectious diseases particularly hard to control. But not impossible. In Europe, where labor protections are stronger, and most plants are smaller and more automated than in the U.S., the industry has avoided disabling outbreaks."
At JBS Beef Plant in Grand Island, Nebraska, at least 200 workers have tested positive and community spreading has been confirmed, which has resulted in workers staying home.
"I am scared to return," one worker told Omaha World-Herald. "Without money, I can find a way to live, but I can't live without my health."
And it is not just workers who are getting sick, USDA spokesperson told Food Dive that about 200 meat inspectors have tested positive for the virus.
The crisis at meat processing plants continues to worsen through the first half of May.