"Be Safe, Move Quickly!" – Trump Accuses PA Gov Of "Playing Politics" By Delaying Reopening
by Tyler Durden
ZeroHedge.com
Mon, 05/11/2020
Summary:
Trump spars with PA gov
US just below 80k deaths
Wuhan to test entire city after latest outbreak
Cuomo says central NY on track to reopen Friday
South Carolina reopens restaurants for 'limited service'
Iowa Gov says she will do limited quarantine
WHO says 500k could die from AIDS thanks to disruptions in antiviral distribution
South Korea's latest cluster swells to 80+; school reopenings delayed
Wuhan reports first new cases since reopening
Germany hits another reopening 'speed bump
Iran sees spike in infections, reimposes lockdown in one hot spot
Disneyland Shanghai reopens
UK officially switches from 'Stay at Home' to 'Stay Alert'
Russia reports another record jump
Tokyo accused of excluding 100 cases from official count
Spain sees new cases drop to 2 month low
Dozens of US states take more dramatic steps toward reopening
* * *
Update (1344ET): As the US death toll teeters just below 80k (at roughly 79,500 as of 2pmET), President Trump clashed with the Governor of Pennsylvania on Twitter Monday in yet another example of Trump butting in to try and influence a state' reopening plan contrary to the decision to delegate to the states. Trump accused Democratic Gov. Tom Wolfe of "playing politics" by trying to delay the reopening of his state.
"Don't play politics," Mr. Trump said on Twitter. "The great people of Pennsylvania want their freedom now, and they are fully aware of what that entails…be safe, move quickly!"
To which governor Wolf responded during a virtual press conference…
"I don't know how you stay safe and move quickly. The irresponsible thing to do is just willy-nilly go off and pretend that we can wave a magic wand and go back into business and suspend the reality of this virus that is surrounding us." – @GovernorTomWolf responds to this tweet. https://t.co/VdZ5TNjdN2

— Cody Carlson (@CodyCarlsonNews) May 11, 2020
While Trump's urges might seem callous and are certainly politically inept – as we've repeatedly explained, every time Trump buts in it gives Democrats the opportunity to try and blame him for the inevitable recession plus all of the virus deaths – even the NYT acknowledges that PA falls in the category of states that have notably flattened the curve.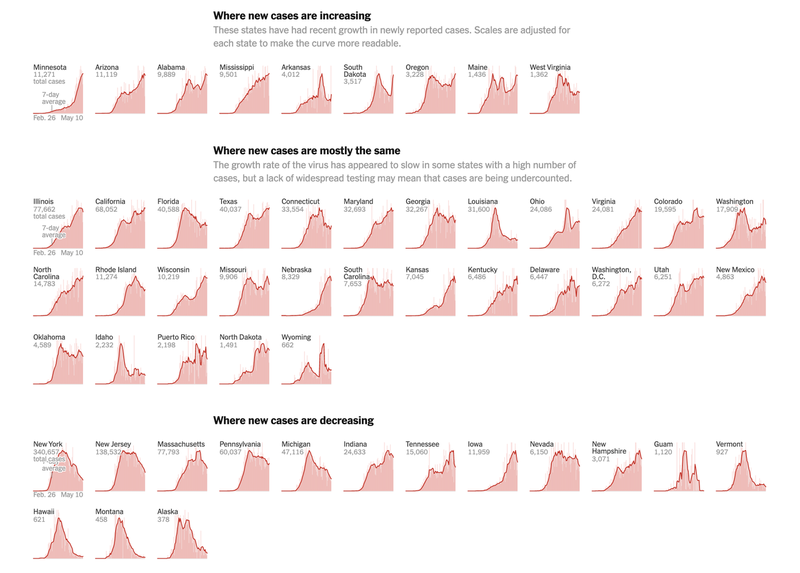 As one local TV station reported on Monday, a growing number of PA Counties have decided to move ahead with reopening their economies without an 'OK' from the governor.
Lebanon County elected officials say they plan to move the county into the yellow phase of reopening without waiting for an OK from the governor. Now Dauphin, Perry, Juniata, Adams, and Mifflin have released similar statements urging the governor to reopen or yellow phase the counties, many stating they will open without the governor's approval.
Cumberland County Sheriff is also stating he will no longer enforce the closures and the Lancaster County District Attorney will not prosecute stay-at-home violator. Some Lancaster County officials penned a letter to the government, but the city mayor says she the city will not to reopen early.
Lancaster County from the "red designation" to the "yellow designation" of his COVID-19 Phased Reopening Plan immediately.
Lancaster County elected officials say "We as a county, are prepared to do so on Friday, May 15, 2020. We prefer to act with your cooperation, but we intend to move forward with a plan to restore Lancaster County."
The Lancaster County District Attorney's Office will not prosecute citations pursuant to the Disease Prevention and Control Law regarding violations of state-mandated stay-at-home orders and closure orders of "non-essential businesses."
The Pennsylvania Governor's administration on May 8 issued the latest extension of its order that non-life sustaining businesses remain closed. The Governor also granted waivers to numerous businesses, allowing those businesses to open while others of their kind remain under closure order.
Source: WGAL