NYPD Issues "Dozens" Of Summonses For Social Distancing Violations As War Against Barbecues Continues: Live Updates
by Tyler Durden
ZeroHedge.com
Sun, 05/03/2020
Summary:
Russia reports 4th straight record new cases
Spain sees lowest deaths since March 18
Zimbabwe asks IMF for $2 billion rescue loan
Moscow Mayor warns 2% of city likely already infected
NYPD issue 'dozens' of summonses, make several arrests for 'social distancing' violations
Roche receives emergency auth from FDA for COVID-19 tests
Niger reports polio outbreak as vaccinations halted
UK, NY see lowest deaths in weeks
France's controversial 'StopCovid' app nearly ready
Boris Johnson names son after doctors who saved his life
Global COVID-19 confirmed cases passes 3.5 million
* * *
Update (1312ET): As we reported yesterday, the NYPD dispatched some 1,000 additional officers to patrol city parks on Saturday and issue tickets to anyone found barbecuing, drinking and violating social distancing rules prohibiting "crowds".
And while the chief of police said he hoped no summonses would be issued, given the vast drop in city coffers, it appears the cops went on a ticketing frenzy, issuing dozens of summonses for lax social-distancing in city parks on Saturday, the nicest day of the year so far, as shell-shocked New Yorkers emerged from their shells.
"In parks specifically yesterday, we issued 43 summonses," Shea said Sunday in a joint press briefing with Mayor Bill de Blasio.
An additional eight summonses were issued outside of parks for a total of 51, said Shea, who noted that while "not every single one" of the write-ups was for failing to maintain a social distance "the majority were."
In addition to the summonses, the NY Post reported that three arrests were made citywide.
Meanwhile, although JHU hasn't gotten there yet, at least one tally of international confirmed cases is saying we've passed the 3.5 million mark.
NEW: Number of confirmed coronavirus cases has reached 3,500,000 worldwide.

— Norbert Elekes (@NorbertElekes) May 3, 2020
Update (1200ET): The UK reported 315 new coronavirus deaths on Sunday, its smallest daily increase in more than a month, bringing its countrywide total to 28,446.
In NYC, Mayor de Blasio said during his Sunday briefing that the "vast majority" of New Yorkers are complying with social distancing rules (obeying social-distancing rules, despite flocks of people who went outside this weekend to enjoy the early spring weather. The city issued a total of 43 summonses in parks and eight outside.
The city is a step closer to performing its own coronavirus tests, the mayor said. He said that by Friday 30,000 swabs for testing would be ready, ramping up to 50,000 full tests later this month.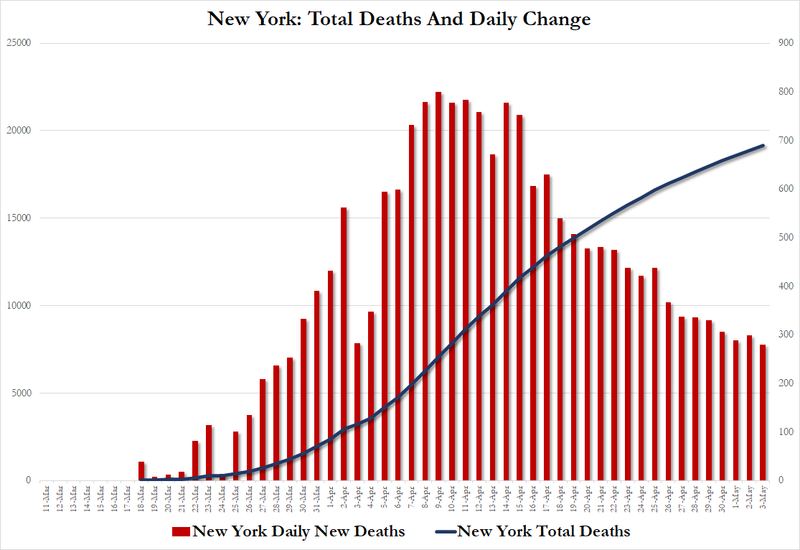 In Albany, Gov Cuomo is starting his Sunday press briefing by reporting 280 new deaths over the last 24 hours, the lowest number since March 30. The hospitalization rate has also fallen again.
Holding a briefing with updates on #Coronavirus. Watch Live: https://t.co/5IukEpYock

— Andrew Cuomo (@NYGovCuomo) May 3, 2020
The governor announced plans to sign a law requiring all hospitals in the state to have 90 days worth of PPE on hand at all times.
NEW: New York State will require all hospitals to have on hand a 90-day supply of PPE at quantities sufficient to meet the rate of use during the worst of this crisis.

— Andrew Cuomo (@NYGovCuomo) May 3, 2020
"Those who don't learn from history are doomed to repeat it."

The 1918 Influenza Epidemic lasted over 10 months and came in three waves.

The 2nd wave was worse than the first wave.

We must be cautious. The war isn't won yet.

— Andrew Cuomo (@NYGovCuomo) May 3, 2020
Italy also saw some good numbers today, reporting its lowest number of deaths since early March.
BREAKING: Italy reports 1,389 new cases of coronavirus and 174 new deaths.

Total of 210,717 cases and 28,884 deaths.

— Norbert Elekes (@NorbertElekes) May 3, 2020
The Rest…HERE