US Manufacturing Surveys Show Record Collapse In Output, Orders, & Jobs
by Tyler Durden
ZeroHedge.com
Fri, 05/01/2020
Following the utter devastation across all regional Fed surveys, it should be no surprise that this morning's national manufacturing surveys (ISM and Markit) are a disaster.
Markit US Manufacturing 36.1 – 11-year low (weaker than expected and worse than the flash print)
PMI US Manufacturing 41.5 – 11 year lows (but better than the 36.0 expected due to the farcical surge in supplier delivery times)
April data signaled an unprecedented contraction in production across the U.S. manufacturing sector, overwhelmingly linked to measures implemented to contain the COVID-19 outbreak. Factory closures were widely reported and the frequent cancellation or postponement of orders resulted in the largest monthly drop in the new orders index on record. Spare capacity across the sector and pessimism about the year ahead meanwhile resulted in the fastest fall in employment since March 2009, despite efforts to furlough staff. Both input costs and output charges fell sharply as companies and their suppliers offered discounts to boost sales.
The headline reading was the lowest for just over eleven years…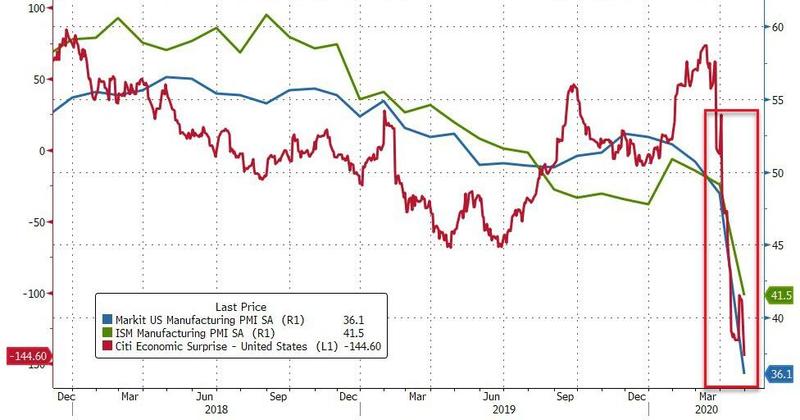 Source: Bloomberg
Which confirms the collapse in regional Fed surveys…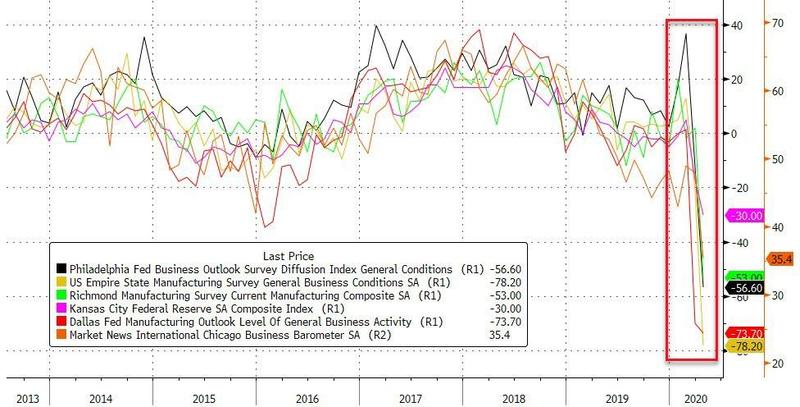 The Rest…HERE