Cuomo Says First Antibody Study Finds 21% Of New Yorkers Test Positive For COVID-19 Antibodies: Live Updates
by Tyler Durden
ZeroHedge.com
Thu, 04/23/2020
Summary:
Russia reports thousands of new cases
Turkey becomes first country in Asia to cross 100k cases in "official" count
Indonesia reports dozens of new deaths
UK sees deaths slow for 2nd day
Merkel warns "we're still at the beginning" of the outbreak
German leader told fellow EU leaders that fiscal package must be "huge"
Cuomo says 14% of random sample of NYers tested positive for COVID-19 antibodies; 21.2% in NYC
NY deaths continue to slow
Trump says he "strongly disagrees" with Georgia's plan to reopen
China pledges $30 million to WHO
Pompeo demands China permanently close all wet markets
France's stretch of slowing case growth hits 1 week mark
Turkey cases top 100k
Lagarde says relief fund needed fast
Vietnam, Greece announce plans to start reopening
Data shows nearly 90% of patients placed on ventilator never recover
Some Wuhan doctors see virus reemerge in patients 70 days after negative test
Malaysia extends lockdown for 3rd time
* * *
Update (1316ET): Today's EU meeting to work out a bloc-wide rescue package ended with no agreement, as was widely expected. And as the euro comes under pressure, anonymously-sourced reports claimed that the four wealthy northern states (led by Germany) are insisting on tying the recovery aid to the next EU long-term budget. Meanwhile, the badly hit already indebted nations like Italy are demanding that the bloc agree to issue "coronabonds" to finance what will in all likelihood become a huge recovery effort.
In other news, the number of confirmed coronavirus cases in Turkey surpassed 100,000 on Thursday, with the death toll topping 2,491. A week ago, Turkey surpassed Iran to become the country with the worst outbreak in the Middle East, but it's not the only country suffering: Saudi Arabia, the UAE, Oman and Qatar are all seeing cases and deaths climb at disturbingly high rates despite precautionary measures and travel restrictions imposed across the region.
Interestingly enough, Turkey is actually the first country in Asia to cross the 100k-case threshold (since China's "official" count topped out around 80k). Of course, it's widely believed that the number of cases in China was many times more. Turkey is also only the 7th country in the world to cross the threshold.
* * *
Update (1155ET): Offering his rundown of the latest stats, Cuomo said that deaths have come down (the state reported 438 on Thursday vs 474 yesterday), though not by as much as state officials would like. Cuomo also noted that the number of people 'walking in the door' at NY State hospitals with COVID-19 has remained "about even" at roughly 1,300 per day.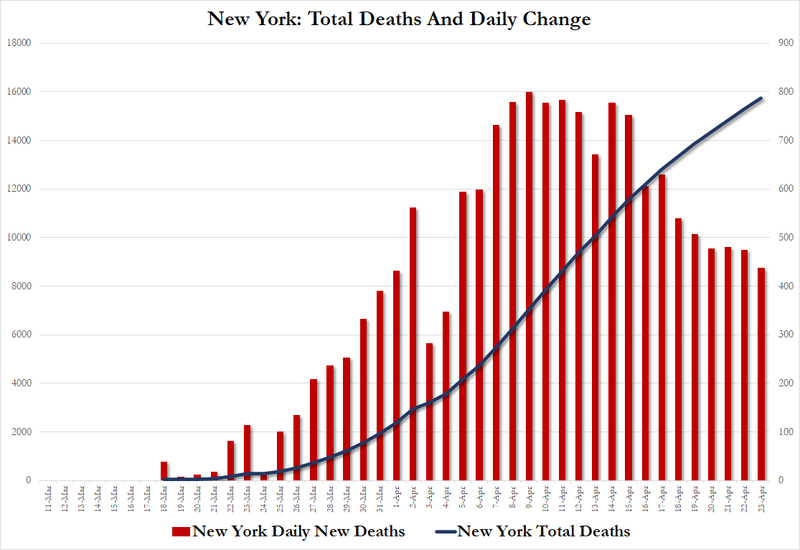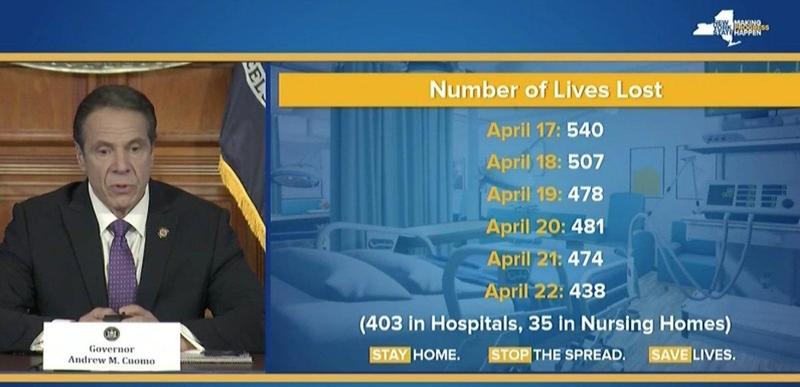 But by far the most interesting piece of information shared by Cuomo on Thursday was the outcome of a random surveillance test – the first of what's expected to be many rounds of random testing that the state will be conducting to help aid the response. Cuomo said that out of 3,000 people tested for COVID-19 antibodies, roughly 14% tested positive.
Even more alarming, that rate rose to 21.2% positive rate in NY. If that rate is confirmed via further testing, it would suggest that roughly 2 million NYC residents have been exposed to the virus.
"It changes the theories of what the death rate is," Cuomo explained. "It's preliminary data"…but there are likely more unconfirmed "at home deaths" from the virus, he sad.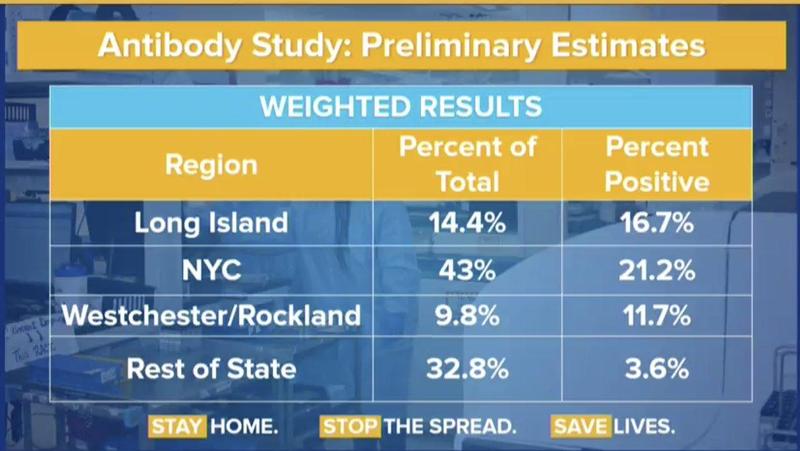 Of course, if these data are borne out by more studies, it would dramatically lower the virus's mortality rate.
During Mayor de Blasio's press briefing earlier on Thursday, Health Commissioner Oxiris Barbot said that she would not be surprised if "close to a million New Yorkers" had been exposed to COVID-19. And as the city's economy slides into a recessionary slump, De Blasio also offered a stark statistic: he expects that an additional one million residents could become food insecure under the pandemic, putting the total number of food insecure New Yorkers at around two million.
Moving on, the governor also responded to a comment by Majority Leader Mitch McConnell, reportedly made during an appearance on a conservative talk show, that he would be in favor of some US states using "the bankruptcy route" to shed the onerous debt obligations they're accruing during the outbreak.
"You will see a collapse of this national economy" if major states declare bankruptcy, predicts @NYGovCuomo.

— Steve Herman (@W7VOA) April 23, 2020
Of course, the minute a US state files for bankruptcy, we suspect the market selloff will be even more swift than the unprecedented plunges seen just last month.
If there's even anything left of the American economy at that point.
In other news, as the US pulls its funding from the WHO, China is stepping up with a $30 million donation, virtually guaranteeing that Beijing's influence over the NGO – which is essentially an independent organization despite technically being an arm of the UN – will only continue to grow. Foreign Ministry spokesperson Geng Shuang praised the organization during a briefing, saying the WHO played "an important role" in assisting countries during the pandemic response.
Meanwhile, Secretary of State Mike Pompeo warned that the US "may never" restore funding to the WHO, unless major reforms are implemented. "We reformed this back in 2007, so this isn't the first time we've had to deal with the shortcomings of this organization that sits inside the United Nations. We need a fix. We need a structural fix with the WHO," Pompeo said. Trump suspended US funding for the organization, accusing it of supporting China's "disinformation," Reuters reports.
* * *