New York, UK Report Encouraging Slowdown In Deaths As 1/5th World Takes First Steps Toward Reopening: Live Updates
by Tyler Durden
ZeroHedge.com
Mon, 04/20/2020
Summary:
Japanese hospitals turn away non-COVID-19 patients
Russia outbreak continues to accelerate
Demonstrators demand economies reopen now in Denver, Austin
NYC Mayor delivers daily update
South Korea reports clusters as reopening continues
Kudlow says Trump's May 1 reopening goal is "aspirational"
Small Marin County town hopes to test every resident
NRA says 2/3rds restaurant workers in US have lost their jobs
Turkey passes China in total 'confirmed' cases
Bolsonaro joins crowds of protesters demanding reopening in Brazil
Germany, Denmark, Czech Republic, Norway, India among countries reopening right now
Saudi Arabia, Qatar see alarming rise in new cases
Prince Philip issues rare statement praising frontline workers
NYC reports another drop in hospitalizations
1/5th of world is taking first steps toward reopening economies
Merkel urges more 'caution' as Germany begins to reopen
"Corona curve" shows outbreak "over the hump"
Belgium reports 1,487 new cases
UK business furlough scheme flooded with applications
Mnuchin praises Shake Shack for giving back 'PPP' money
French foreign minister slams China over propaganda
German newspaper slams Beijing for "exporting" virus
* * *
Update (1140ET): New York Gov. Andrew Cuomo just gave the world one more reason to celebrate, as US stocks head back into the green, as he reported fewer than 500 deaths in New York State – a state that's been home to nearly half of the nation's deaths – over the last 24 hours.
Holding a briefing with updates on #Coronavirus. Watch Live: https://t.co/BbGBb0ZK63

— Andrew Cuomo (@NYGovCuomo) April 20, 2020
* * *
Update (1110ET): The UK's Department of Health and Social Care has just released daily figures on the coronavirus outbreak. They reported 449 new deaths, bringing the UK's death toll to 16,509 as of 6pm London Time on Sunday, as officials scramble to account for more deaths in non-hospital settings (especially nursing homes).
It's the lowest single-day death count in 2 weeks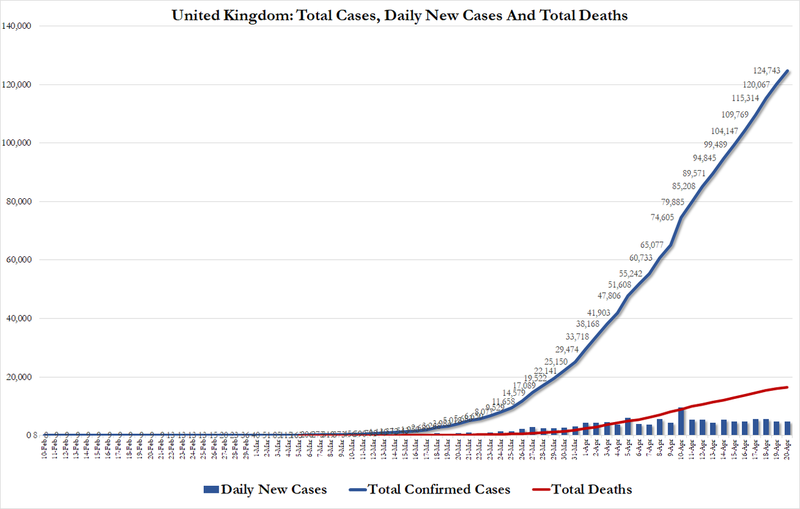 Issuing a rare public statement, Britain's elderly Prince Philip, who has only rarely been seen since his retirement from public duties in 2017, thanked health-care workers.
"On behalf of those of us who remain safe and at home, I also wanted to thank all key workers who ensure the infrastructure of our life continues; the staff and volunteers working in food production and distribution, those keeping postal and delivery services going, and those ensuring the rubbish continues to be collected."
The UK has expended every conceivable resource to protect the prince and the queen, while controversies over the deaths of frontline workers rage, claiming the government and the NHS should have and could have done more to protect them.
Well, we're sure his majesty's warmest regards mean a lot to them…
* * *
Update (1100ET): Saudi Arabia has been struggling to suppress the novel coronavirus despite taking early steps to shut down a stream of foreigners visiting the Muslim holy cities and a lockdown that was initially imposed in hot spots before expanded kingdom-wide weeks ago. On Monday, Al Jazeera reported that KSA's case total surpassed 10k.
Meanwhile, muslims around the world are preparing to observe the holy month of Ramadan under lockdown and tight restrictions, as Turkey surpasses Iran as the worst-hit country in the Muslim world, with Indonesia, which has repeatedly lied, misrepresented or remained flat out ignorant about its case total and mortality rate, also appearing on the verge of an even more serious outbreak.
Nearby Qatar reported 567 new cases of coronavirus on Monday, bringing its total to 6,015 cases. This marked Qatar's largest daily increase so far.
In Europe, Belgium reported 1,487 new cases of coronavirus and 168 new deaths, for a total of 39,983 cases and 5,828 deaths. It's the latest daily reading in 1k territory as the outbreak continues to accelerate (or testing continues to accelerate, we're not exactly certain which).
Back in the US, even more food processing plants are being disrupted by the virus.
TYSON FOODS: 90 WORKERS TEST POSITIVE FOR COVID-19 AT TYSON FOODS PLANT IN TENNESSEE
Update (1041ET): The opening blurb in Monday's New York Times virus live feed caught our eye this morning. We've been watching the framing develop over the past month. Now, as the NYT makes clear, the bifurcation between the states being forced to reopen their economies, and those continuing to extend their lockdowns (Spain is somewhere in example, expanding lockdown while unwinding some restrictions).
On which side will the US ultimately fall? Many Americans might laugh at this question and insist we're already committed to the "too early" camp. Others might laugh and insist "isn't it obvious we should be opening up already?"
A global realignment: Some countries see outbreaks explode as others look to restart economies.
The fluid nature of the coronavirus is forcing a global realignment, as countries that were once at the heart of the crisis pass their peaks and new areas emerge as points of concern.
Turkey, which for weeks had maintained it was ahead of other nations in stemming the spread of the coronavirus, surpassed China on Sunday, with more than 86,000 confirmed cases and 2,017 deaths.
The government has attributed the high number of cases to widespread testing, but health experts warn that the rate of infection could increase if restrictions on movement are delayed.
The confirmed coronavirus toll in Europe passed one million infections and 100,000 deaths, according to the latest figures from the European Center for Disease Control, but many nations are cautiously making attempts to restart public life.
Germany, Denmark, the Czech Republic and Norway all lifted some restrictions on Monday, the latest attempts to balance a need for economic action and public health.
But some countries that have been hit hardest, including Italy and Spain, are rolling out measures at a slower pace. And France and Britain are heading into weeks of continued lockdowns.
The virus has killed at least 160,000 people and infected 2.3 million more worldwide, but the issue of lockdowns has become highly politicized, and demonstrations against coronavirus-related restrictions have gained in intensity.
In Brazil, President Jair Bolsonaro joined crowds in Brasília over the weekend to demand the reopening of businesses and the easing of measures imposed by governors.
In the United States, similar scenes played out across the country over the weekend, as protesters in several states demanded that businesses be allowed to reopen. President Trump defended the protesters' actions, which critics and public health experts have said threaten to undermine efforts to control the spread of the virus.
"These people love our country," Mr. Trump said Sunday evening. "They want to go back to work."
Things are changing so rapidly, for many, it's hard to keep up, especially with so much happening outside the US and the English-speaking world.
* * *
Update (1027ET): During this morning's market-pumping cable interviews (interviews that have long since had any material impact on the market, though we are slightly off the lows already this morning), Larry Kudlow said President Trump's hope that the country could start reopening by May 1 was an "aspirational" goal. That comment drew jeers from the administration's critics, who have been bashing the president for seeming to goad protesters demanding that the country reopen immediately.
Kudlow added that talks to top off 'PPP' were progressive 'nicely' while offering a brief defense of the program.
A new study by the National Restaurant Association has lost 2/3rds of its workers as restaurants in the US lost $30 billion in March, and are on track to lose $50 billion in April. 66% of restaurant owners said the federal money simply isn't enough.
As the Merc reports, a small town in Marin County is testing every single one of its residents for the virus in one of the latest efforts to try and determine exactly how widespread the virus might be. The US has confirmed by far the most cases of the virus, but its unusually high mortality rate suggests that the virus is even more widespread thanks to the month-long head start that European travelers – and those they infected – had in spreading it across the US. One study in California that tested 3k random people in nearby Santa Clara County found COVID-19 antibodies in a startling number of them.
* * *