NJ Gov Insists "We're Flattening The Curve" As Deaths Climb, Spain Extends Lockdown By 2 Weeks: Live Updates
by Tyler Durden
ZeroHedge.com
Sat, 04/18/2020
Summary:
Spain death toll tops 20k, joining US & Italy
Report claims 7,500 died uncounted in UK nursing homes
US total cases passes 700k, deaths near 40k
NYPost claims nursing home deaths in NY went uncounted
Spain extends lockdown by 2 weeks
Saudi Arabia reports record new cases for 4th day in a row
NJ Gov: "we're flattening the curve"
Sweden reports 606 new cases
Belgium reports 1,000+ cases
Cuomo reports fewer than 500 deaths in NYS
Japan case total passes 10k
Italy reports drop in new cases, deaths, hospitalizations
Phoenix TV station warns of undercounting of deaths
Dr. Fauci says tests 'aren't everything' when reopening states
Iran death toll crosses 5k as country's reopening begins
UK reports another ~900 deaths
* * *
Update (1445ET): Once again, as expected, Spain has officially extended what has been a five-week coronavirus lockdown until May 9, adding another 2 weeks, but plans to relax the lockdown, one of the most strict in the world, to allow children out of their homes before the end of this month.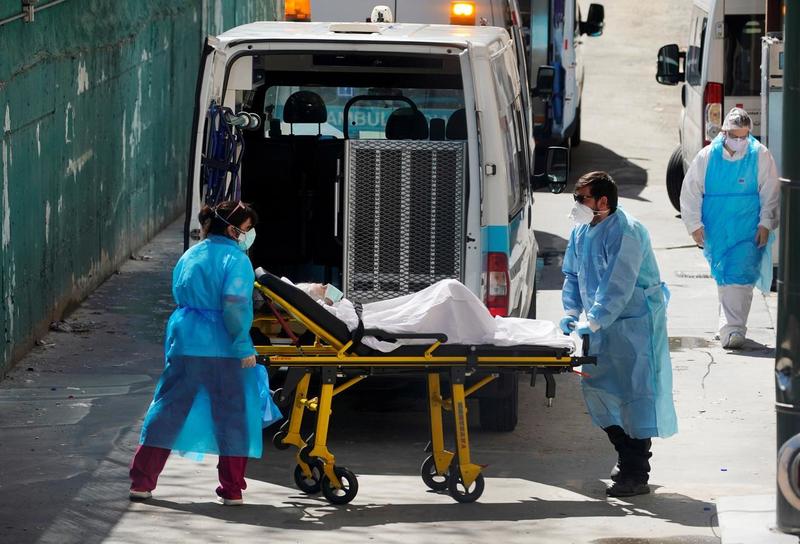 Meanwhile, in yet another alarming acceleration in new cases, Sweden reported 606 cases of COVID-19 over the last 24 hours, and 111 deaths, bringing its totals to 13,822 cases and 1,511 deaths.
Sanchez said Saturday night in an address that he would ask the Parliament to extended the state of alert, which have given Sanchez the extraordinary – some might say almost fascist – unilateral power to impose and enforce the lockdown, which Spain has down, dramatically lowering the number of newly confirmed cases, even if deaths have remained stubbornly high.
In New Jersey, the spread of coronavirus continued to slow, as hospitals reported more patients leaving than entering.
During a Saturday press conference, Gov. Phil Murphy said: "We are flattening the curve"…adding that NJ has recorded a slower rate of new infections and a slower rate of new hospitalizations…progress, even if there's still a long way to go.
As we look around for more signs that the death toll or case count in the US might be undercounting by thousands, we found a report aired by a Phoenix area news station claiming that first responders don't have a protocol for reporting dead bodies suspected of dying from COVID-19, meaning dozens of these cases – the city's firefighters have reported an unprecedented spike in dead body reports, likely due to COVID-19 – aren't being marked as COVID-19-linked deaths.
* * *
Update (1350ET): In his latest troll to Democratic states like NY demanding more from the federal government (and, it seems, Republicans in general), President Trump tweeted this photo of a shipment of ventilators to be distributed to the states.
Great news, thank you! https://t.co/hp4TCZQW9r

— Donald J. Trump (@realDonaldTrump) April 18, 2020
Update (1330ET): Even as the number of new cases in Italy have slowed, a jump in the UK and France has helped push the European case total past 1,000,000 on Saturday.
France looks set to be the next country to see its case total pass 150k and confirmed deaths past 20k.
France saw 642 more deaths over the past 24 hours health officials said Saturday, bringing the countrywide total to 19,323, the fourth-highest tally in the world, although the number of people in hospital declined for a fourth day running. France's public health authority said in a statement that the total number of patients in ICU units across the country also declined for the 10th day in the row to 5,833 – the lowest level since March 31.
France has been in virtual lockdown since March 17 as part of efforts to curb the outbreak.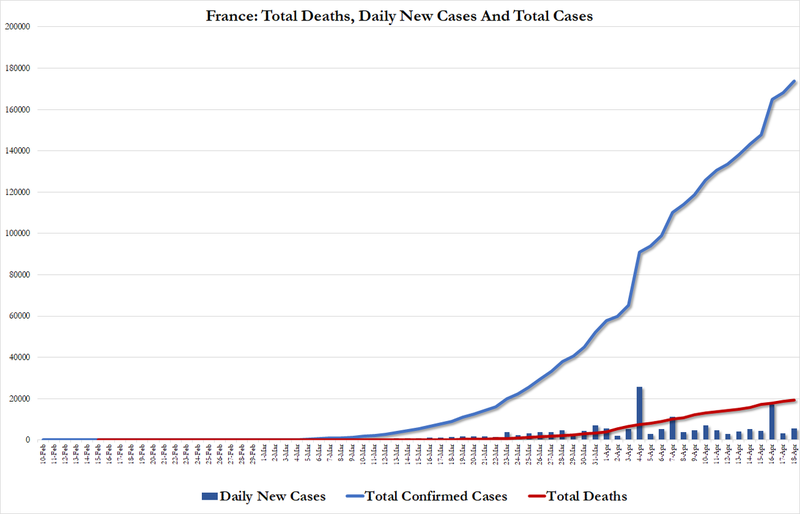 As South Korea prepares for the start of baseball season with the prospect of winning over legions of new American fans, the country's health officials on Saturday reported 18 new cases of coronavirus, 9 of which were purportedly imported. It was the lowest total since February, and the latest evidence that the local officials in Westchester County, Suburban Seattle, and parts of California can and have taken the right states to suppress the outbreak. China also reported a low total on Saturday, with more than half the cases imported, while Singapore, in its most alarming report yet, confirmed 942 new cases of coronavirus, bringing its total to 5,992 cases in total, a roughly 15% increase in one day and the biggest single-day jump by far. Just when observers think the outbreak has finished accelerating, even more cases are reported as officials begin to fear that nearly all of the migrant workers living in densely populated highrises in parts of the city state have been infected.
Over in NY, Cuomo said there were "about" 2k cases confirmed in the last day, about even with the last few weeks. Cuomo also continued to bash the federal government over what he described as a critical shortage of tests.
* * *