Los Angeles County Suffers Deadliest Day Yet As COVID-19 Kills 81: Live Updates
by Tyler Durden
ZeroHedge.com
Sat, 04/18/2020
Summary:
Spain death toll tops 20k, joining US & Italy
Report claims 7,500 died uncounted in UK nursing homes
US total cases passes 700k, deaths near 40k
NYPost claims nursing home deaths in NY went uncounted
South Africa reports largest daily increase so far
LA reports record jump in deaths
Spain extends lockdown by 2 weeks
Saudi Arabia reports record new cases for 4th day in a row
Cali releases data on nursing home outbreaks
NJ Gov: "we're flattening the curve"
Sweden reports 606 new cases
Belgium reports 1,000+ cases
Cali reports latest update
Cuomo reports fewer than 500 deaths in NYS
Japan case total passes 10k
Italy reports drop in new cases, deaths, hospitalizations
Phoenix TV station warns of undercounting of deaths
Dr. Fauci says tests 'aren't everything' when reopening states
Iran death toll crosses 5k as country's reopening begins
UK reports another ~900 deaths
* * *
Update (1910ET): No sooner did we highlight the rash of new deaths and cases reported in California nursing homes than LA County revealed that it suffered its deadliest streak yet during the last 24 hours, reporting 81 deaths, along with a huge jump in cases (642).
That brings the total to 576 deaths and 12,021 cases.
In a statement, Dr. Barbara Ferrer, the director of the Department of Public Health, specifically cited nursing homes as a source of particular concern for county health officials.
"Today marks a very sad milestone for our county, we are reporting the highest number of COVID-19 deaths for any one day since the beginning of the pandemic, and our deepest condolences go out to each and every person grieving the loss of their loved ones," she said in a statement.
She also pointed out that the number of deaths in the county have doubled in a week, a trend that has been seen in other hot spots around the country.
"In this last week we have doubled the number of deaths that occurred among L.A. County residents," she said. "We are especially concerned about the overwhelming number of residents residing in our nursing homes who have passed away."
Ferrer noted that she's requested additional support from the state and federal governments to ensure that nursing homes are as safe as possible for residents and employees.
"This includes asking for supplementary staffing and PPE, increased ability to test residents and employees, and improvements in infection control capacity at nursing homes," she explained.
Of the total 576 deaths, 89% had underlying health conditions, Ferrer said. Information about race and ethnicity was available for 498 victims or about 93%. Of the deceased, 36% were Latinx residents, 29% were white, 17% were Asian, 16% were African American, and 3% identified as other races.
Outside of the US and Europe, South Africa reported 251 new COVID-19 infections, its largest single-day jump yet, bringing its total to 3,034 cases.
Coronavirus update, Africa:

– South Africa: 251 new cases
– Ghana: 193 new cases
– Egypt: 188 new cases
– Morocco: 121 new cases
– Algeria: 116 new cases
– Ivory Coast: 113 new cases
– Nigeria: 49 new cases
– Mali: 45 new cases
– Sudan: 33 new cases
– Kenya: 16 new cases

— Norbert Elekes (@NorbertElekes) April 18, 2020
Slowly but surely, the virus is spreading across Africa.
* * *
Update (1600ET): California reported 87 new deaths, bringing its statewide total to 1,072.
Watch Gov Newsom's press briefing below:
TUNE IN NOW. https://t.co/3UyYQD1o6a

— Gavin Newsom (@GavinNewsom) April 18, 2020
California has confirmed 28,963 cases of COVID-19, Newsom said. Of those, 3,221 of those cases are in our hospitals, with 1,173 of those in the ICU.
Meanwhile, as the issue of outbreaks in nursing homes and the lack of transparency and accountability becomes an international issue, the LAT reported earlier on Saturday that the Department of Health for the state of California has released new numbers on nursing home outbreaks, mirroring a move earlier by the State of New York.
More than 30% of patients who died in LA County were residents of assisted-care facilities, while more than 70% of deaths in Long Beach were nursing home residents. The California Health Department listed the names of 261 skilled-nursing facilities across the state with more than 3,000 positive cases among residents and staff. However, the "snapshot" only included 86% of the state's 1,224 skilled-nursing facilities that have reported data within the last 24 hours.
One of the worst-hit homes was Brier Oak on Sunset in LA, where 80 residents and 62 staff members have tested positive. The Country Villa South Convalescent Center in Palms has had 58 patients and 15 staff infected, while the Garden Crest Rehabilitation Center in Silver Lake has had 35 each of patients and staff.
Earlier, we noted today's giant jump in Singapore's case total illustrating how ridiculous the idea of reopening the economy seems right now.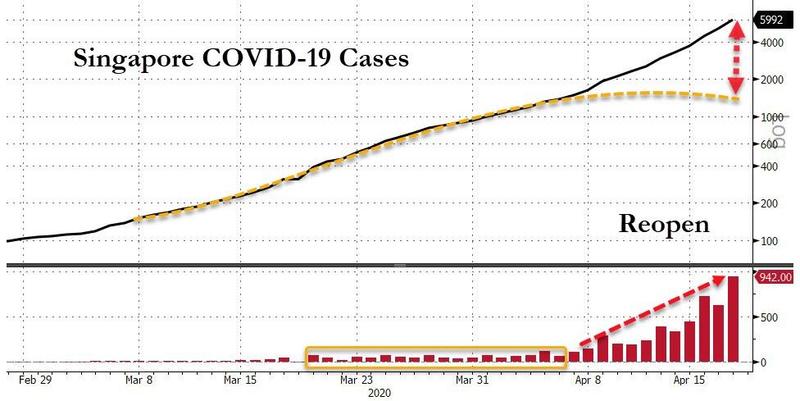 * * *