New York Coronavirus Cases Pass 200k As Trump Claims US Death Toll Won't Top 100k: Live Updates
by Tyler Durden
ZeroHedge.com
Tue, 04/14/2020
Summary:
Trump and states battle over who decides on reopening
European cases (Germany, Spain) continued to slide
G7 calls for debt standstill for poor countries
Russia reports another record jump in new cases
NY coronavirus cases pass 200k
Cuomo reports 778 new NY deaths
Italy reports smallest jump in new cases in more than a month
Cuomo says he would disobey Trump order to reopen economy if it endangered his state
China reports another 89 new infections
US Dept. of Ag prepares to unveil coronavirus farm bailout
Trump says US will have 'fewer than 100k' deaths
IMF calls for global economy to contract 3% in 2020
Florida surgeon general says social distancing should continue until a vaccine is released
Cali pastors sue state to reopen churches
Iran plans to divest 10% of Shasta as selloff of state assets begins
Sweden deaths cross 1k
UK department of health reports 778 new deaths
NATO warns supply chains of important medical supplies should be moved out of 'non-member' states
* * *
Update (1245ET): New York State has just released its latest figures on new cases, as it typically does at the end of Gov. Cuomo's daily briefings. Over the past 24 hours, the total case count passed a new milestone of 200k, becoming the only state to officially pass that threshold after the US as a whole. New York still has more cases than Italy and Spain individually.
Speaking to reporters, President Trump said Tuesday that he has seen projections showing the US won't top 100k deaths, and added that Gilead's remdesivir has shown "great promise," even as China recently shuttered one branch of a global study of remdesivir's effectiveness.
* * *
Update (1200ET): Italy's Civil Protection Service released the latest figures, and it appears that Italy's new confirmed cases have slowed since yesterday, with only 2,972 over the last 24 hours, its lowest increase in more than a month. While new cases slowed, deaths accelerated slightly.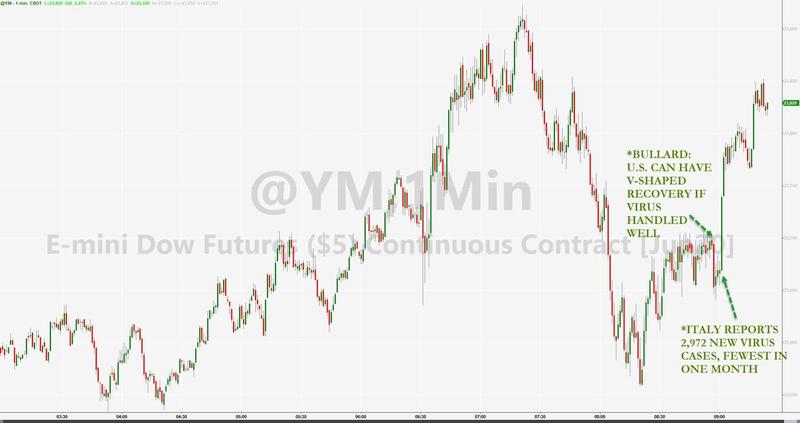 The news of the drop, the latest promising sign that the outbreak is truly abating in what was briefly the global epicenter, pushed US stocks higher by a tick.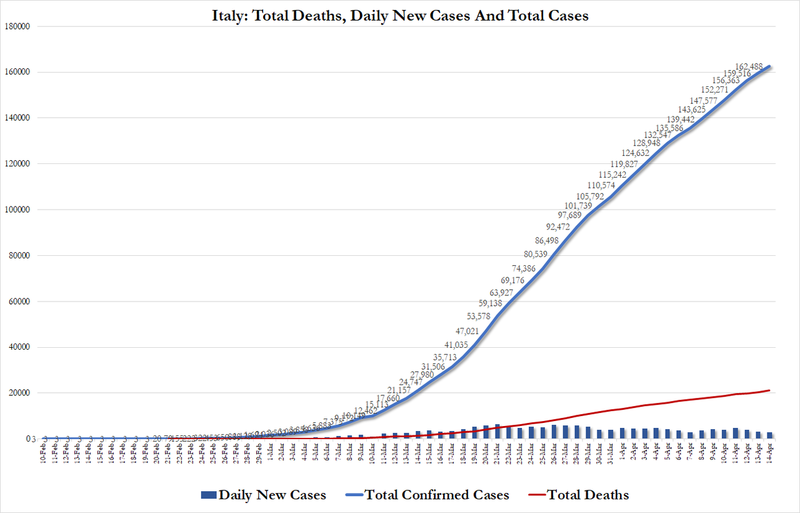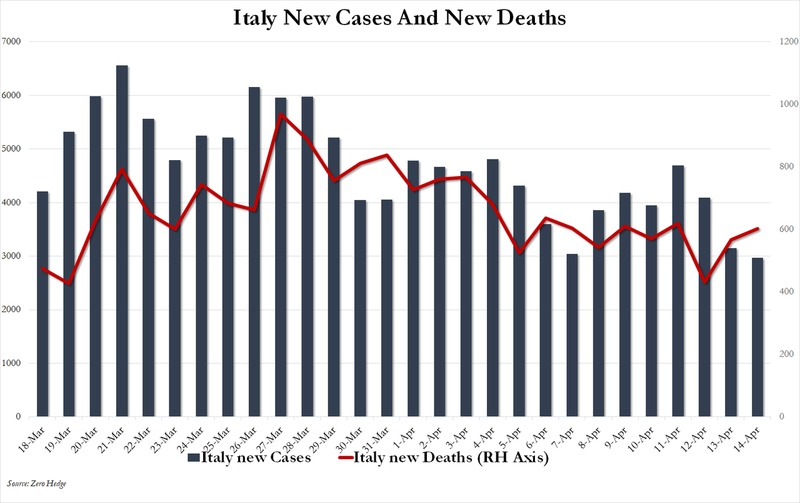 Meanwhile, the number of newly reported deaths climbed to 602 vs. 566 a day earlier. It brings the totals to 162,488 cases and 21,067 deaths.
* * *
Update (1140ET): During Tuesday's press briefing, Cuomo announed 778 new deaths from COVID-19 in New York State over the past 24 hours, pretty much unchanged from the prior day, adding further support for the theory that NY has reached 'the peak'.
Holding a briefing with updates on #Coronavirus. Watch Live: https://t.co/spHsgMEoTu
— Andrew Cuomo (@NYGovCuomo) April 14, 2020
That brings the state's total death toll to 10,834. Cuomo said he and the state government are keeping a close eye on the rest of the state as they try to stop the virus from spreading to the surrounding area. He also said that he's closely watching the number of deaths from nursing homes because that is "the vulnerable population in the vulnerable place."
In an attempt to end the pissing match, Cuomo made clear that he wouldn't fight with President Trump, saying "this is no time for division". He added that Trump "will find no fight with me" about reopening the government. However, Trump's statement that he has total authority "couldn't go uncorrected" Cuomo said.
He also added that he could use more aid from the federal government, claiming that his state is now "broke", with a $10 billion budget deficit, thanks to coronavirus.
While hospital admissions have been falling for days, net admissions have ticked into the negative on Tuesday for the first time, as admissions were "basically flat", Cuomo said.
First net decline in total hospitalizations for New York State today. pic.twitter.com/XLCTf2ZhPb
— Nate Silver (@NateSilver538) April 14, 2020
As the world watched in horror while the city buried bodies in public parks and sped up the dumping of unclaimed bodies on Harts Island, the state just reported that over 400 homeless people have tested positive for the coronavirus, and at least 26 have died, most or all of them likely ended up in the unmarked mass graves. To try and reduce density in shelters, the city has been paying $200 a night to house individual homeless in 'luxury' hotels.
* * *
Update (1015ET): In a series of tweets sent Tuesday morning, President Trump bashed Democrats for refusing to agree to a deal to replenish the small business loan program, and also slammed Andrew Cuomo for seeming to want "independence" from the federal government, with Trump claiming "that won't happen!".
The Democrats don't want to approve more money for our great workers under the incredibly successful "Paycheck" plan. Replenish Account Now!
— Donald J. Trump (@realDonaldTrump) April 14, 2020
Cuomo's been calling daily, even hourly, begging for everything, most of which should have been the state's responsibility, such as new hospitals, beds, ventilators, etc. I got it all done for him, and everyone else, and now he seems to want Independence! That won't happen!
— Donald J. Trump (@realDonaldTrump) April 14, 2020
The pissing contest started with Cuomo's claim, broadcast on CNN, that he would sue the administration if its orders endangered the public.
This morning, New York Gov. Andrew Cuomo explicitly threatened legal action against the administration if Trump "ordered me to reopen in a way that would endanger the public health" of New Yorkers https://t.co/4NOowsLgjr pic.twitter.com/wNOJhtwtTr
— POLITICO (@politico) April 14, 2020
And really, even before that, when President Trump said the authority to reopen the economy rested with him.
Cuomo responded by taking a much more aggressive tack during an appearance on MSNBC. During that appearance, he mocked Trump and said there's "no value" in watching his pres briefings.
"A governor should not watch that. There's no value in it. It is infuriating and offensive and frankly ignorant of the facts," Cuomo said. Cuomo also mocked Trump for standing up and repudiating the Republicans' longstanding preference for 'States' Rights'.
"You know, the president stood up and said, 'Forget the Constitution of the United States, forget the concept of federalism,'" Cuomo said.
"To hear a Republican stand up there, by the way, and argue big government and total authority of the federal government is somewhat amusing. You know, if it wasn't so serious, it would be funny, all of this. It could be a comedy skit."
Watch that clip below:
With Mike Brzezinski asking the questions, Cuomo accused the president of "declaring himself 'King Trump'" and added that "the governors are in charge because the president put them in charge…he could have closed the economy, but he didn't want to."
He also warned that Trump is risking causing "the worst Constitutional crisis we've seen in decades" if states started defying the feds.
Though, of course, it's a little more complicated than that.
More good news from the Continent: The Netherlands just reported that the number of occupied ICU beds has fallen for the third straight day as more seriously ill patients have died, while some more have recovered.
Meanwhile, as the IMF slashes its global growth forecast, as we mentioned below, to -3% for 2020 (compared with the +3% forecast from January), its economists are warning that the downturn ahead will be "worse than the Great Recession" and likely become the world's worst since the Great Depression, per the SCMP, which cited the IMF's "World Economic Outlook" report.
Although China has pulled out all the stops to get its economy up and running at full steam, the IMF said it doesn't expect the world's second largest economy to make a full recovery, with projected 2020 GDP growth of just 1.2%. The economies of Italy and Spain, two of the most vulnerable in Europe, will contract by 9.1% and 8%, the IMF believes.
* * *