"It's An Invisible Bullet" – 2 More NYPD Detectives Succumb To COVID-19 As City Death Toll Passes 10k: Live Updates
by Tyler Durden
ZeroHedge.com
Mon, 04/13/2020
Summary:
Smithfield foods closes world's largest pork plant
US, Europe see decline in new cases
China, Russia report concerning increases in new cases
China ends Gilead drug trial hailed as 'highly successful' a few days ago
Italian death toll passes 20k
South America, Africa see acceleration in new cases
Cuomo sees vaccine in 12-18 months
George Stephanopoulos tests positive for COVID-19
WHO says it will release new guidelines for countries restarting economies
New York deaths pass 10k
Cuomo reports another drop in hospitalizations
Florida case total passes 20k
Singapore reports record jump in new cases
UK's top scientific advisor warned against lifting lockdown
2 NYPD detectives die from COVID-19
Senior Israeli rabbi succumbs to virus
EU competition regulator warns about risk of corporate takeovers from China
In Ecuador, police move to collect 800 bodies from a hard hit village
Trump likely to cut money for WHO
Iran reports 1,600+ new cases, 100+ deaths
Putin warns outbreak getting worse
Australia, New Zealand keep restrictions in place despite drop in new cases
* * *
Update (1255ET): According to the New York Post, the head of the NYPD's detective union described the virus as an "invisible bullet" as two more detectives succumbed to the virus. Roughly one-fifth of NYPD officers have called out sick as many have been exposed to the virus, and many have gone on to develop symptoms and test positive.
The NYPD has lost 22 total employees so far. As of Sunday evening, 2,344 uniformed officers and 489 civilian members of the department had contracted the disease. Civilian employees have taken it the hardest, with 17 dying.
* * *
Update (1240ET): In keeping with the theme of East Asia experiencing the 'second wave' of the novel coronavirus outbreak already, Singapore's Health Ministry reported 386 new cases on Monday, the city's biggest daily jump, taking its total confirmed cases to 2,918. The city-state, which is under a partial lockdown, also reported its 9th death.
Many of the new cases have been linked to dormitory-style housing where migrant workers often stay, giving Singapore cause to follow China's lead and blame the rebound on foreigners, despite Singapore tightening travel restrictions 2 weeks ago on non-residents.
Meanwhile, Sky News reports that the UK's chief scientific adviser said that although the first signs of "flattening" in the UK, lifting lockdown too early would risk a 2nd wave and would be a "complete waste of everything everyone's done until now."
* * *
Update (1153ET): With much of the country on holiday, Italy's Civil Protection Service reported 566 new deaths on Monday, bringing its total to 20,465. Additionally, it reported another 3,153 cases, bringing its total to 159,516. Though Italy's death toll has finally passed 20k, the numbers released on Monday suggest that a slight jump in new deaths over the weekend was, in fact, a blip, and that Italy remains right around the peak.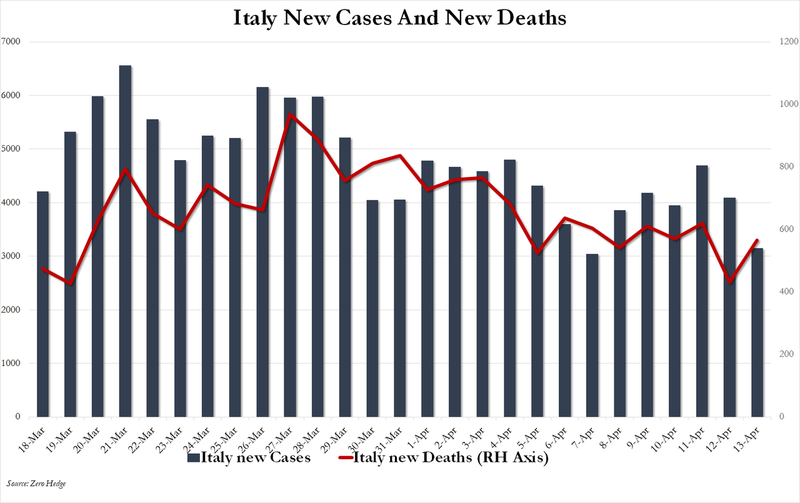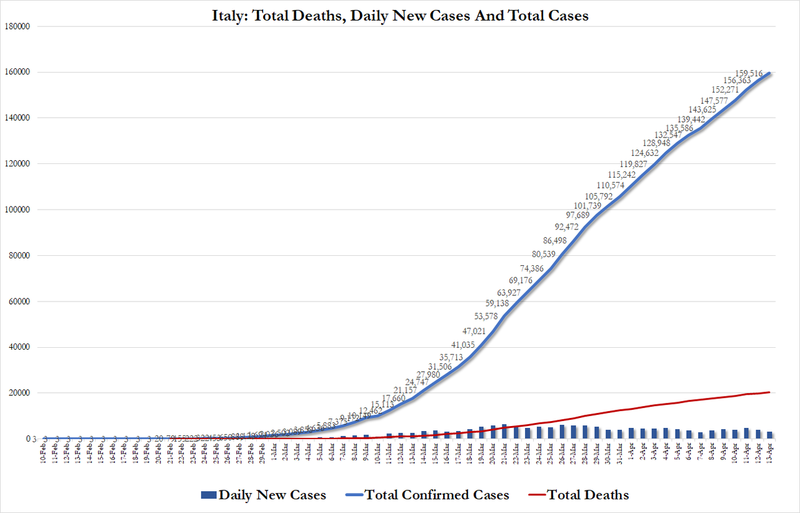 However, on Tuesday, Italy will follow Spain by starting to reopen its economy, as the fact finally sets in that governments simply can't afford to put off reopening longer than absolutely necessary. It's been almost a month, infections are slowing – it's time to get back to work.
Italy will tomorrow start to lift its lockdown after experiencing the lowest number of #COVID19 deaths for three weeks. Baby clothes shops, book shops and launderettes will be the first to be allowed to open.

Read more here: https://t.co/ViJ1qEbPpQ pic.twitter.com/w8i2QAGkKX

— SkyNews (@SkyNews) April 13, 2020
But while the economic imperative is an unfortunate reality that, for many, represents a hobbsian choice between risking infection vs. risking everything else, the world will be watching closely as Italy, Spain – and now even Iran – start opening 'non-essential' businesses again.
* * *
Update (1153ET): Gov. Cuomo said later in his press conference that he sees a vaccine arriving for distribution among human patients in 12-18 months, a projection that hasn't changed in 2 months.
* * *
Update (1140ET): Following reports that President Trump was planning to yank US funding for the WHO, the organization announced on Monday that it would announce a new list of guidelines for the handful of countries – including China – that are beginning the process of reopening their economies.
The WHO also proposed that it buy goods in demand to fight against price gouging. One WHO doctor added that he expects things to remain things to stay like this for a while until a cure arrives. Dr. Tedros at one pointed added that he hoped US support for the organization would continue (because otherwise, he will become even more beholden to China, never a comfortable place to be in).
In an update on global research, the organization said that it is tracking more than 70 vaccines in development, with 3 already progressing to human trials.
Maenwhile, as Cuomo insisted New York was hitting a 'plateau', the situation in Florida has continued to worsen, with 1,045 new cases reported over the last 24 hours, bringing the state's total to 20,601.
* * *