Worldwide Coronavirus Death Toll Passes 100k: Live Updates
by Tyler Durden
ZeroHedge.com
Fri, 04/10/2020
Summary:
Global new cases stabilize as deaths in US, UK continue to climb
White House readying plan to start reopening the economy by May 1
Global coronavirus deaths have topped 100k
Feud between Taiwan and WHO intensifies as Dr. Tedros accuses Taiwanese gov't of smear campaign
Javits Center, UNSN Comfort mostly empty of patients as hospitalization rate drops
England's death toll tops 8k
Iran accelerates sale of gov't assets as pressure on regime intensifies
Malaysia extends lockdown as cases in Southeastern Asia spike
New York sees negative ICU admissions for first time
Turkey death toll tops 1k
Deaths in Spain continue to decline
UK deaths see another record jump
Italy reports drop in hospitalizations, ICU admissions, as new cases, deaths continue to decline
Chicago mayor breaks up "underage drinking party" while personally enforcing social distancing
Israel confirmed case total passes 10k
LA launches task force to test deputies at home
* * *
Update (1320ET): The number of confirmed COVID-19-linked deaths around the world has surpassed 100k, according to Johns Hopkins
University.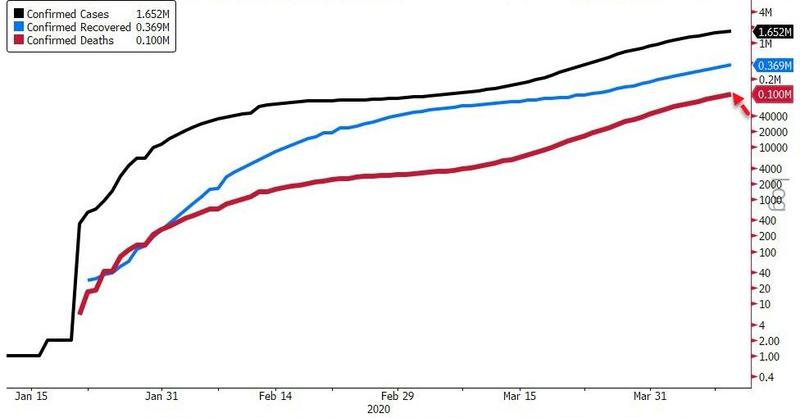 The milestone as reached shortly after JHU reported the number of confirmed cured cases had topped 300k.
While a spike in confirmed deaths in the US and UK have contributed significantly to the total in recent days, it looks like deaths reported in Italy, France and Ecuador (which reported 25 new deaths and 2,196 new cases, bringing its total to 7,161) Friday afternoon put the total over the top. France reported 987 new deaths, bringing its total to 13,197.
* * *