New York Sees 'Negative' ICU Admissions For First Time As Deaths Soar: Live Updates
by Tyler Durden
ZeroHedge.com
Fri, 04/10/2020
Summary:
Global new cases stabilize as deaths in US, UK continue to climb
White House readying plan to start reopening the economy by May 1
Feud between Taiwan and WHO intensifies as Dr. Tedros accuses Taiwanese gov't of smear campaign
Javits Center, UNSN Comfort mostly empty of patients as hospitalization rate drops
England's death toll tops 8k
Iran accelerates sale of gov't assets as pressure on regime intensifies
Malaysia extends lockdown as cases in Southeastern Asia spike
New York sees negative ICU admissions for first time
Turkey death toll tops 1k
Deaths in Spain continue to decline
UK deaths see another record jump
Italy reports drop in hospitalizations, ICU admissions, as new cases, deaths continue to decline
Chicago mayor breaks up "underage drinking party" while personally enforcing social distancing
Israel confirmed case total passes 10k
LA launches task force to test deputies at home
* * *
Update (1220ET): Angelo Borelli, the head of Italy's Civil Protection Service, had some more good news to share with Italians during Friday's press conference.
The trend of new cases and deaths continued to decline, he said, though the government was still moving ahead with extending the nationwide lockdown until May 3.
That total infections climbed by 3,951 over the last 24 hours, while deaths climbed by 570 to 18,849 as new fatalities continued to slow.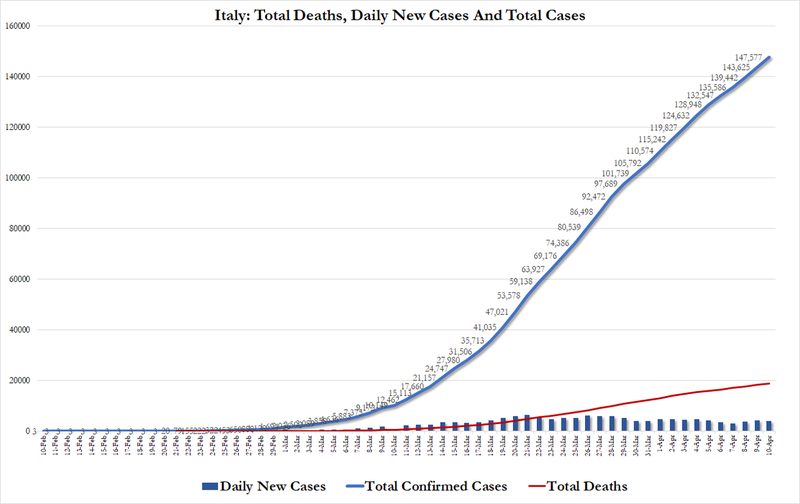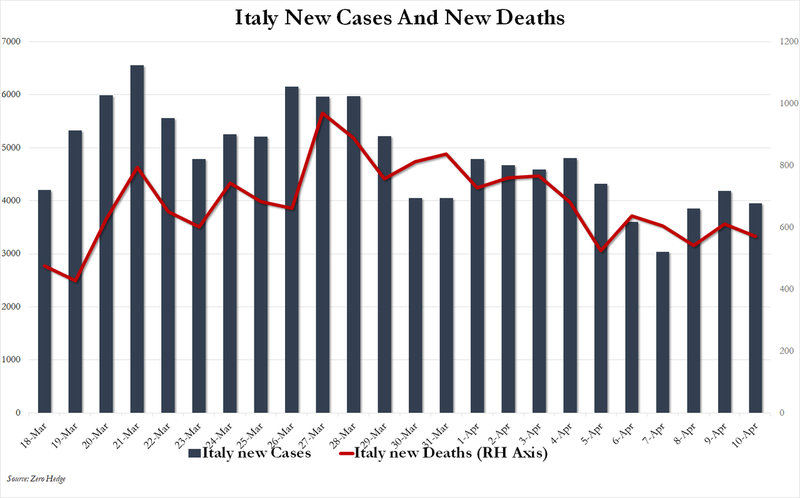 Across Italy, 30,455 patients have recovered from the virus, with nearly 2k of those having left the hospital over the last 24 hours. In Lombardy, ANSA reports, the number of deaths and ICU admissions have been dropping tandem, a sign that more patients leaving the ICU have recovered, instead of dying. As of Friday morning, the Civil Protection Agency said that there were only 98,273 sick patients hospitalized across Italy: the rest of the 147,577 confirmed cases have either recovered, or died.
While hospitalizations and ICU admissions fell, Italy's rate of testing continued to climb.
In the UK, meanwhile, as Boris Johnson remains in "good spirits", though still hospitalized, the UK reported the largest one-day jump in deaths yet, with fatalities recorded in the last 24 hours climbing by 980 to eclipse 8,958, according to Health Secretary Matt Hancock. The vast majority of those (roughly 8k) were recorded in England, as we noted earlier. The UK has seen its death toll continue to climb all week, while the number of new cases reported each day has plateaued. That means, for the second day in a row, deaths in the UK have exceeded deaths in Italy and Spain.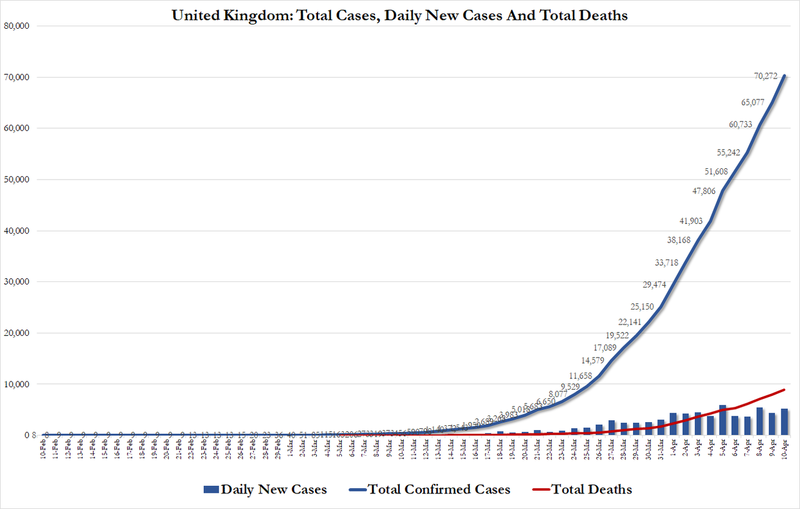 Given the holiday, the rest of the UK's figures on new cases, hospitalizations, etc. won't be published until later in the day, according to the Ministry of Health.
https://twitter.com/DHSCgovuk?ref_src=twsrc%5Etfw%7Ctwcamp%5Etweetembed%7Ctwterm%5E1248600780543754245&ref_url=https%3A%2F%2Fwww.zerohedge.com%2Fgeopolitical%2Fcoronavirus-death-toll-nears-100k-thousands-die-britain-america-live-updates
Meanwhile, Turkey's confirmed deaths topped 1k on Friday as the country reported another 90+ deaths, and 5k+ new cases, bringing its national total yo 47,029.
* * *
Update (1150ET): New York Gov. Andrew Cuomo said Friday that New York hospital's recorded a decrease in the overall number of COVID-19 patients in the ICU over the last 24 hours for the first time.
This comes after the rate of new admissions dropped sharply over the past week.
Still, the drop in ICU patients isn't so much a victory in health-care as a silver-lining as the state has recorded by far the largest death toll in the country. As deaths accelerate, more beds are going to open up – that's only natural. The change in admissions for ICUs around the state was -17 yesterday, Cuomo said.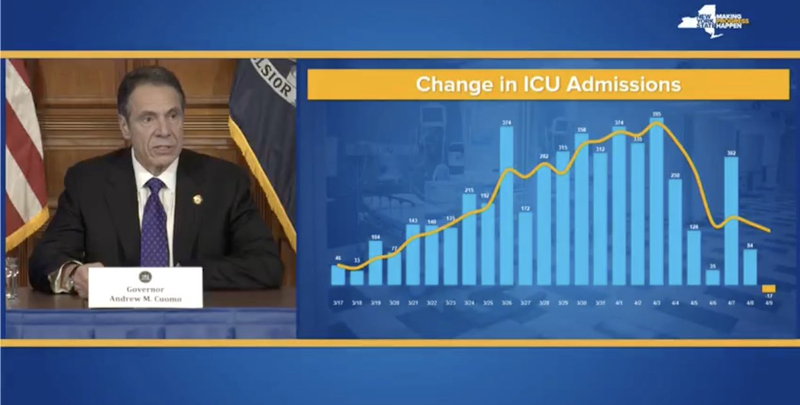 Fortunately, Cuomo is doing an expert job of painting this turd gold.
We are cautiously optimistic that we are slowing the spread.

The change in daily ICU admissions was a negative number for the first time (-17).

That means there were fewer people in ICU units statewide yesterday than there were on the previous day.

— Andrew Cuomo (@NYGovCuomo) April 10, 2020
But, why is this happening? Did those patients get better?
777 people died in New York yesterday, more than died in Italy and Spain. It's not a record jump, but it's still pretty big compared to the numbers we've seen over the last couple of weeks.
Watch the rest of his press briefing live:
Holding a briefing with updates on #Coronavirus. WATCH LIVE: https://t.co/dhwp2hEUIk

— Andrew Cuomo (@NYGovCuomo) April 10, 2020
And as millions of New Yorkers wait for those beefed up unemployment checks they've been promised, Cuomo said Friday that the state will provide $200 million in emergency food assistance to more than 700K low-income households enrolled in SNAP.
He also said he was working with NY's Congressional delegation to lobby Congress to create a "COVID-19 Heroes Compensation Fund" to support frontline workers and their families.
After all, more people have died from COVID-19 in NYC than died during the collapse of the World Trade Center.
* * *